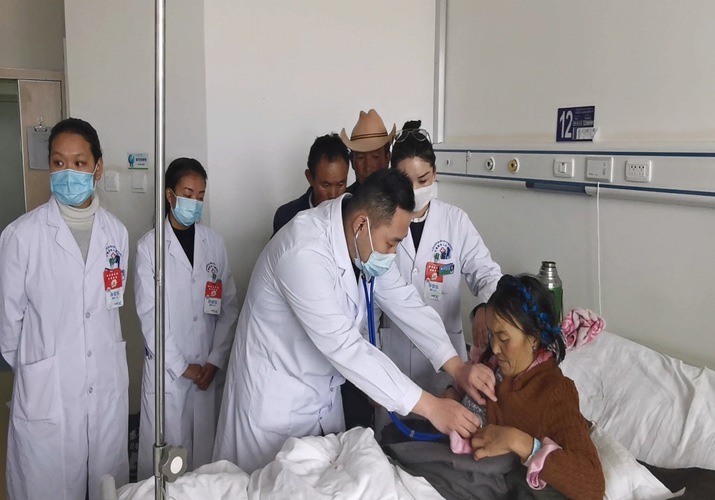 Li Xiaoyang, a doctor from Shanghai, checks a patient's heartbeat at the Xigaze People's Hospital in Xigaze, Tibet Autonomous Region, on July 10 (COURTESY PHOTO)
For several months Lhamo, a farmer in Xigaze, Tibet Autonomous Region in southwest China, had been feeling enervated. The 23-year-old lacked strength to do any farm work and felt short of breath even during walking. She went to the Xigaze People's Hospital, where she had to stay for 10 days. Doctors diagnosed her condition as iron deficiency anemia caused by an imbalanced diet and she braced herself for a pile of unpleasant medicines. To her surprise, she was discharged with just stick of special butter.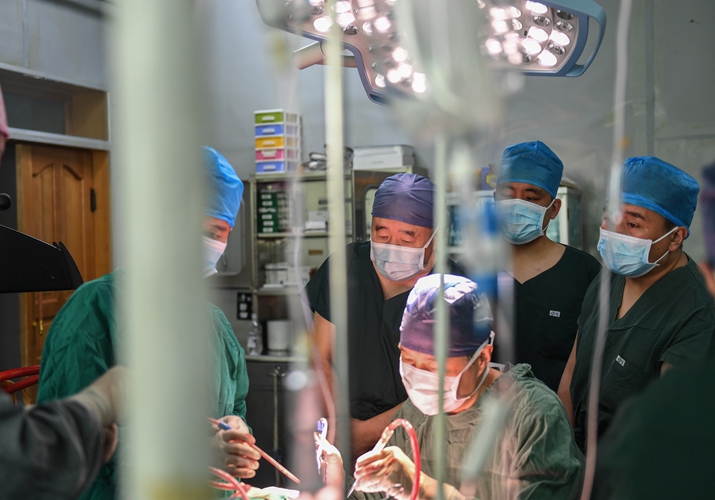 Doctors from Beijing and Tibet operate on a patient with a cerebral tumor in the No. 2 People's Hospital of Tibet Autonomous Region in Lhasa on September 17, 2019 (XINHUA)
Tailored solution
The butter, also known as nutritional or tailored butter, is enriched with folic acid, vitamin B12 and iron elements, lack of which causes anemia. Lhamo was told to drink tea made with the butter regularly.
Though relieved she didn't need to take any medicine, Lhamo felt doubts popping up in her mind. Would it work? However, the butter smelled good and the tea made with it tasted exactly like her home-made tea. One month later, most of her symptoms disappeared and the hemoglobin count in her blood became close to the normal standard again. "It's incredible," Lhamo said.
The nutritional butter is an innovative product from Shanghai in east China, especially manufactured for anemia patients in Xigaze. Xigaze is a city with an average altitude of 4,000 meters, and the people living there eat less greens and fruits than people in other regions. The imbalanced diet can result in anemia. Li Xiaoyang, a doctor who came from Ruijin Hospital in Shanghai to work in the Xigaze People's Hospital from 2019 to 2020 as part of medical assistance from Shanghai, analyzed 2,000 cases of anemia and thought of a solution. He proposed adding the three nutrients to butter, which could be used to make butter tea every day.
Ruijin Hospital then collaborated with Jiangnan University in Jiangsu Province, east China, which enjoys a high reputation for its food science and engineering department, to manufacture the nutritional butter. The first 2.5 tons were ready this year and donated to the Xigaze People's Hospital for clinical trial. A dozen anemia patients at the hospital drank tea made with the butter regularly and their symptoms lessened in varying degrees, Li told Beijing Review.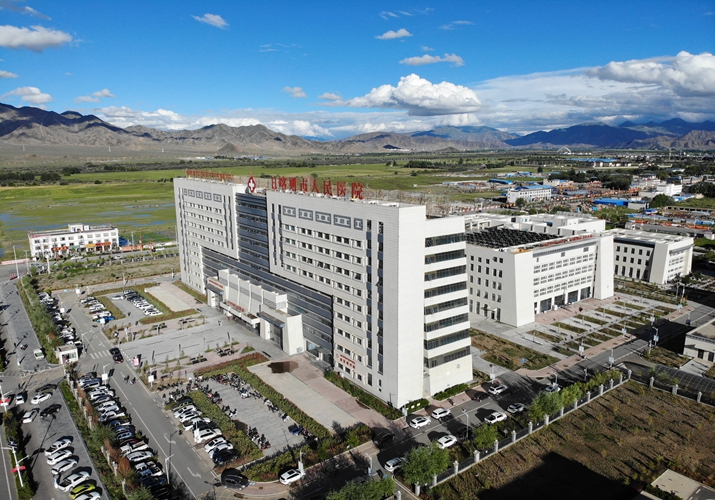 A bird's-eye view of the Xigaze People's Hospital in Xigaze, Tibet, on August 15 (ZHANG WEI)
Targeted medical assistance
Since the 1990s, the Central Government has been selecting medical workers from renowned hospitals across the nation and sending them to work in Tibet for some time. They are assigned to the Tibet Autonomous Region People's Hospital and other hospitals in seven prefectures to accelerate the development of medical and health services in the region. Shanghai teamed up with Xigaze, the second largest city in the region.
At that time, Tibet had only one hospital recognized as a Tier-3 hospital, the top category in China's three-tier hospital classification system. They have over 500 beds and can provide top-level care.
From 2015, medical assistance to Tibet was intensified with super medical teams from the top hospitals in the most economically advanced cities like Beijing, Shanghai and Chongqing arriving in the region. The eight biggest hospitals in Tibet had all their departments team up with a corresponding Tier-3 hospital from seven provincial administrative regions. The arrangement is to develop the expertise of Tibetan hospitals so that they can also qualify as Tier-3 hospitals. It also means Tibetan patients don't have to look for treatment outside the region, saving them money as well as time.
Many surgeries that were previously unthinkable in Tibet have been carried out with success. The experience and technical expertise of the visiting medical experts has enriched the recipient hospitals.
By the end of 2018, six hospitals in Lhasa, Nyingchi, Xigaze, Shannan, Chamdo and Nagqu cities were recognized as Tier-3 hospitals. "In the past, patients with severe diseases tended to go to Lhasa or other big cities for treatment. Now, they can be cured in Xigaze," Wan Xingwang, a senior executive at the Xigaze People's Hospital, told Beijing Review.
Today there are over 1,500 medical institutions in Tibet and over 19,000 medical staff. Maternal mortality decreased from 50 per 1,000 before 1951 to 1.02 per 1,000 in 2017, and infant mortality from 430 per 1,000 to 10.38 per 1,000, according to a white paper released by the State Council in March 2019.
The hospitals today have new buildings and advanced equipment as well as techniques. They also have the latest management concepts. Incentives have been introduced to encourage Tibetan doctors to improve their medical skills. "The ultimate aim of group medical assistance is to nurture a local medical team," Wan said.
There are still some hurdles though. According to Wan, doctors in Tibet don't have enough opportunity to keep up with medical developments. Due to the remoteness of the region, there is not much academic exchange with their peers elsewhere.
To address that, the Xigaze People's Hospital has begun to hold annual medical seminars from 2016, which connect its doctors with their counterparts from other hospitals.
(Reporting from Tibet Autonomous Region)
(Print Edition Title:Caring by Sharing )
Copyedited by Sudeshna Sarkar
Comments to linan@bjreview.com