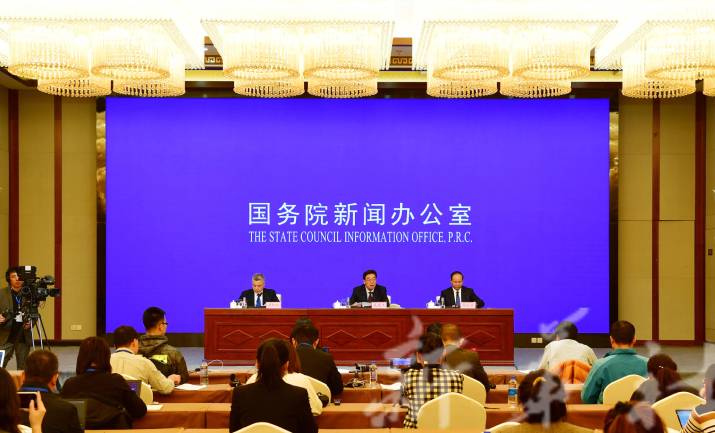 Wu Yingjie (center), Secretary of the Communist Party of China (CPC) Tibet Autonomous Regional Committee, addresses media at a State Council Information Office news conference held on Oct 15, 2020 (XINHUA)
Tibet Autonomous Region in southwest China has achieved a major victory in poverty alleviation, Wu Yingjie, Secretary of the Communist Party of China (CPC) Tibet Autonomous Regional Committee, told a press conference held in Lhasa on October 15. As China strives to eliminate absolute poverty across the country by the end of this year, the progress on alleviating poverty in Tibet has contributed to achieving the national goal, for the region has been one of China's major battlefields of poverty alleviation for geographical and historical reasons.
Starting from 2016, the Central Government has put great emphasis on poverty alleviation in Tibet, which had the highest poverty incidence in China, with policy and funding support. The regional government has also adopted various measures in line with local conditions to help improve the income of farmers and herdsmen. According to Wu, Tibet had lifted 628,000 people out of poverty as of the end of last year. The annual per capita income of local impoverished people rose from around 1,400 yuan ($208) in 2015 to over 9,000 yuan ($1,338) in 2019.
The region has developed distinctive industries such as highland barley plantation and tourism to boost employment. Data released at the press conference showed that since 2016 the investment in Tibet totaled nearly 40 billion yuan ($5.9 billion), helping around 230,000 people shake off poverty.
The regional government has also boosted consumption through e-commerce, improved education and social security. It has stepped up financial input and enhanced local infrastructure. Since 2016, it has set aside around 74.8 billion yuan ($11.1 billion) on poverty alleviation. The regional association for people with disabilities has provided free training to over 2,700 poor disabled persons to help them get employed.
Efforts have been made on improving water and electricity supply facilities, roads and telecommunication network in the farming and pastoral areas. "The regional government has improved over 17,000 rural drinking water facilities, benefiting more than 2 million farmers and herdsmen. It has also renovated dilapidated houses of over 40,000 households, expanded power grid and built new rural roads of nearly 40,000 kilometers," Wu told the press conference.
Many inland regions have contributed to the development of Tibet. The assistance teams of teachers and medical workers from other provinces and regions have helped improve the education and medical care in Tibet greatly, he said.
While driving modernization of the region, the distinctiveness of Tibet has not been lost. Che Zala, Governor of Tibet Autonomous Region, told the press conference that efforts have been made to maintain customs and culture of multiple ethnic groups in the region, preserving traditional buildings and protecting local intangible cultural heritage.
With the novel coronavirus disease largely brought under control domestically, the region has seen rapid resumption of its tourism industry, making it the only region with positive year-on-year growth of tourism revenue in May. Notably, self-driving tours to Tibet have boomed this year, according to Che.
"To consolidate the achievement in poverty alleviation, efforts are needed to improve working skills of people in Tibet and encourage them to achieve common prosperity with their own efforts," Che said.
According to Wu, the regional government will further establish a mechanism to ensure that the people who have risen out of poverty do not slip back to it, promote sustainable and sound industrial development, enhance public services and improve social security for the well-being of local people.
Copyedited by Madhusudan Chaubey
Comments to lixiaoyang@bjreview.com