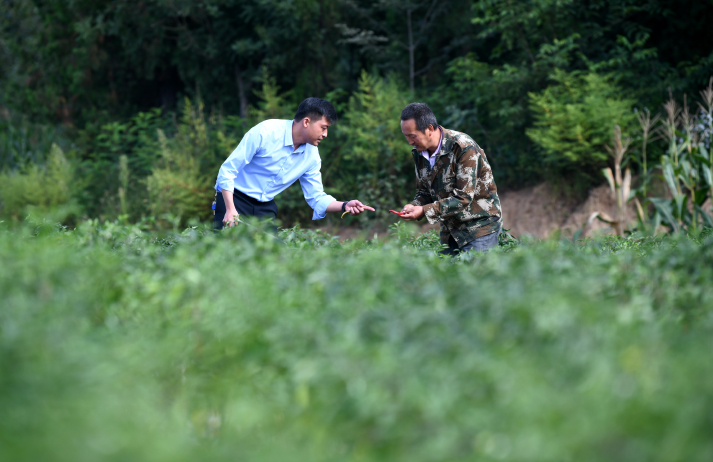 A village official (left) administering the poverty alleviation program checks the growth of red peppers with a farmer in Luonan County, Shaanxi Province, northwest China, on September 1 (XINHUA)
When Chen Maofu, a villager in Yanhe County in Guizhou Province, southwest China, signed his name on a paper on October 28, it meant a sea change in his life. The paper was a poverty alleviation verification form and after signing it, the 62-year-old was officially crossed off the list of poverty-stricken people.
"We are much better off than before," Chen told Xinhua News Agency.
Its remote location and rugged terrain, which hampered transportation, had prevented Chen's village from developing. At the start of 2014, over 40 percent of the villagers lived below the poverty line.
But in recent years, with roads built, specialty industries emerged, such as poultry farming and chrysanthemum tea production. Farmers were connected to the outside world and could explore more ways to earn money.
Yanhe was among the last nine counties, all in Guizhou, to shed poverty, as announced by the provincial government on November 23.
With that all the 832 counties in China, officially registered as impoverished, were no longer poor. Absolute poverty had been eradicated ahead of the December 2020 deadline.
The results of the poverty alleviation campaign are epoch making, Li Xiangyang, Director of the National Institute of International Strategy in the Chinese Academy of Social Sciences, said.
Li said the fast progress of the manufacturing industry in China has also promoted the development of the service industry and agriculture, and accelerated urbanization. A large number of poor people in rural areas enjoyed unprecedented employment opportunities, while the minimum wage continued to increase with the rise in labor productivity.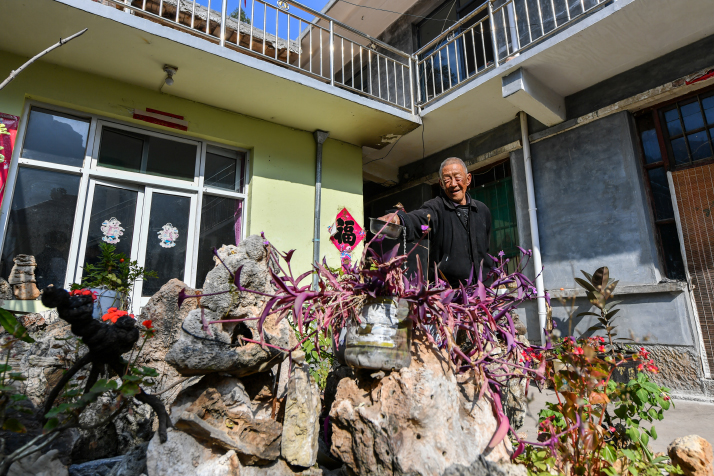 A villager waters his plants in his renovated yard in Pingshun County, Shanxi Province in north China, on November 11 (XINHUA)
A targeted approach
According to official statistics, by the end of 2012, 98.99 million people still lived under the poverty line, mostly in rural areas. In 2014, 832 counties were identified as poor and put on a list—almost one in every three counties.
Different regions had different causes of poverty. For instance, in Gansu Province in northwest China, insufficient water supply restricted industrial development. Lack of arable land and desertification led to poverty in Guangxi Zhuang Autonomous Region in south China. In Tibet Autonomous Region in southwest China, all the counties were below the poverty line, partly because many people were susceptible to endemic diseases, unable to work.
Facing the challenge, the policy of targeted poverty alleviation was introduced, under which tailored measures were taken according to specific local conditions.
Shibadong, a village in Hunan Province, central China, used to be extremely poor.
In 2013, the net income of its over 900 residents, who were from the Miao ethnic group, was less than 18 percent of the national average of rural residents. There too, difficult terrain and poor transportation were the main reasons for poverty.
Various ways were explored to improve people's livelihoods. The village developed public transportation and then green tourism, attracting tourists from cities with its landscape and ethnic culture. Villagers who were good at cooking opened restaurants, young people became tourist guides after training, and the elderly sold handicrafts or other local specialties. More industries such as embroidery, beekeeping and fruit planting were established, increasing incomes.
In 2016, Shibadong, the place where President Xi Jinping first proposed the targeted poverty alleviation policy during his visit three years before, shook off poverty.
Currently, the national poverty line is about 4,000 yuan ($608).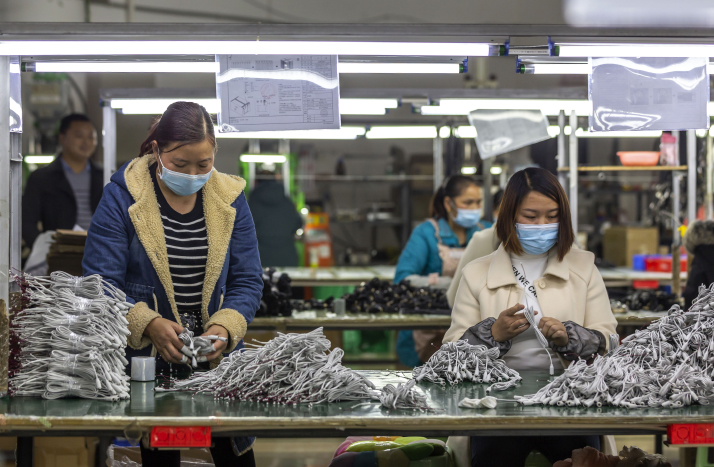 Workers pack data cables in a poverty alleviation workshop in Qianxi County, Guizhou Province, southwest China, on November 27 (XINHUA)
Multi-pronged measures
The Central Government has provided strong support to poor areas. Since 2016, it has increased the special funds for poverty alleviation every year.
In addition to distributing money directly into the hands of cash-strapped local governments, it has significantly increased investment in infrastructure in underdeveloped regions. This has not only enabled them to integrate into the large domestic market, but also expanded the market for developed regions, Li said.
Since the mid-1990s, paired cooperation between the developed eastern regions and less developed western regions has been a major part of the strategy to alleviate poverty and bridge the wealth gap. The eastern areas provide the less developed regions with funds and expertise, as well as help with relocation and employment.
Millions of people from government organizations as well as state-owned enterprises and public institutions have worked in poor villages to administer poverty reduction programs.
Du Yinhua, a formerly poor farmer in Mazigou Village in Gansu, said, "They often came to my home, patiently explaining the national poverty alleviation policy and offered their insights on how we could plan our way out of poverty."
Governments at all levels have also played an important role in assisting migrant workers to work and live in cities, providing employment training, social security and other institutional conveniences.
"For farmers, especially the poor, leaving home to work in a more developed region is the fastest way to reduce poverty," Li wrote in an article in People's Daily in December. The flow of surplus rural labor force into industries in cities not only helps farmers shake off poverty but also increases the labor productivity of entire society, he said.
Harvested pomegranates in Piyalma Township in Hotan Prefecture, Xinjiang Uygur Autonomous Region in northwest China, on November 21 (XINHUA)
The road ahead
Through sustained work, nearly 100 million poor people have shaken off poverty in the past eight years. The success has greatly enhanced people's sense of gain, happiness and safety, President Xi Jinping, also General Secretary of the Communist Party of China (CPC) Central Committee, said at a meeting on December 3.
It has also provided a solid foundation for achieving China's first centenary goal, which is to achieve a moderately prosperous society in all respects by 2021, the centennial of the CPC.
At the meeting, it was agreed that the country still faces acute problems caused by unbalanced and inadequate development as well as the onerous task of consolidating and expanding poverty alleviation achievements.
The meeting called for improving the monitoring and assistance mechanism to prevent people from falling back into poverty and continuing to track the development of counties, villages and people that have been lifted out of poverty. It also urged efforts to ensure employment stability, enhanced vocational skills training for people lifted out of poverty, as well as strengthened cooperation between the eastern and western regions to boost employment.
Ou Qingping, Deputy Director of the State Council Leading Group Office of Poverty Alleviation and Development, said at a press conference on December 2 that winning the war against absolute poverty doesn't negate the fact that relative poverty will still exist for a long time, Tan Xin, a researcher with a research institute in Yunnan University, suggested establishing relative poverty identification standards and setting up a database.
Industrial development and integration in rural areas is crucial to resolving the relative poverty problem, he said, adding local-advantage industries should be fully developed and added value of agricultural products increased via innovative design, brand building and an extended industry chain.
"Getting out of absolute poverty is not the end of the road, but the starting point for a new life and a new round of hard work," Tan said.
Making more substantive progress in achieving the common prosperity of all the people has been set as a goal to be achieved by 2035 at the Fifth Plenary Session of the 19th CPC Central Committee held in Beijing in October.
Global recognition
Since 1978 when it adopted the reform and opening-up policy, China has lifted over 750 million people out of poverty, accounting for more than 70 percent of poverty reduction worldwide. With the elimination of absolute poverty this year, China has achieved the poverty reduction target of the UN 2030 Agenda for Sustainable Development 10 years ahead of schedule.
"Different countries have different economic development levels, economic and political systems, as well as social conditions, history and cultures. It is difficult to come up with a poverty reduction model that fits all. However, as a developing country with a large population, China's poverty reduction practices can provide other developing countries with new approaches in many ways," Li said.
Cavince Adhere, a Kenyan international relations expert, said China's reform-driven and people-centered poverty alleviation model has resonated with African policymakers and other people. "China's ability to rally people's strength into poverty eradication from the grassroots to the national level is an inspiration to African societies," Adhere said during an interview in Nairobi.
China's poverty alleviation achievements "gave hope to the developing countries in the rest of the world including Pakistan to look up to a model to follow," Ghulam Samad, a senior research specialist at the Central Asia Regional Economic Cooperation Institute, told Xinhua.
International engagement has also played a key role in China's poverty alleviation. International organizations such as the UN Development Programme and the World Food Programme have supported China, which plays an active role in global cooperation by offering help to other nations' poverty-reduction efforts via providing material, financial and personnel assistance.
Zhao Lijian, spokesperson for China's Ministry of Foreign Affairs, said at a press conference in October that China has not only accelerated the world's poverty reduction process, but has also offered help to many other developing countries that are engaged in the task.
For example, data from the World Bank showed that the Belt and Road Initiative is expected to help lift 7.6 million people out of extreme poverty and 32 million people out of moderate poverty. China also continues to help other developing countries improve their capacity building and facilitate international cooperation in poverty reduction.
China will continue to share its experience in poverty alleviation and development with the rest of the world, promote international exchanges and cooperation in poverty reduction and make new contributions to the realization of the 2030 Agenda for Sustainable Development, Zhao said.
(Print Edition Title: Ready for the Next Goal)
Copyedited by Sudeshna Sarkar
Comments to luyan@bjreview.com