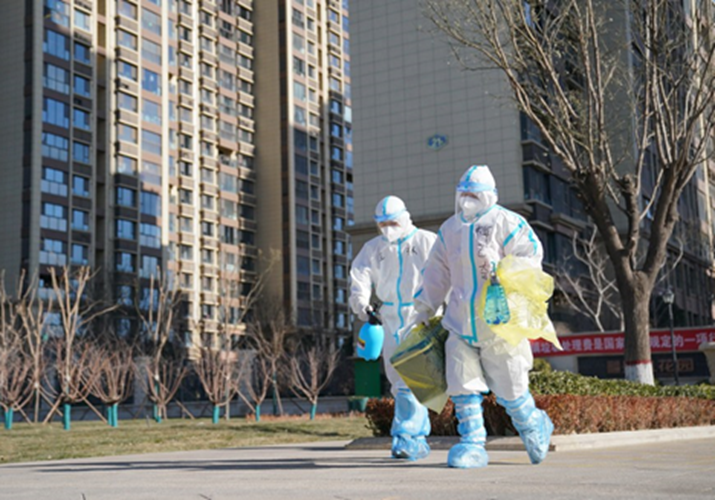 Mei Yiqi (R) carries a box containing nucleic acid samples outside a community in Shijiazhuang, the capital of north China's Hebei province, January 8 (XINHUA)
Gusts of howling wind and plunging temperatures as low as minus 15 degrees Celsius make one loath to be outdoors for even several minutes. However, Mei Yiqi often works in such bitterly cold weather for over 10 hours each day.
As a COVID-19 testing sample "deliveryman," Mei shuttles between the sampling collection sites and virus testing labs to help fight against the recent outbreak in Shijiazhuang, the capital of north China's Hebei province.
The Wuhan native works in the logistics department of KingMed Diagnostics, a company commissioned to conduct coronavirus infection testing in Wuhan, and volunteered to rise to the challenge when his company received requests for help from Shijiazhuang.
"The key to delivering the nucleic acid testing samples is sealing, disinfecting, and being efficient. The sooner the specimens arrive at the labs, the more accurate the testing results will be," Mei said. "As deliverymen, we are in a race against the virus."
Mei usually works for more than 10 hours every day. "Upon fetching the samples, the first thing we do is to disinfect them," he said, describing his daily routine. "We also check the samples' information, including the sampling site and sample count. Then we put the samples in special transport boxes and courier them to the virus testing labs via a refrigerated vehicle."
In addition to long working hours, eating only two meals a day — one before and one after a day's work — is also a commonplace for Mei, partly due to the inconvenience in eating posed by the protective suit.
Despite the freezing cold in the northern city, Mei is thinly clad under the protective suit to be able to move with agility. His fingers even freeze due to him only wearing thin medical gloves. After a long day of work, Mei is unable to rest until he finishes all sterilization procedures, including washing and disinfecting his hands and nasal cavity.
The sample delivery work means a heightened risk of "exposure" to the coronavirus. Therefore, Mei has had to sacrifice seeing his family since traveling to Shijiazhuang. When his mother understood what he was to embark on, she just told her son to take good care of himself while choking back tears.
"Although I worry about my own health, someone has to do this job," Mei said.
This is not the first time that Mei has headed for the front line against the coronavirus. During the outbreak in Wuhan, in central China's Hubei province early last year, Mei and his colleague undertook the job of fetching samples collected from COVID-19 patients in the Leishenshan Hospital and take them to the virus testing center. Using the experience he gathered then, Mei approaches the delivery work in Shijiazhuang with more proficiency and efficiency.
"When the novel coronavirus hit Wuhan last year, the whole country pooled resources and strength to assist us in fighting against the epidemic. Now, I want to offer whatever help I can to others," Mei explained when asked why he was determined to brave the danger.
Mei celebrated his 30th birthday alongside his anti-epidemic partners in Shijiazhuang on Jan. 23, saying that he wished that China can enjoy an epidemic-free year in 2021.