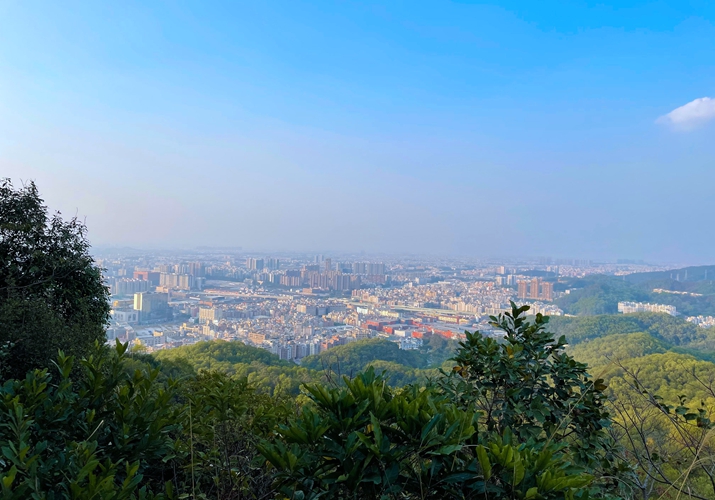 The lush forests of White Cloud Mountain give way to a view of the sprawling Baiyun district, Guangzhou, February 6, 2021 (JAY BIRBECK)
Southern China is home to some of the most beautiful natural scenery anywhere in the world. From the limestone peaks of Guangxi to the crystal-blue waters of Hainan, southern China features an incredible diversity of landscapes. It was the thought of all that variety — the scenery, the sizzling southeast delicacies and temperate climate — that finally encouraged me to relocate to Guangzhou this Spring Festival.
By the winter of 2020, I had lived in Beijing for two years. I was cramped into a small house with my girlfriend and two cats in the sprawling hutong alleys of the central ring, commuting for two hours a day to the west side of the city. Despite its size, living in the hutongs was an incredible experience. I loved my life in the northern metropolis, but when the chance appeared to move to Guangzhou and work from home, the intrigue of a new adventure and experiencing another part of the country sparked our imaginations.
The move itself was relatively straightforward. China's package-delivery services are unrivalled in their efficacy, low costs and speed. I was impressed that all of our stuff, including my plethora of guitars and ukuleles, could be shipped almost 2,000 km in three days for just 800 yuan (about $124).
The plane to Guangzhou was quiet. In Beijing and elsewhere across China, fewer people are traveling for the holiday than in a normal year due to a recent uptick in COVID-19 cases. More people chose to stay where they are to celebrate the Spring Festival, which meant extra legroom on the plane. The cats, who had to be caged in the cargo hold, were less impressed.
We ultimately settled on living in a high-rise apartment in Baiyun district. If you're looking for a cheaper, more laid-back lifestyle farther from the city center, then Baiyun is the place to be.
According to my observations, I believe I'm the only Westerner living in our new community and have therefore become quite the sensation with the community security guards. One of them even refers to me as his "best friend." Actually, seeing as I currently don't have many friends in Guangzhou, I suppose he is also my best friend.
Our part of the city is peaceful and there is a relaxed openness to the area; at night elderly people congregate to drink baijiu and play Dou dizhu — a card game popular among Chinese people. My girlfriend and I often like to sit on our balcony watching the seniors jive the evening away in the nearby park amid well-cranked mixes of techno and traditional Chinese pop songs. Occasionally, there will even be an impromptu firework display. The sight of these mute sparks shattering into a thousand particles of roaring light never fails to conjure up the festive atmosphere of the Spring Festival.
During the day, from my desk beside the window, I can look across the city and see White Cloud Mountain (Baiyun Mountain) reaching above the urban sprawl. The mountain has quickly become our retreat — we go there whenever we want to escape the city and do some thinking. The wreath of white clouds that often nuzzle the mountain and give it its name, hide 28 square kilometers of lush forests, crisscrossing gullies and secluded valleys.
As I mentioned earlier, a prime reason for moving to Guangzhou was the scenery. So, we'll be immediately taking advantage of that and spending the Chinese Lunar New Year pitching a tent at Yingde Grassland. The limestone caves and natural hot springs will be a welcome respite after a busy month of moving to this new city. A new home, a new year. Happy Spring Festival.
Jay Birbeck is a writer and art director. He has worked with news outlets including ITV. He received an MSc in Digital Humanities from UCL.