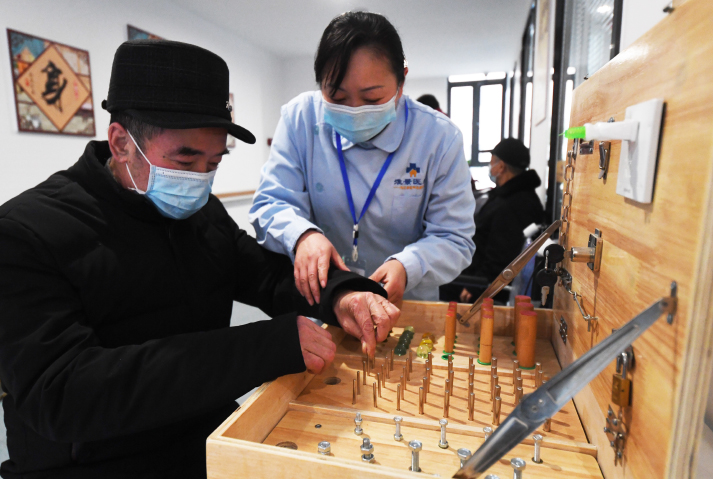 A senior citizen in Chongqing in southwest China does finger exercises with the assistance of a staff member from a community elderly care service center on January 21 (XINHUA)
Every day at 11 a.m. on the dot, Xiao Honglian receives a cheerful visitor. Since Xiao, a senior citizen living in Gulou, a district in Nanjing, Jiangsu Province in east China, broke her leg recently, the visitor, a paramedic from a nearby elderly care center, has been giving her physiotherapy for the broken leg so that she can be back on her feet faster.
Before her accident, the paramedic used to take her blood pressure and do chores such as helping her to take a shower.
"Without leaving home, I enjoy the professional services of a nursing home. It's great," Xiao told local media Jstv.com.
Last year, she signed up with the Hanrui Elderly Care Center in the district. She pays around 1,000 yuan ($154) a month, which entitles her to an hour's service every day.
Mei Shufen, head of the center, said they are providing services to over 800 elderly people at home. The center is subsidized by the government, which makes the services affordable. For instance, it costs only 20 yuan ($3) for an hour's cleaning service.
There are over 220,000 residents aged above 60 in Gulou, accounting for 24 percent of the district's population. Aging and its attendant problems, especially the need for nursing, are becoming acute. There is a big gap between the demand for nursing home beds and the actual supply. Therefore home-based elderly care services have alleviated the pressure on nursing homes to some extent.
Mei said the local government provides a set of equipment for people applying for elderly care services at home, including equipment to monitor heartbeats, breathing, blood pressure and the blood sugar level. The machines can transmit data to a big data center.
Nearly 6,000 senior citizens in Nanjing have subscribed to the services, tantamount to the workload of 50 medium-size nursing homes.
Pilot care reforms
In November 2016, Nanjing was among the first batch of cities to pilot reforms in home and community-based elderly care. It was also among the first cities to encourage elderly care institutions to provide services for seniors at home.
Favorable policies have attracted many enterprises to this niche market. The Joyshine Group, which provides similar services, has about 1,800 customers in Nanjing.
"We provide services to disabled or semi-disabled people above 60, people above 80 who live alone and those above 85," Zhu Bin, a manager with the company, told Jiangsu Business News.
"We have different service packages for different needs. For those who need professional medical care, we arrange doctors and nurses to go to their home. For those who need daily care, we arrange staff to do their cleaning, cook for them, accompany them to hospitals or help them have a bath," Zhu said.
The company has nearly 50 service centers in Nanjing. Each of them covers customers within a radius of 1.5 km. This means the staff can arrive at a house within half an hour of being summoned.
These services are flourishing in other cities too. In Guangzhou, Guangdong Province in south China, an 80-year-old, identified only by his surname Huang, has been living alone for over 20 years since his son went abroad. Last year, Huang fell sick and was hospitalized. After he was discharged, he felt weak, finding it hard even to walk."I was worried about what to eat and how to eat," Huang told China Society News (CSN).
On hearing about the elderly care services, he subscribed to a center and has since been using their services.
Wu Shuiquan has been assigned to take care of Huang. She goes to his residence at 9 a.m. every day and makes soup for him. She then cleans the room, washes his clothes, makes lunch and assists Huang to eat. She leaves after cleaning up the kitchen. With her care, Huang's psychological condition has improved as well as his physical condition.
Wu works for the Guangzhou Yongmei Elderly Care Industry Service Co., which is among the first batch of companies to provide home-based elderly care services in Guangzhou.
Liu Chen, head of the firm, told CSN that they ask senior citizens subscribing to the company's services to install some equipment. A surveillance camera has been installed in Huang's living room and an emergency button by his bed is connected to the control room of the company.
Last September, Huang had a fall. Fortunately, he was able to stagger to the bed and press the button. The center was notified and called the hospital to provide emergency services.
An official with the Guangzhou Municipal Civil Affairs Bureau told CSN that elderly care services at home provide effective support for senior citizens. As of 2020, there were 1.8 million people aged above 60 in Guangzhou, accounting for 18.3 percent of the population.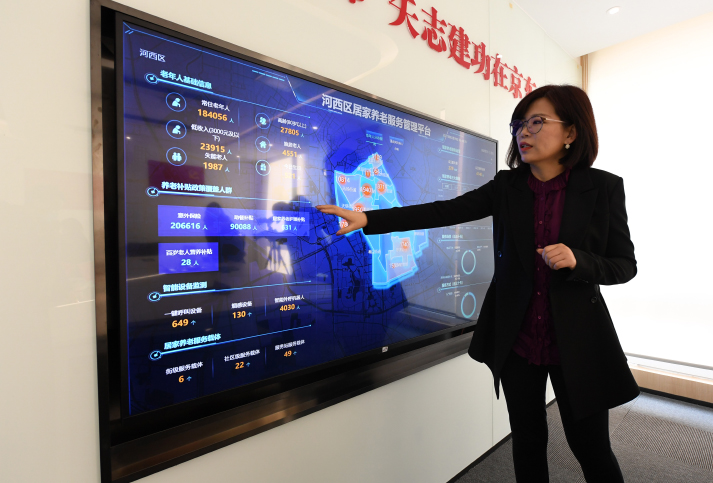 (Up) A senior citizen in Chongqing in southwest China does finger exercises with the assistance of a staff member from a community elderly care service center on January 21 An intelligent service platform is used to monitor and provide emergency help for senior citizens at home in Tianjin in north China on February 9 (XINHUA)
A national strategy
According to official statistics, there were 254 million people above 60 in China by the end of 2019 and the number is expected to exceed 300 million during the 14th Five-Year Plan period (2021-25).
Hu Zucai, Vice Minister of the National Development and Reform Commission, said at a press conference on March 8 that coping with the aging problem has been elevated to a national strategy. Intensive efforts will be made to develop inclusive elderly care services.
According to Minister of Civil Affairs Li Jiheng in February, during the 13th Five-Year Plan period (2016-20), 5 billion yuan ($769 million) was allocated to carry out pilot reforms in home and community-based elderly care in over 200 regions. The aim was to create distinctive elderly care models as well as increase the number of nursing homes.
By the end of 2020, there were 38,000 nursing homes in China, up 10.4 percent year on year, with a total of 8.24 million beds.
According to Gao Xiaobing, Vice Minister of Civil Affairs, there were primarily three models of elderly care in China: care at home, community-based care, and care at nursing homes.
Most seniors prefer home-based care but with the aging problem intensifying and the number of disabled senior citizens increasing, in many cases, their family members lack time, energy and professional capabilities to take care of them.
Having elderly care institutions provide services to seniors at home is an innovative approach to address this difficulty.
Robin Li, CEO of Internet technology company Baidu and a member of the 13th National Committee of the Chinese People's Political Consultative Conference, the top political advisory body, has suggested seniors use wearable devices that can collect their health data. The data can be monitored by medical workers to better manage the wearer's health.
Li also said enterprises should be asked to expand their smart equipment to cater to the elderly and popularize artificial intelligence-based robotic assistants that can be activated by voice command or gestures. In addition, he suggested that pilot reforms promoting smart elderly care should be carried out in urban communities.
(Print Edition Title: Silver-Hair Service)
Copyedited by Sudeshna Sarkar
Comments to jijing@bjreview.com