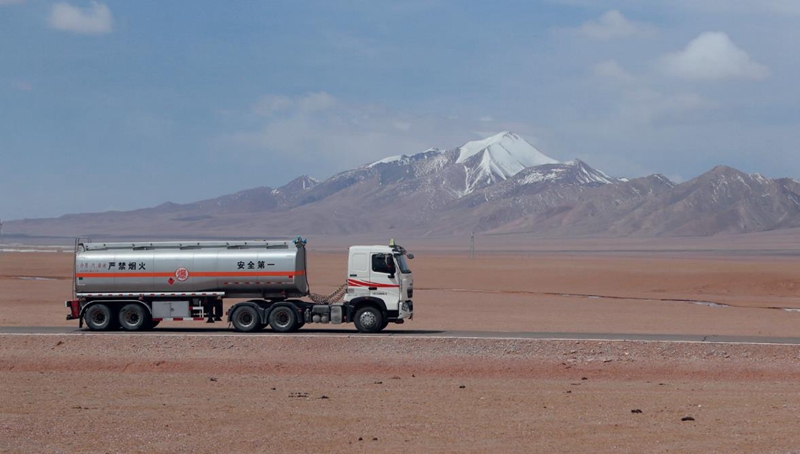 A truck is on its way to deliver petrol to the Shuanghu gas station on April 15 (XINHUA)
At an altitude of 5,000 meters in the north of Tibet Autonomous Region, oxygen levels are only 40 percent of those at sea level. Strong winds batter the area over 200 days a year. The average annual temperature runs below zero degree Celsius. The harsh climate and geological conditions have rendered the area "unsuitable for human life to flourish."
The name of this sparsely populated place is Shuanghu County, in Nagqu Prefecture of Tibet. Covering 116,700 square km, even larger than the whole province of Jiangsu, it has only about 10,000 residents. With a relocation project in operation since 2018, a number of residents have moved to places at lower altitudes. Yet one gas station, the one and only in the county for more than four decades, remains.
Challenging location
"For the residents of Shuanghu, oil is as important as water and air," Tsen Pazom, the 29-year-old manager of the gas station, said. As this place is vast, herdsmen need motorcycles to herd livestock and thus are in great need of petrol.
"In the old days, the residents had to fetch petrol from gas stations in neighboring counties, which are over 300 km away," said Tseta, a 55-year-old worker at the gas station. He has been working at the station for almost 20 years. "It would take you two days to fetch petrol from those places."
In 1979, a temporary gas station was set up locally. Back in the early days, oil would be delivered to the station in big barrels and the delivery would take fuel tankers about one month each run.
In 2002, the China National Petroleum Corp. (CNPC) initiated its support for this gas station and invested 400,000 yuan ($61,640) to move it to its new location, right next to the long-distance coach station of Shuanghu County.
With the improvement of road conditions and transportation, the delivery of oil to the station now only takes fuel tankers two to three days. This gas station has been the only provider of petrol within a radius of over 300 km for decades.
With a convenience store and a duty room, the gas station now runs 24/7, despite being far less busy than other regular stations. It is common for the station to see no business or just a handful of vehicles coming in to refuel over a whole day.
The station employs four staff members, with Tseta, the most senior employee, looking to retire in a few months. Working at high altitudes for long periods of time has left him with a number of altitude-induced health issues, such as gallstones and rheumatoid arthritis. Nowadays, he needs a stick to walk most of the time.
Tsen Pazom has been working there since 2017, together with her husband Samdrum. They have brought along their three-year-old son. Sonam Tsering is a 27-year-old CNPC employee who only joined the station this January.
"Working at this station comes with many challenges," Wen Decheng from CNPC told Beijing Review. "Except for the harsh living and working conditions, the language, too, can be a major challenge. As the Tibetan language has many a dialect, it is common for the locals of Shuanghu not to understand the dialects from other areas. The workers at the station all have to learn and practice local dialects to smoothen communication."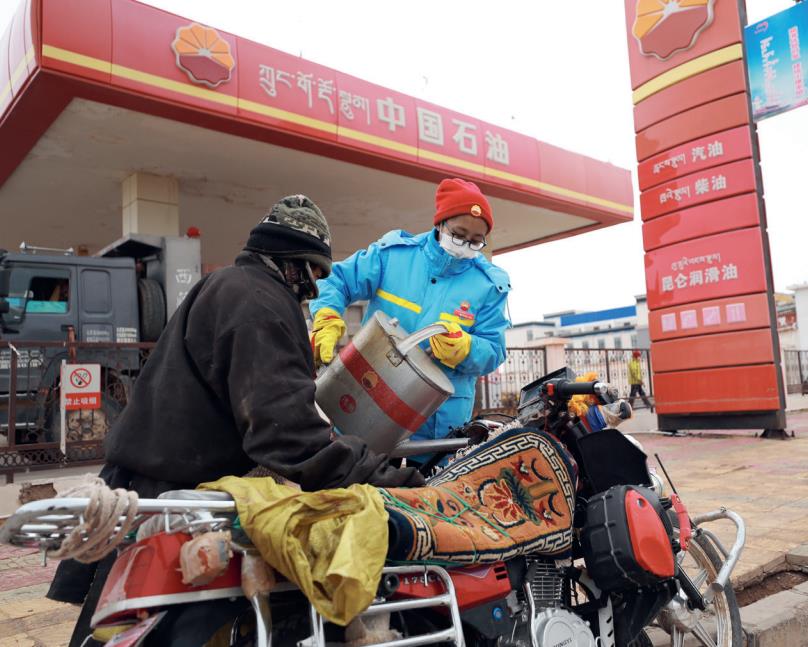 Tsten Pazom fuels the motorcycle of a local herdsman at the Shuanghu gas station on April 13 (XINHUA)
The commitment
For locals, the gas station is much more than a mere provider of petrol. It serves as their post, water and rescue stations.
As tap water is not available in the county, locals for a long time had to chisel out chunks of ice from a snowy mountain, or shovel snow and wait until it melted to obtain water for daily use. When temperatures went up, they would head to a lake 10 km away to fetch water. As water was so precious, it was normal for locals to take a bath only once every few years.
In 2018, the gas station took the lead in digging a well. Others followed suit and dug a few more wells in Shuanghu, much to the benefit of people living around.
No courier service can reach this place and postal service delivery, usually rather slow, used to be the only option for locals to employ. The truck for delivering petrol to the gas station has been a favorite alternative for locals to obtain urgently needed goods, including medicine.
In November 2020, a local herdsman got stuck on his way to a neighboring town as the transmission shaft of his truck broke down. He contacted the gas station for help. The truck from the station happened to be in Lhasa at the time, and managed to bring back the parts the herdsman needed for repair in time. "This wasn't the first time I had asked for help from the station; they've always showed up on time," the herdsman said.
Biscuits, pickles and instant noodles are the common food for staff at the gas station. Fresh fruits and vegetables are luxuries due to the difficulties in transportation. In 2018, a relocation project was launched to move locals into places at lower altitudes such as Shannan and Lhasa. In 2020, the first batch of 2,000 residents left the area, reducing local demand for petrol from over 3,000 tons to over 2,000 tons, but the gas station will keep operating there, 24 hours a day.
"The gas station's light at night serves as a beacon for locals and those who are lost, especially travelers unfamiliar with the area," Guo Guanghai from CNPC, said.
"We plan to send our son to Lhasa. There he can stay with my parents and go to kindergarten," Tsen Pazom said when talking about their plan for the future. "But we will still stay here. Oil acts as a lifeline for locals. Without oil, all vehicles here will be useless." BR
(Print Edition Title: High Up to Fuel Up)
Copyedited by Elsbeth van Paridon
Comments to yuanyuan@bjreview.com