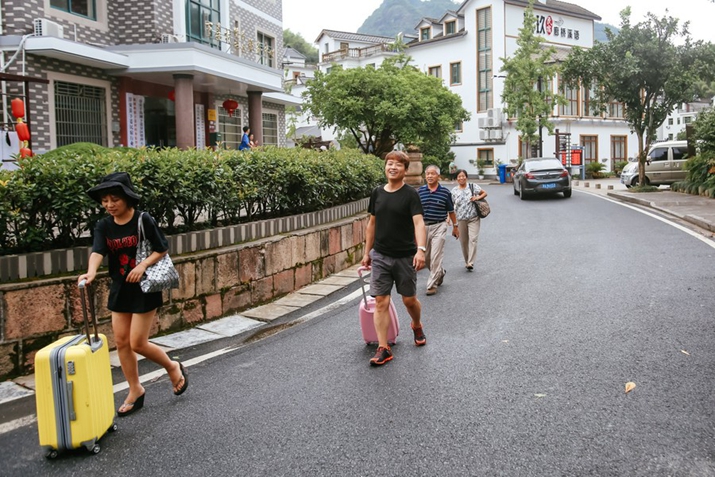 Tourists walk on a street in Xiajiang Village of Chun'an County, east China's Zhejiang Province on August 9, 2017 (XINHUA)
Huang Lifa was born and raised in the villages of Chun'an County in east China's Zhejiang Province. After years of living in the area, he has taken on a new role in the community since last summer.
Huang, 50, is now an "agricultural manager." The new job has been officially endorsed as an emerging profession by Chinese authorities in 2019.
According to the Ministry of Human Resources and Social Security, an agricultural manager is someone who assumes the managerial role in an agricultural cooperative, oversees agricultural production, offers technical support or markets its products.
In June 2020, Huang was hired by the company jointly founded by over 20 villages in Chun'an. With investments from the cooperatives of the founding villages, the company sells their agricultural products under a unified brand, and runs promotions to attract tourists to the villages.
Thanks to his experience working in the tourism sector in Chun'an, Huang stood out among more than 30 candidates for the managerial job. He signed a two-year contract with the company and officially became an agricultural manager.
"Compared with my previous job, the salary at my new company is not really much higher," Huang said. "But being born in Baima Village and brought up in Xiajiang Village, I am emotionally attached to the villages here. So I hope I can make more contributions."
In 2017, China proposed a rural vitalization strategy as a key move to accelerate the modernization of agriculture and rural areas and has since adopted a host of support policies. In 2020, China declared an end to absolute poverty in the country. Since then, the drive of rural vitalization has become the policy priority in rural areas.
An economic powerhouse, Zhejiang is also a frontrunner in the development of rural areas. Rural tourism and private entrepreneurship have been thriving in villages of the coastal province. A paragon of such a development model, Xiajiang, the village where Huang grew up, received 768,900 visits in 2020, generating over 46 million yuan in tourism earnings.
The company Huang runs now is also named after Xiajiang. Local authorities hoped the village could take the lead in rural development and neighboring villages could jump on the bandwagon.
As the manager, Huang said his job is not purely profit-oriented, but more driven by a sense of responsibility. "My duty now is to help villagers earn money and pursue common prosperity," he said.
Led by Huang, the company earned profits of 400,000 yuan (about $ 61,800) in the second half of last year. Half of the money was shared with the over 20 founding villages as dividend.
This year, the profit goal is 1.2 million yuan and revenue goal of 10 million yuan for Huang.
"I'm working under a lot of pressure. Not only because of these targets, but I also don't want to disappoint my fellow villagers," he said. "I also feel motivated because I see a promising future in rural vitalization."
For Jiang Lijuan, Party chief of Xiajiang, her shift of identity took years. Five years ago, 27-year-old Jiang Lijuan made a life-changing decision -- gave up a promising design career in the provincial capital of Hangzhou and returned to her rural home in Xiajiang to start her own business.
The now wealthy Xiajiang was once plagued by poverty and environmental destruction. Cob walls, stinky sewage and dirty pigsties were the childhood memories for many villagers including Jiang.
The plight was changed by local government's endeavors. By 2016 when Jiang returned, the village had seen its sanitation conditions well-improved and began to develop rural tourism. In addition, a highway had connected the village with the outside world.
"I made the decision partly for the convenience of taking care of my parents and partly out of confidence in the homestay business," Jiang said.
Jiang refurbished her family's four-story house into a homestay with a cozy fireplace, elegant courtyard and exquisite furnishing. It proved to be an instant success. In just shy of two years, the business generated an annual turnover of 300,000 yuan.
However, she did not stop with personal success. She used her business acumen and experience to help fellow villagers. Now, there are over 30 homestay service providers in Xiajiang, some of which stably generate as high as hundreds of thousands of yuan in yearly business revenue.
The first Xiajiang local to start a business back in their hometown, Jiang decided to run for chief of the Xiajiang village committee of the Communist Party of China in 2019, and was elected the following year.
"I have benefited a lot from the village, and I think I should give back," Jiang said.
The young Party chief has since led Xiajiang in incubating over 10 business forms with local characteristics, including specialty restaurants and handcrafts. Now, Jiang is living an even faster-paced life than she used to have in the city, working late and barely having a weekend to herself.
"It is tiring work, but I am happy with it," Jiang said. "I have realized my entrepreneurial dream in my hometown, and now I have bigger dreams to chase."