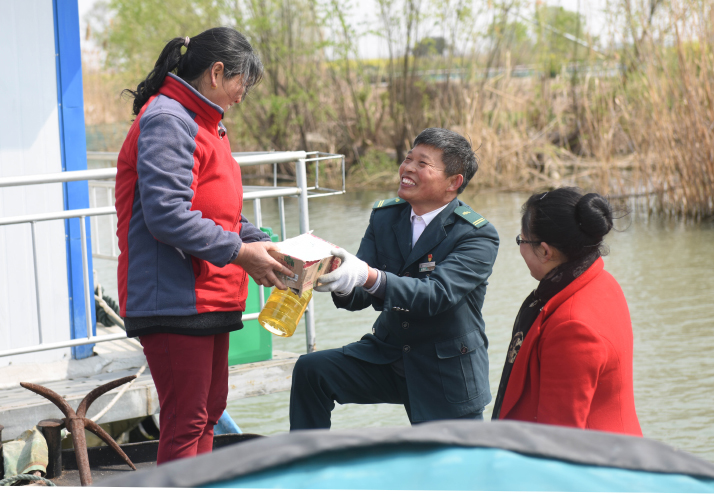 Tang Zhenya delivers a parcel to a villager in Laozishan Township in Jiangsu Province on March 30, 2019 (XINHUA)
Tang Zhenya has worked as a postman of the China Post Laozishan Township Branch for over 20 years. What sets him apart from many of his peers is that he does not only deliver parcels on land, but also on water.
In 1999, Tang became the only postman of the branch located in Huaian, Jiangsu Province. Before him, 11 postmen had left the position at the branch because they could not cope with the hardship or keep up with the scope of the job.
In the past two decades, Tang has traveled over 300,000 km on water to deliver parcels to villagers.
Laozishan is located where the Huaihe River and the Hongze Lake converge, with nearly half of its 18,000-strong population living on fishing and aquaculture. Local residents either inhabit their own boats or live along the shoreline. The longest distance Tang has to travel to reach a village is roughly 20 km.
"As the fishermen live on boats which often change location, it's hard to find them. The time and energy consumed to deliver parcels on water is several times those on land. Although it's hard, and at times dangerous, I have always followed through," Tang said during a press conference honoring five exemplary Communist Party of China (CPC) members in the post and express delivery industry, held by the Publicity Department of the CPC Central Committee on June 10.
Tang is one of the millions of couriers in China, who has contributed significantly to the country's development. At the press conference, the couriers were recognized for their contributions, including their efforts in alleviating poverty and fighting against COVID-19.
Messenger on water
Tang is a diligent postal employee. He begins sorting his parcels at 7 a.m. every day. He will deliver parcels to those living on land first and then set out to visit the fishermen on Hongze Lake in the afternoon.
As the boat has no cover of any kind, Tang has to brave the blazing sun in summer and biting winds of winter. Years ago, he even put his own life at risk just to deliver one particular letter.
That happened in July 2003, when he was delivering a university admission notice to a student. Tang rowed the boat all across the lake, but the village teen was nowhere to be found.
It was flood season and when Tang came to the center of the lake, a gust of wind stirred up the water and a huge wave overturned the boat. Tang managed to hold the parcel containing the admission notice up in the air with one hand, all the while clutching onto the boat for dear life with the other. Fortunately, he was saved by a few passing-by fishermen and with their help, finally made his way over to the soon-to-be university student's home.
When the student's father saw Tang standing outside his door, soaking wet, he was both moved and grateful.
Committed employee
Tang loves his job and has executed it well. He realized the importance of a postman delivering letters to people timely from an incident that happened to his father years earlier. When Tang was a kid, his father missed out on a relative's wedding because the wedding was in August, but his father did not receive the invitation until October.
Tang tries his best to deliver every letter and parcel to its recipient, in the most efficient manner possible. Throughout the years, he has delivered over 1.3 million newspapers and around 110,000 letters without a single mistake. His dedication has also won him the trust of local residents.
Several years ago, he handled a letter from Wuhan in Hubei Province, which was addressed to "Wu Bin, a comrade-in-arms." Given the address was incomplete, he couldn't track down Wu. He could have returned the letter to Wuhan. However, he didn't. Instead, he asked the local public security bureau about the contacts of all the over 100 veterans residing in the township. After meeting the over 100 veterans, he found Wu's former comrade-in-arms Zhou who helped him locate Wu, who had migrated to a nearby city 10 years before.
There are many such letters addressed to family members or friends, bearing incomplete addresses. Tang has always tried his very best to find the recipients.
Warmhearted person
In addition to regular delivery service, Tang has been helping local fishermen acquire their daily necessities such as oil and salt as well as fishing tools since 2006. Over time, local fishermen have come to see him as one of their close friends, even asking him to deposit and withdraw money for them at the bank.
As the breadwinner of his family, Tang's salary is not high. However, he has a generous heart, always ready to offer those in need a helping hand.
In 2003, Liu Shixiang, a local villager, was orphaned after his parents tragically got struck by lightning and eventually lost their lives. His only custodian was his grandfather, who at the time was already in his 70s and no longer in the best health. After learning about Liu's situation, Tang wanted to reach out to him. He gave the new clothes that had been bought for his own son for the Spring Festival to Liu, in addition to 150 yuan ($18, according to the 2003 exchange rate).
From that moment onward, whenever he went to deliver parcels near Liu's home, he would bring Liu stationery and clothing and encourage him to keep studying hard. He has also brought Liu into his own home during the holidays to make him feel the warmth of family life.
The warmhearted Tang has also bought aquaculture-related books for local fishermen to help them make more money. His wife wanted to persuade him to cultivate fish himself because this would make for a much better living, but he refused. Seeing him so dedicated to his job, she was moved and became his assistant in sorting the parcels.
Tang said that when choosing a job, one should not only take into consideration the financial rewards, but also the social factors. A job that doesn't pay much, but has social benefits is worth doing.
In 2020, to conserve fishery resources, the government imposed a 10-year moratorium on fishing in conservation areas in the Yangtze River basin. The moratorium was expanded to all natural waterways of the river and its major tributaries in early 2021, meaning all fishermen involved would have to move onto shore.
However, the postal route on water will not disappear because even though the fishermen have come to shore, they mostly still reside by the lake and, subsequently, it's still more convenient to get to them by boat.
Today, Tang's wooden boat has been replaced by a far sturdier vessel and the number of parcels keeps growing as villagers are doing more of their shopping online.
(Print Edition Title: Delivering a Shining Example)
Copyedited by Elsbeth van Paridon
Comments to jijing@bjreview.com