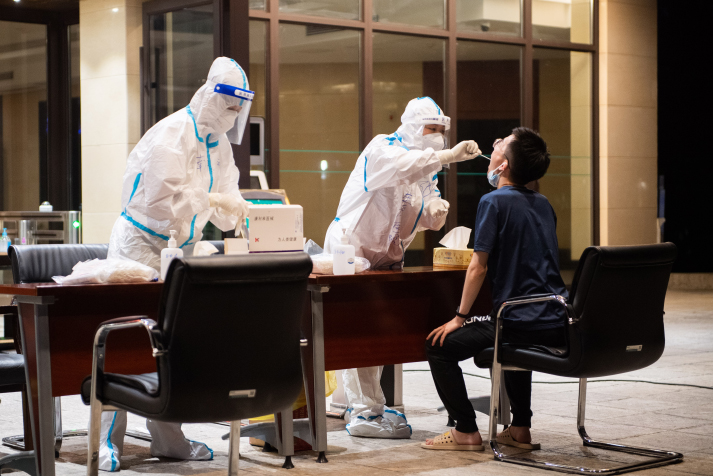 A medical worker takes a swab sample from a resident for COVID-19 nucleic acid testing in Zhangjiajie, Hunan Province, on August 4 (XINHUA)
After over 20 days of zero domestic COVID-19 cases, a newly emerging cluster is sounding the alarm across China.
Locally transmitted cases had been reported in 17 provincial regions in the country as of August 4, according to the National Health Commission (NHC).
China had 144 medium- and high-risk regions for COVID-19, said NHC spokesperson Mi Feng on August 4. That is a record high since the infections in Wuhan of Hubei Province were contained last spring, according to him.
Currently, there are four high-risk regions, respectively in Jiangsu's Nanjing and Yangzhou, Yunnan's Ruili and Henan's Zhengzhou. The first batch of cases in the new cluster was confirmed in Nanjing on July 20.
Authorities at all levels are currently working to cut the chain of transmission. As of August 1, Nanjing had completed three rounds of nucleic acid testing on all residents.
Massive testing is still being conducted, and other rigorous anti-epidemic measures such as travel restrictions are put in place. Zhangjiajie, a city famed for its eponymous scenic spot in Hunan Province issued an order on August 3, forbidding all residents and visitors to leave the area. The Beijing Municipal Government decided to cancel large-scale exhibitions and events scheduled for August after several new locally transmitted cases were confirmed.
Rapid transmission
The havoc was found to have started on July 10, when a passenger on an inbound flight from Russia tested positive for the Delta variant of COVID-19 after arriving at Lukou International Airport in Nanjing. Evidence suggests that, after having been brought onto the flight by the passenger, the virus may have then infected people who cleaned the cabin after its arrival in Nanjing. An investigation later revealed the cleaners failed to strictly adhere to hygiene and clothes-change protocols.
To make things worse, the cleaners, all from outsourcing companies, also cleaned domestic flights. Infected cleaners from the international flight were found to have had contact with the cleaners of domestic flights and further transmitted the virus to other airport workers.
On July 20, regular nucleic acid testing of airport staff uncovered 17 cases of the Delta variant, including nine confirmed cases and eight asymptomatic carriers.
After the cases were discovered, authorities in Nanjing immediately conducted nucleic acid testing of all of the city's residents, and instructed them not to leave the city unless it was necessary. On July 24, the first round of testing was completed on over 9.2 million Nanjing residents, discovering 74 positive cases.
Beginning on July 21, Lukou airport greatly reduced the number of inbound and outbound flights, and then completely suspended operation on July 26. It was the next day on July 27 that the Nanjing Center for Disease Control and Prevention publicly confirmed that all infections were of the more contagious Delta variant, which transmits faster and takes longer to eradicate.
Since Nanjing reported its first cases, many other cities in China have taken swift action to screen those who had passed through Lukou airport. On July 26, three people in Dalian, a coastal city in Liaoning Province, were confirmed as asymptomatic cases.
The three spent only two hours in the airport in Nanjing while transferring onto a flight to Zhangjiajie. Contact tracers found that, after arriving in Zhangjiajie, the three joined more than 2,000 others to watch an evening gala performance in a local theater where social distancing measures were not properly followed, with some members of the audience not wearing masks.
The performance was soon discovered to be a major infectious event. China's top epidemiologist Zhong Nanshan said at a summit in Guangzhou, Guangdong Province, on July 31 that the definition of close contact has been expanded for the Delta variant to include any person with exposure to a confirmed case in the same room, workplace or building.
Based on this updated definition, all those at the gala performance and those who visited the theater around July 22 are considered high-risk contacts. On July 30, authorities in Zhangjiajie announced they would close all of the city's scenic spots. An urgent notice was immediately released nationwide asking for people who had watched the performance or had been to Zhangjiajie to come forward.
In the following few days, more confirmed cases were reported in other provinces and municipalities. Most of the cases had either been to Zhangjiajie or crossed paths with those who had.
In Yangzhou, another city in Jiangsu, three mahjong and poker lounges were deemed high risk after a 64-year-old frequent visitor was found to be positive for the Delta variant. Currently, most of the confirmed cases in Yangzhou are mahjong enthusiasts over 60 years old.
Another chain of infection was found in Zhengzhou that was recently hit by a rare but devastating flood. Confirmed cases there were found to have originated in a local hospital that had been designated for COVID-19 patients. Gene sequencing results showed that the Delta variant infecting the patients was a strong match for that found in patients from Myanmar, who were being treated at the hospital. It remains unclear whether this chain has any connection to the chain from Nanjing.
Stricter rules
As He Qinghua, an official at the NHC's Bureau of Disease Prevention and Control, revealed at a news briefing on July 31, since May last year, all confirmed cases of COVID-19 in China had been caused by infected persons arriving or returning from overseas. This has made frontline workers more vulnerable to the virus.
During the briefing, He said that high-risk workers should be strictly isolated in closed-loop management. "Special attention should be paid to disposal and disinfection procedures for transportation vehicles and goods from overseas," he said.
To prevent infection, the cleaners at Lukou airport have been vaccinated, yet some still got infected. Addressing questions over whether current vaccines are effective against COVID-19 variants, Shao Yiming, a researcher at the Chinese Center for Disease Control and Prevention, confirmed China's vaccines are effective at protecting against variants.
This assessment is backed by statistics from a trial undertaken in Chile that involved more than 10 million people who were fully immunized with China's CoronaVac COVID-19 vaccine. Shao said the study found the vaccine to be 65 percent effective at preventing infection or minor illness, 87.5 percent effective at preventing severe illness, 90.3 percent effective at preventing hospitalization at intensive care units, and 86.3 percent effective at preventing COVID-19 related mortality.
The results demonstrate the CoronaVac vaccine effectively prevented COVID-19 infections in Chile, where most infections are of the Gamma variant.
Figures from the NHC show that as of August 4, more than 1.72 billion doses of vaccine had been administered in China, and authorities will continue to extend inoculation to cover the elderly, and teenagers aged 12 to 17.
Some countries with high inoculation rates have still experienced recurrences of the pandemic after control measures were relaxed. "High rates of inoculation and strict containment measures should both be maintained," Shao said.
(Print Edition Title: The Virus Variant Woes)
Copyedited by Ryan Perkins
Comments to lixiaoyang@bjreview.com