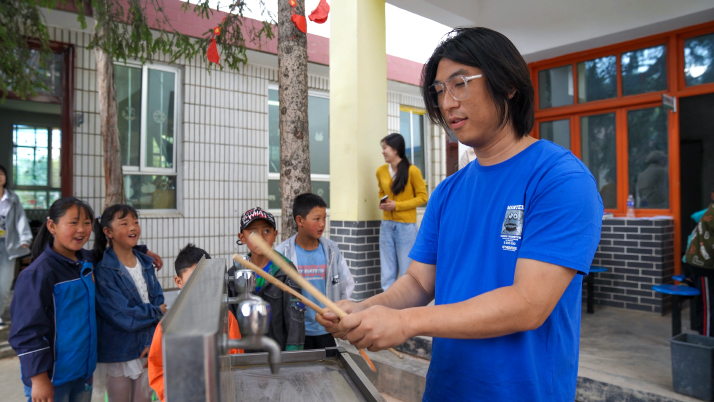 A percussionist uses an old metal sink as a drum set during a performance at Weiziba Primary School on July 22 (ZHANG WEI)
It took Li Shang, a percussionist from Beijing, nearly 15 hours to reach Weiziba, a village in Gansu Province, on July 21. Local transportation from the airport in the provincial capital to the village, at an altitude of 2,450 meters, remains inconvenient, but Li and his colleagues didn't seem to be bothered.
They came to the village in northwest China to perform for students of the Weiziba Primary School.
At 8:00 a.m. the next day, children started to trickle in, excited by the prospect of this new experience brought to them by the school's annual art-themed summer camp.
It was the first time for the musicians to bring Over the Moon, a percussion concert, which has been staged in Beijing many times already, to the rural areas. The "box-office hit" via word of mouth is co-produced by TONG Productions, a Beijing-based company sharing world-class stage performances with Chinese children, emphasizing interaction with the audience.
Nearly 60 percent of young people in Weiziba have gone off to work in cities, leaving many children in the care of their grandparents.
"Family education, to some extent, cannot play out its full-fledged role in the lives of those who grow up with their grandparents. At the same time, as there is a lack of specialized teachers, the school is unable to offer courses in various art genres," Liu Yibing, head of the school, said. That means every summer camp is an opportunity for the children to broaden their horizons, he told Beijing Review.
A productive summer
Due to the long journey, the performing artists could not bring any large instruments with them to the village. Though the school does have some African and snare drums for the regular music class, these are not enough to put on a full-on percussion act. Hence, metal objects such as pot lids served as instruments, bridging the gap between the young rural audience and the exotic musical genre.
Eleven-year-old Duan Dongqi was reluctant to leave after the show. She told Beijing Review that players like Li were great because they could create beautiful music using only pots and pans. "Percussion does not come with many rules. Anything can serve as an instrument and create rhythm, vibes and happiness," Li said.
Despite not understanding the genre, the young learners could emotionally capture every signal the musicians conveyed as they spoke to all the senses. Their enthusiastic reaction encouraged musicians to reveal the true charm of the beats through their virtuoso skills.
Li Zhuowen, another musician, said it felt incredibly good to see children brimming with curiosity and longing for more artistic input. "It makes for such a nice trip when romantic souls meet in music, generating artistic inspiration."
Aside from the concert, the summer camp also has other interesting activities on offer. For example, students were organized to explore the village and later worked together to draw a map of their hometown based on their own observations.
The camp is part of a larger project to promote well-rounded development of students at rural schools, supported by the local government and non-profit organizations. It recruits volunteers from all over the country. Zhou Xinya, a 24-year-old student from the Zhejiang Conservatory of Music, has participated in the project five times already.
Under her guidance, the children of Weiziba collected the rhythms of the falling rain, roosters crowing, old people singing local folk songs and other sounds of daily life, which were later synthesized into a musical piece—The Sound of Weiziba.
Zhou told Beijing Review that these activities offered her a channel to help children in rural areas and, at the same time, enrich her own life experience. "My major is ethnomusicology, the aesthetics of music. It studies the music of different cultures and requires me to explore different regions in China and live with locals to learn more about their intangible cultural heritage."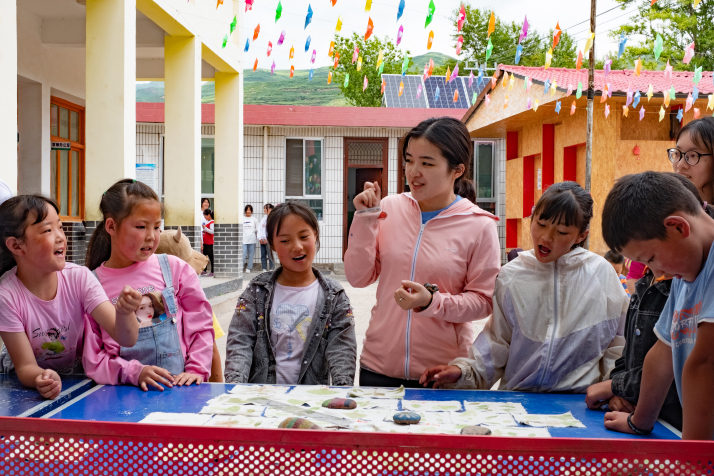 A volunteer teaches students how to create bookmarks out of leaves at Weiziba Primary School, Gansu Province, on July 23 (COURTESY PHOTO)
The role of schools
"Living environments and conditions for rural and urban children are different. But their hearts are open and filled with a longing for art," Ren Lizhu, one of the founders of TONG Productions, said.
On the lengthy trip to the school, she wondered whether the lack of any parental company might have resulted in some psychological problems so the children would be too shy to talk to strangers. "But what I saw there dispelled my concerns," she said, adding the children were all optimistic and energized.
All credits for this positive atmosphere and outlook on life should go to the school. Zhao Hongzhi, a researcher on rural education with the 21st Century Education Research Institute, has been living in the village for three years as a primary school counselor. He believes schools and teachers should help with family guidance in rural areas.
"It does not mean that we should help them solve every problem, but that we should lead them to a better life through education." This very principle also applies to the summer camp. By organizing events involving local geography, flora and life, Zhao believes pupils can learn to cherish their families and school life and pay more attention to the village's public affairs.
Following his arrival at the village, the first thing Zhao did for the children was to install water pipes for tap water at school. Later, considering it is inconvenient for students to go home for lunch, he took on a new role—as a school chef. To help the children develop proper hygienic habits, he bought electric water heaters to service bathhouses.
"How one dines and bathes is not a matter of habit, but a matter of human dignity," Zhao responded, stressing that rural education should not neglect the importance of the students themselves. And attending these summer camps can give them a sense of diversity and enhance their connection with the bigger world.
(Printed Edition Title: Drumming Up a New Beat)
Copyedited by Elsbeth van Paridon
Comments to wanghairong@bjreview.com