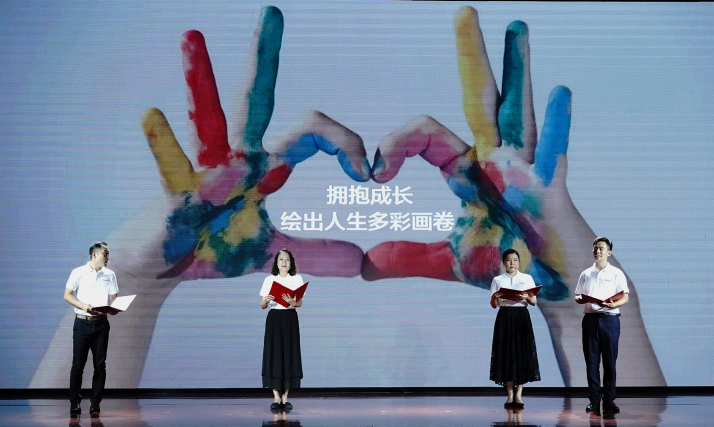 A charity concert in Shanghai on September 5, China's Charity Day (XINHUA)
Though he only makes a meager salary, that hasn't stopped Zhao Yongjiu, a cleaner in Shenyang, Liaoning Province, from contributing to charity. He has donated a third of his salary to charity over the past 30 years and the total amount he has handed out exceeds 180,000 yuan ($27,972).
The seeds of charity were sown in Zhao's heart when he was just a teenager. His father died in a work accident and his mother had to raise Zhao and his younger brother all by herself. Later, his mother fell ill, making life more difficult for the family. "At that time, the factory my father had worked in helped us out by providing us with coal for heating in winter. Additionally, our neighbors gave us food," Zhao told Liaoshen Evening News.
He never forgot the helping hands he had received throughout his youth and told himself that one day, whenever he could, he would help those in need.
Over the past 30 years, he has helped the elderly and disabled in his area and supported more than 40 students in finishing their education.
Zhao was honored as a charity model by the Ministry of Civil Affairs during the 11th China Charity Awards ceremony on September 5. A total of 182 people, businesses and organizations received the accolades for their involvement in the drive to contain the COVID-19 outbreak and eliminate rural poverty.
The award, initiated in 2005, is the highest charity honor conferred by the Chinese Government.
In his ceremonial address, State Councilor Wang Yong said that the charity sector has seen notable progress since 2012 and the development of charity is a sign of social progress. He said that the sector has taken on a major role across several areas, including poverty eradication, pandemic containment and the turning of China into a "moderately prosperous society in all respects."
The Central Government encourages various charities to help consolidate the fruits of the poverty-relief campaigns and strengthen social safety nets. Authorities will bolster oversight, while the charity sector should achieve better self-discipline and transparency, he said.
Lending a helping hand
Pema Yangjan from Lhasa received the award for helping improve medical care in the remote areas of Tibet Autonomous Region. In these regions, childbirth can be risky and even lethal for both mother and baby due to underdeveloped healthcare systems. As a mother who herself went through a difficult labor, Pema Yangjan is all too aware of the
devastating impact the loss of mother or baby during childbirth can have on a family. She founded the Tibet Mother and Child Healthcare Association back in 2010 to the improve healthcare for women and children in remote agricultural and pastoral parts of the autonomous region. The association has organized more than 70 training sessions for over 3,000 village doctors from 74 counties in Tibet, who have altogether successfully delivered more than 5,000 babies since the training.
Pema Yangjan has further introduced an early education program to Tibet. "Early education has a far-reaching effect on one's life. I stumbled upon the program by chance and wanted to do more for Tibetan kids by introducing the program to the area," she said.
The China Development Research Foundation provides parenting guides and nutrition intervention for 6- to 36-month-old children in rural areas.
The program was implemented in Nyemo County in Lhasa in 2018 and has benefited more than 800 children in just three years.
"I believe everybody can contribute to charity. As long as they undertake every possible small act of kindness within their capacity, their efforts will be most rewarding for society by large," she said. "Seeing our projects receive public acknowledgement, I feel all endeavors are worthwhile," she added.
In addition to individuals like Pema Yangjan, several organizations, too, have been acknowledged by the award. Big Love Pingjiang Charity Association, a charity aiding the poor in Pingjiang, a former impoverished county and an old revolutionary base in Hunan Province, also received the award. The organization was founded in 2017 by over 80 of the county's private business owners. At present, the organization has attracted tens of thousands of donors and volunteers and raised 327 million yuan ($50.5 million) in total, benefiting over 200,000 people.
Chen Songbai, President of the organization, said the project has brought hope to those facing difficulty in life.
Chen, chief engineer of a real estate company in Pingjiang, took the lead by donating 3 million yuan ($464,100) as soon as the organization was established. Others followed suit and the foundation attracted 100 million yuan ($15.4 million) in donations that year.
The foundation features a board of directors as well as a board of supervisors. Under the two boards, there is a secretariat responsible for executing charity projects, which is overseen by the board of supervisors to ensure all funds are allocated to poverty alleviation.
In 2018, a local villager named Zheng Houfei turned to the organization for help. Her husband had died of illness, leaving behind his mother, well into her 70s, and two underage sons. The family found it hard to sustain themselves even after receiving government subsidies for impoverished households. The organization provided the family with 12,000 yuan ($1,856) in aid per year and helped Zheng find a job, which paid over 2,000 yuan ($309) a month. Today, the family has successfully climbed their way out of poverty and their living conditions have improved significantly.
The charity spirit
The project also serves to pass on the spirit of charity and inspire more people to engage in charitable causes. Zhang Ga, a Ph.D. candidate from Tsinghua University, too, has received help from the foundation. Zhang's father suffered from a chronic lung ailment. As he and his brother were both at school, his mother had to support the family all by herself. Learning about the family's situation, the organization offered them financial help. Zhang was moved and decided to volunteer with the organization to spread the love to more people.
"We will promote the charity cause across Pingjiang and contribute our part to the promotion of rural vitalization and common prosperity," Chen said in his ceremony address.
The Guangzhou Liby Group, a producer and distributor of cleaning products, was one of the businesses to receive the award. The group donated 200 million yuan ($30.9 million) worth of sanitizers and other supplies to help combat the COVID-19 outbreak last year.
Chairman Chen Kaixuan explained that as medical goods were in short supply following the outbreak last year, the group organized 10,000 of its employees in a race against time to produce sanitizers and other provisions. As all logistics services had been suspended, the group spent nearly 20 million yuan ($3.09 million) on arranging over 1,000 vehicles to transport the supplies to over 2,000 hospitals in more than 360 cities.
The company has also participated in the government's poverty alleviation and rural vitalization drives and donated roughly 130 million yuan ($20 million) to rural areas in Guangdong, Sichuan and Guizhou provinces to help improve infrastructure, medical care and school facilities, benefiting some 300,000 people.
Chen said his company will continue to increase its spending on charity as well as create new ways of assisting in the national quest for common prosperity.
(Print Edition Title: THE GENETICS OF GENEROSITY)
Copyedited by Elsbeth van Paridon
Comments to jijing@bjreview.com