For some athletes, 17 is the age to make their Olympic debut. But for Chinese snowboarder Zhang Jiahao, it is the age at which he first took up the sport. Born in Beijing in 1995, Zhang had worked as a baker before becoming a professional snowboarder in 2014.
At the time, he, having never imagined how far he would progress in the sport, only saw snowboarding as a hobby. However, after taking part in a number of amateur competitions, he set himself the goal of competing in the Olympic Winter Games Beijing 2022.
While Zhang failed to get enough points in the International Ski Federation (FIS) competitions to qualify for the Beijing 2022 Games, his fight for a dream once seemingly impossible has impressed and inspired many.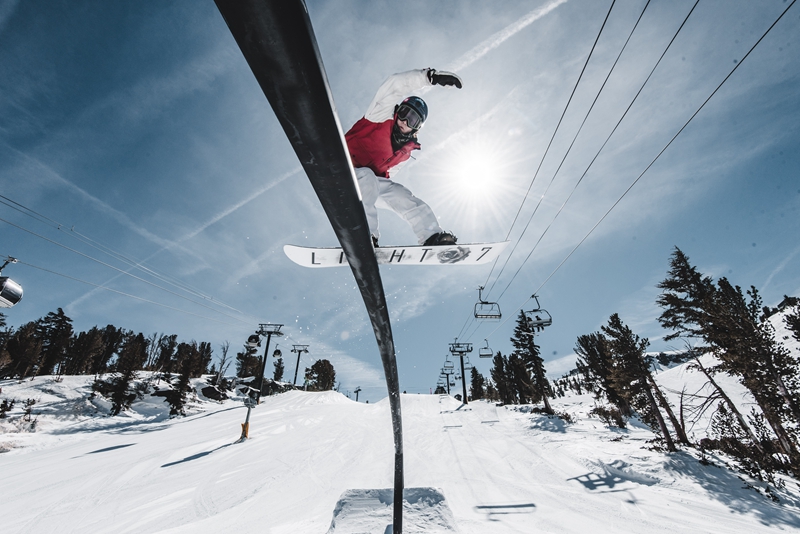 Zhang Jiahao practices his tricks at the Mammoth Mountain Ski Area in California, the U.S., on March 4, 2020 (COURTESY PHOTO)
Transformation
After graduating from junior high school, Zhang enrolled in a vocational high school for culinary education and became a baker. In 2012, some of his friends took him to the Nanshan Ski Resort in the northeastern suburb of Beijing, where he tried snowboarding for the first time. He soon fell in love with the exciting sport, his experience in rollerskating helping him master the necessary balance and jumping skills.
Snowboarding was not a Winter Olympic sport until 1998. In 2014, slopestyle snowboarding competitions debuted at the Sochi Olympic Winter Games in Russia. Around a decade ago, the sport was not yet popular in China. According to Zhang, the conditions at ski resorts and the quality of equipment were not what it is today. At the time the number of regular snowboarders at the Nanshan Ski Resort only totaled around 40, but all of them were enthusiastic about sharing and improving their skills.
"At first, I would go to ski resorts on the weekends. In order to snowboard after work during the week, I began working night shifts in hotel restaurants. For two consecutive years, I only slept four or five hours a day," Zhang told Beijing Review.
To practice on the slopes as much as possible, Zhang would often snowboard for hours without eating, leading his friends to dub him the "robot snowboarder."
Moreover, he saved every penny to pay for the sport. In his first year of work, he earned only 1,200 yuan ($188) per month, which was mostly spent on snowboarding gear and transportation.
After mastering more and more skills, Zhang gradually gained confidence and set his sights on the bigger stage. In January 2014, he participated in the Nanshan Open, his first competition, taking ninth place with a backflip followed by a 360-degree rotation, and gaining his first sponsor. In the same year, he got to know Dong Mingjie, a coach of the Heilongjiang Provincial Snowboarding Team. As members of the team were training in Beijing at that time, Zhang often turned to Dong for help with his skills.
"Following my passion, I quit my job as a baker in 2016 without hesitation and began doing part-time jobs to free up more time for snowboarding," Zhang said. That year, he joined the Heilongjiang provincial team at Dong's invitation, where he received more professional guidance.
In recent years, Zhang has won many awards. He ranked second among domestic snowboarders in the Nanshan Open in 2015, and attended his first international event, the 2016 FIS Snowboard World Cup in New Zealand. At this event, he competed against the world top and received the highest points of any Chinese competitor. In 2019, he was ranked first in China in slopestyle snowboarding.
Snowboarding has also improved Zhang's life. By 2017, he was earning a living from his prize money and sponsorships. His efforts enabled him to enroll in Beijing Sport University for further studies in 2020.
Slopes of dreams
It was after Beijing won its bid to host the 2022 Olympic Winter Games in 2015 that Zhang first set his sights on the possibility of competing in the Games.
To qualify for the Olympics, Zhang needed to earn more points from international competitions, and so he increased his international travel from the beginning of 2020. Despite many travel-related difficulties, he competed in FIS snowboard competitions in Canada, Sweden, Chile, the Netherlands and Switzerland. The impacts of the COVID-19 pandemic made it particularly difficult to apply for visas, and Zhang had to travel alone without the support of a team. There were also uncertainties such as lockdowns in some countries and competition cancellations.
"To compete, I had to make a four-hour return journey to and from the ski fields on mountain roads. Then, when I got home, I had to cook dinner, check schedules and make plans for improving my physical fitness. I had to do everything myself," he said.
In mid-2021, Zhang initially learned that he would not be able to compete in Argentina due to the pandemic. Fortunately, he later was informed that he could still attend the competition, which had been moved to Chile and rescheduled to August. Despite uncertainties surrounding the postponed event, he managed to travel to Chile, again by himself, and won one gold and one silver in the big air and slopestyle events, respectively.
In November 2021, he attended a competition in the Netherlands, the final qualifier for the 2022 Games. There he failed to score and lost his chance to compete at the Beijing Winter Olympics. Zhang was philosophical about the result. "I had already tried my best to achieve what I thought was an unrealistic goal," he said.
His snowboarding stories and videos have gone viral on social platforms, with the consistent pursuit of his dreams touching many. "My story may help them see their own potential. Anyone can have a dream, but some lack the ability or the guts to follow it," he said.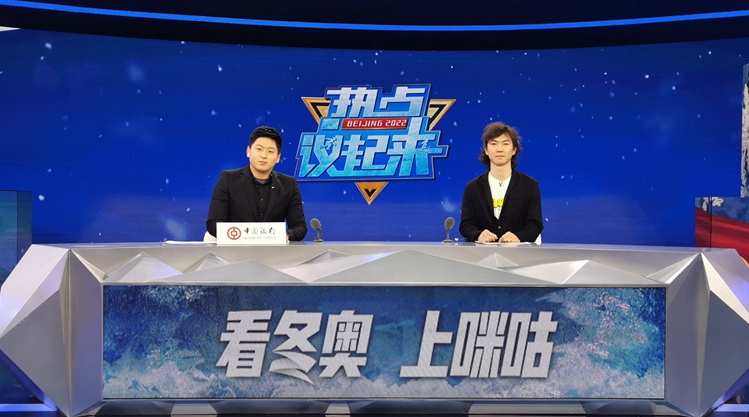 Zhang Jiahao (right) works as a commentator for the Beijing 2022 Games on February 5 (COURTESY PHOTO)
Keeping cool
Throughout his snowboarding career, Zhang's passion for the sport has been more powerful than his fear of injury. Even when he fractured his wrist, he still continued training with a cast. He was forced to stop snowboarding only once, when he broke his leg and was bedridden for two months.
Although not competing in the 2022 Games, Zhang is still involved, working as a commentator for the slopestyle snowboarding competitions. He has also had the opportunity to cheer on his friend Su Yiming, a gold medalist in the men's snowboard big air this year.
For Zhang, winning top competitions is no longer the No.1 goal, but his passion for snowboarding remains unchanged. After the Games, he plans to travel to the Changbai Mountains in Jilin Province at the end of February to practice slopestyle and review his skills. "I also want to go to Xinjiang Uygur Autonomous Region to experience snowboarding on powder snow, go heli-skiing and climb snow mountains in Sichuan Province," Zhang said.
Zhang's primary concern now is to enjoy the fun of snowboarding. "I want to slow down for now. Then I may develop a new goal and fight for it over the coming years," he said.
(Print Edition Title: Baking Up a Storm)
Copyedited by G.P. Wilson
Comments to lixiaoyang@cicgamericas.com