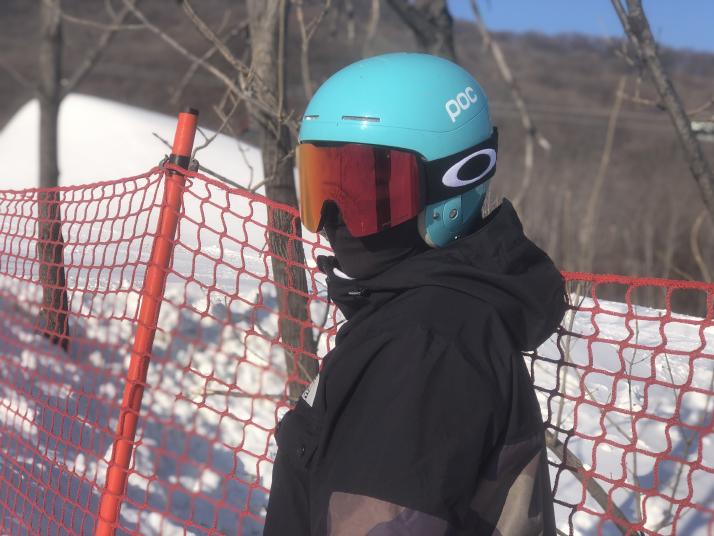 Chinese snowboard cross athlete Yongchin Lhamo (COURTESY PHOTO)
When China's snowboard cross athlete Yongchin Lhamo secured a ticket to the Olympic Winter Games Beijing 2022 in mid-January, two firsts occurred: She became the first Winter Olympian from Tibet Autonomous Region as well as the first Chinese athlete to take part in the most electrifying event the Games have to offer.
"It's my first time competing in the Winter Olympics on behalf of our country. I hope I can achieve concrete results," the 18-year-old told Beijing Review on the eve of the Chinese New Year, 10 days before her scheduled Olympic debut on February 9.
Yongchin Lhamo majored in soccer at the Tibet Sports Vocational School, but after 2018, she shifted to snowboard cross.
China has a very short Winter Olympic history, debuting rather late in 1980. When it won the bid to host the 2022 Games in 2015, its winter sports field was still dormant. At the Sochi 2014 Games, Chinese athletes took part in only half of the 98 events. What's more upsetting, the country had no talent base for nearly one third of the events to take place at the Beijing 2022 Games, such as luge, bobsleigh, skeleton, Nordic combined and snowboard cross.
To fill in the gap, the General Administration of Sport of China launched extensive recruitment rounds in 2017 and 2018. Young athletes from other disciplines, such as weightlifting, soccer and athletics, took part in physical tests and training. Those qualified entered the national training teams for different winter sports.
This year, China put together a national team with 177 athletes competing in 104 events across 15 disciplines in all seven sports, marking the country's largest ever presence at a Winter Games.
Yongchin Lhamo is one of them. "My first time skiing proved magical," she told Beijing Review. Truth be told, she had never heard of snowboard cross before entering the sport.
Snowboard cross, an Olympic sport since 2006, sees four to six contestants go head-to-head in a race down a daunting course with a number of turns and obstacles. The fastest one wins. According to a medical study published in the British Journal of Sports Medicine, snowboard cross produced the highest percentage of injuries, 35 percent, of all events at Vancouver 2010.
"Snowboard cross is thrilling. I love it," Yongchin Lhamo said. To become an Olympian, she worked hard, training in different venues over the past three years. Compared with indoor self-designed courses, she prefers a stint of open-air snowboarding on "interesting natural tracks."
"Sometimes, I get frustrated by the obstacles and jumps or because others may be catching on faster," Yongchin Lhamo admitted.
Eight days after she turned 18, on January 9, Yongchin Lhamo took part in the Women's Snowboard Cross World Cup in Krasnoyarsk, Russia, coming in 17th. It was the best ranking a Chinese snowboarder had ever achieved. She earned herself a belated birthday present: a ticket to compete in the Beijing 2022 Games.
But her Olympic dreams came crashing down when she got hit with an accidental spine injury during a training session two days before her debut. The good news is that she has been discharged from the hospital and is now in rehabilitation.
"As for my career plans, I will work harder in the next Olympic cycle and hope to compete in the Winter Olympic Games in the future," she concluded.
(Print Edition Title: The Thrill of the Chase)
Copyedited by Elsbeth van Paridon
Comments to linan@cicgamericas.com