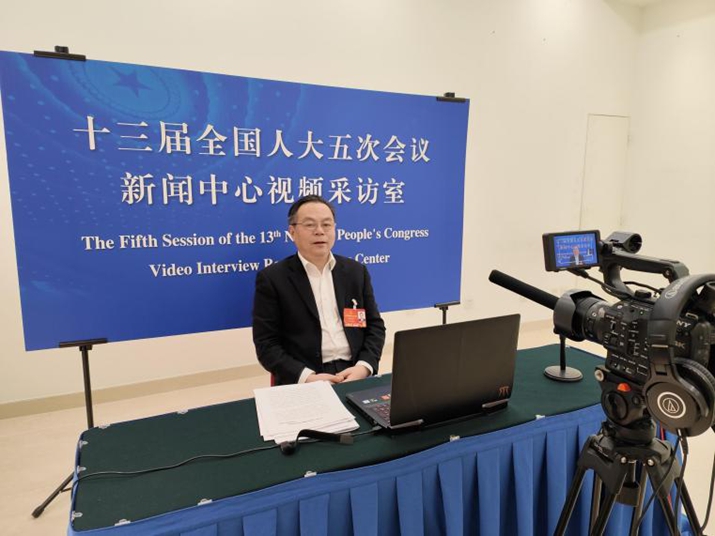 Zhang Zhaoan, a deputy to the National People's Congress, is interviewed online by media on March 5 in Beijing (COURTESY PHOTO)
"If hi-tech development relies on computer chips, then agricultural development relies on seeds," Zhang Zhaoan, a deputy to the National People's Congress (NPC), said during an interview with Beijing Review. To better safeguard China's food security, more focus should be placed on improving the competitiveness of the country's seed industry, he said.
As a large agricultural country, China has a huge demand for quality seeds. However, its own seed industry is not strong enough, said Zhang, who is also a research fellow at the Shanghai Academy of Social Sciences. Over the past decades, the country's seed industry has made considerable progress, however, it is yet to build a strong foundation. Production of China's two staple grains, rice and wheat, has achieved seed self-sufficiency and relies on Chinese seeds. But, seeds used for the production of many other crops, including tomatoes, onions, eggplants, carrots, peppers, and broccoli are highly dependent on imports.
According to reports, more than 70 international seed industry giants have swarmed into the Chinese market in recent years. At their peak in 2008, foreign seeds accounted for over 60 percent of seeds purchased in some parts of the country, with prices soaring once growers and buyers recognized the benefits of imported seeds.
Imported seeds often produce higher yields of better-quality produce. According to Zhang, this gap between domestic and imported seeds results from a lack of investment in research and development; the lack of integration between research, education and production within the industry; Chinese seed companies' lack of competitiveness, and insufficient cultivation of new talent in the industry.
The issues identified by Zhang are critical for China's development, not only as better seeds lead to better quality economic and rural development, but also because taking charge of China's seed production is key to ensuring future food security. "If we overly rely on imports, we risk the possibility of interruptions to seeds supply, which in turn could jeopardize national security," Zhang said.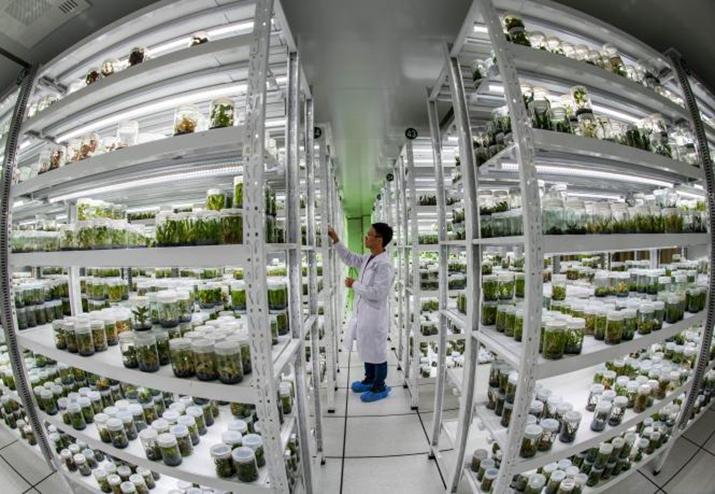 Photo taken on October 20, 2021, shows the in vitro storage room at the Germplasm Bank of Wild Species in Kunming, southwest China's Yunnan Province (XINHUA)
To address these issues, Zhang is putting forward proposals at this year's NPC that aim to give China's seed industry the strength it needs for self-sufficiency. His proposals center around strengthening seed banks, strengthening research institutions, and strengthening enterprises.
Zhang proposes the formulation of a development plan for China's local and key protected seeds, and the establishment of local seed variety protection areas where local seed varieties can be grown and stored. "Focusing on protecting our existing seed resources is first and foremost," he said. "This can be achieved by improving China's seed banks of key seeds, and working to reduce technical difficulties associated with key-seed research."
For the growth of China's seed-producing enterprises, Zhang is proposing the introduction of a national system that will provide financial and technical support to increase their competitiveness. Zhang will also propose the establishment of state key laboratories for plant breeding and a national seed engineering center to strengthen organizational research and development.
Copyedited by G.P. Wilson
Comments to wenqing@cicgamericas.com