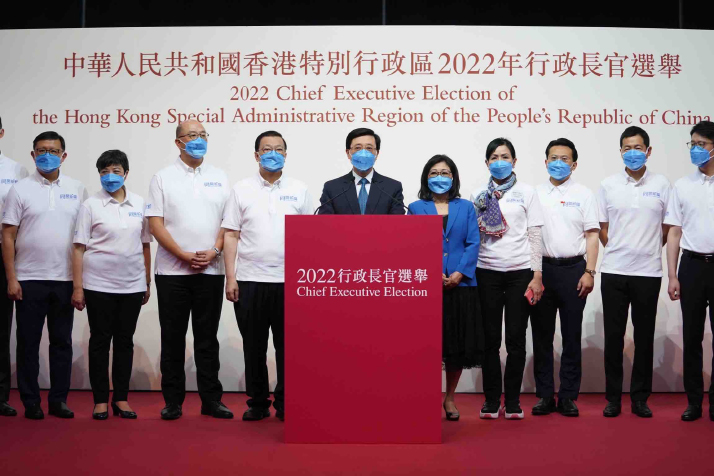 Chief executive designate John Lee Ka-chiu at a press conference on May 8, after winning the 2022 Chief Executive Election on the same day in Hong Kong Special Administrative Region (XINHUA)
Two days before John Lee Ka-chiu was elected as the sixth-term chief executive designate of Hong Kong Special Administrative Region (HKSAR) on May 8, he hosted a campaign rally at the Hong Kong Convention and Exhibition Center. At the event, Lee recalled a time when he, as a student, was first extorted and subsequently beaten up by some "older guys" because he had no money to give them. This experience propelled him to become a police officer and protect people.
Over his three decades in the Hong Kong police force since 1977, Lee took the lead in handling many high-profile cases. In 1998, for example, his taskforce seized 800 kg of explosives hidden by Cheung Tze-keung, a notorious Hong Kong gangster best known for having masterminded the abduction of Victor Li Tzar-kuoi, son of HKSAR tycoon Li Ka-shing.
But Lee's "tough guy" image is mainly a public facade; in the private sphere, he presents a warmer side. Many reports out there have reiterated this man attaches great importance to family life and teaches his children through actions, not just words.
When announcing his decision to run for the chief executive on April 9, Lee said, "This decision comes from my loyalty to my country, my love for Hong Kong, and my sense of duty to the Hong Kong people. I am confident that I can and will rise up to meet the greatest challenge in my career as a public servant."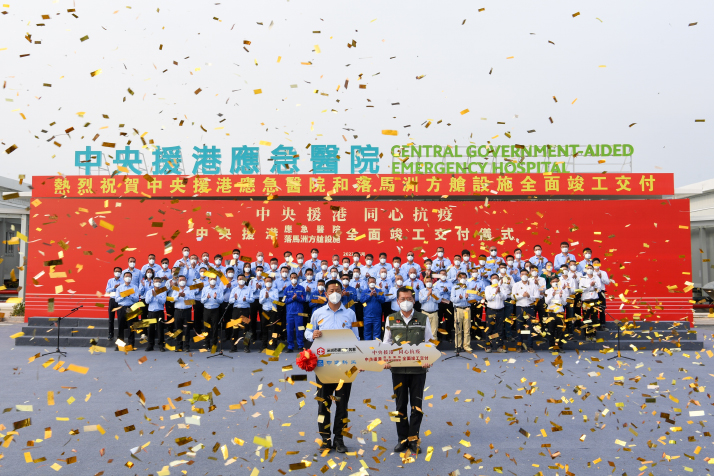 The Central Government-Aided Emergency Hospital is handed over to Hong Kong during a ceremony on May 6 (XINHUA)
A trustworthy man
In April, Lee resigned from his post as chief secretary for administration of HKSAR, assisting the incumbent Chief Executive Carrie Lam Cheng Yuet-ngor in supervising the bureaus and playing a key role in overseeing coordination between policy formulation and implementation. He then formally submitted his candidacy application for the chief executive election. Tam Yiu-chung, a member of the Standing Committee of the National People's Congress (NPC), China's top legislature, said on April 7 when interviewed by reporters, "Lee has the Central Government's trust."
The HKSAR chief executive "must be a loyal patriot trusted by the Central Government," read a white paper released by China's State Council Information Office on December 20, 2021. The city currently implements the One Country, Two Systems principle, meaning there is only but one China and under this premise the mainland adheres to the socialist system while HKSAR may retain the capitalist system for a long time to come. To guarantee the steady progress of the said principle, and to further develop democracy in Hong Kong, "We must remain committed to the principle that Hong Kong is governed by Hong Kong patriots," the document further stated.
"One must always remember that Hong Kong is not an independent state. It is an inalienable part of the People's Republic of China, and therefore Hong Kong's leadership must be on the same wavelength as that of Beijing. That is common sense," Mark Pinkstone, a former Chief Information Officer for the Hong Kong government, told China Daily in a recent interview.
Lee Kwan-ho, a member of the HKSAR Election Committee (EC), told Beijing Review, "In the 25 years since Hong Kong's return to the motherland, the general principles of One Country, Two Systems and Hong Kong people governing Hong Kong have never changed," adding that today, an improved electoral system with Hong Kong patriots governing Hong Kong meets Hong Kong's actual development needs. Lee Kwan-ho is also an HKSAR deputy to the NPC.
According to the revised HKSAR electoral system approved on March 30, 2021, the region's chief executive shall be nominated and elected by the 1,500-seat HKSAR EC and appointed by the Central Government. EC members hail from all levels of society, from professionals to blue-collar workers; an NPC deputy is an ex officio member of the EC.
Only truly capable patriots can govern Hong Kong and overcome more of its deep-rooted problems, Lee Kwan-ho said.
John Lee has demonstrated his abilities to deal with major events in recent years, including the implementation of the national security law in Hong Kong, which targets four serious offenses—secession, subversion, terrorist activities, and collusion with a foreign country or external elements to endanger national security, the fight against COVID-19 and the adjustment of the HKSAR electoral system. By making all-out efforts in safeguarding China's sovereignty, security and development interests and the fundamental interests of Hong Kong, he has won the support and respect of Hong Kong residents.
The HKSAR EC is people-based and widely representative, Pinkstone noted.
John Lee received 786 valid nominations from EC members, well beyond the 188 nominations needed to be eligible for the candidacy. A candidate also needs at least 15 nominators from each of the five sectors in the committee. The candidate with a majority of votes will win the poll. Lee eventually won the election with 1,416 votes from the 1,461 EC members on May 8, far exceeding the 751 he needed to win and the highest support ever for the city's top leadership position.
Lam said that together with John Lee, she and her government will ensure a seamless transition and render all the support needed for the new administration to get up and running. Major business groups expressed their confidence that John Lee can unite all parties in strengthening Hong Kong's overall competitiveness and bringing long-term prosperity to the city.
John Lee is expected to take office on July 1, following his appointment by the Central Government. He will serve a five-year term.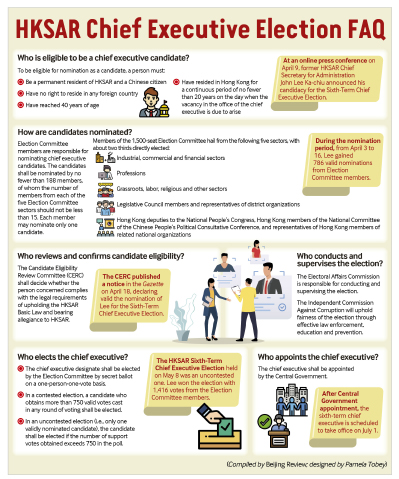 Opening a new chapter
John Lee's election rally was themed We and Us—A New Chapter Together. In a Facebook post on May 7, he explained how he wanted to convey a sense of "we stand together; there is no difference between you and I."
He has long been actively exchanging views with various sectors by, for example, hosting meetings with industry leaders, inviting members of the general public to leave their comments and suggestions online, and reaching out to residential communities to listen to local demands.
Having grown up in public housing himself, John Lee is all too aware of the hardships faced by a large part of the city's community. Public housing in Hong Kong is a set of mass housing programs through which the Government of Hong Kong provides affordable housing for lower-income residents. According to a 2021 HKSAR government report, about 45 percent of the city's population resided in some form of public housing in 2020. "I firmly believe that resolving the concerns of people must be a top priority in government policies," John Lee said in his candidacy announcement.
He has since promised to build a capable government with a "can-do" spirit to work together with the community. He said he will invite capable and experienced patriots who have the passion and commitment to join his governance team.
"Hong Kong has experienced outright violence, social unrest and the pandemic. It needs pragmatic and effective leadership to bring it onto a new path: one with clear goals, in line with China's overall development and carrying forward Hong Kong's advantages," Lee Kwan-ho said.
"John Lee's political platform emphasizes Hong Kong's role in the growth of the Guangdong-Hong Kong-Macao Greater Bay Area, including the creation of a new Northern Metropolis that will closely interact with neighboring Shenzhen—a concept I have always strongly supported," Lee Kwan-ho said.
The most pressing issues on John Lee's agenda involve the city's overall development, namely housing, healthcare and youth development. And against an increasingly complex international political backdrop, he said he would better position the city to consolidate its status as a metropolis, integrate into national development and further open up to the world.
Current pandemic-related travel restrictions greatly affect the city's economic recovery. Easing travel to and from overseas destinations will not conflict with the resumption of normal travel into the mainland, John Lee said during an interview on April 30. The government will try to strike a balance between meeting people's different needs and formulating pandemic control measures in accordance with the actual circumstances.
Ready to take on all the responsibilities that come with the city's top job, John Lee said he's looking forward to starting a new chapter and building a caring, open and vibrant Hong Kong that is full of hope, opportunities and harmony.
(Print Edition Title: Together for a New Chapter)
Copyedited by Elsbeth van Paridon
Comments to taoxing@cicgamericas.com