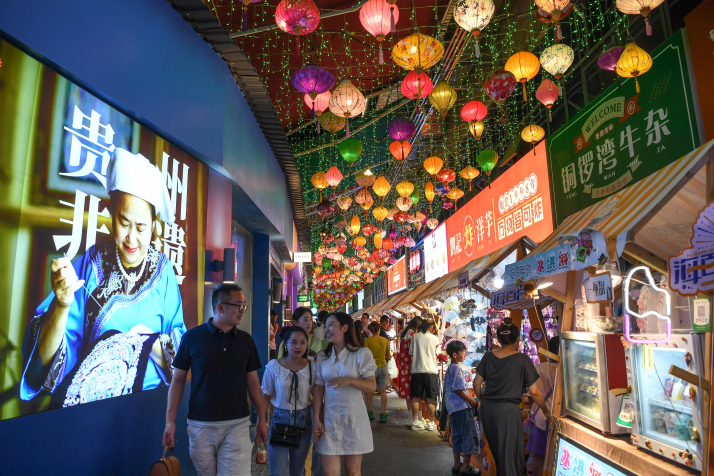 A night bazaar in Guiyang, Guizhou Province, on July 21 (XINHUA)
On July 19, the First Affiliated Hospital of Harbin Medical Univer-sity in Harbin, Heilongjiang Province, received a patient who vomited about four to five mouthfuls of blood, totaling nearly 1,000 ml. "He was already in the early stage of shock. Fortunately, he was rescued in time," Ma Zhibin, a gastroenterologist at the hospital, told local news agency Harbin Television Station.
The 38-year-old man had been in good physical condition. But after prolonged exposure to the hot summer sun and then drinking a bottle of iced beverage in one gulp, he felt uncomfortable. His condition deteriorated soon, so he was rushed to the emergency room.
The doctor said icy drinks or irritating foods, such as spicy or greasy dishes, quickly entering the digestive tract can cause a strong spasm of blood vessels and mucosa, which might damage the mucosa and even lead to a heart attack or other life-threatening consequences.
In recent years, related stories in many regions of China have made "extreme hot weather" the most searched hashtag. National Climate Center (NCC) monitoring showed that from early June to mid-July, on national average, the number of high-temperature days (above 35 degrees Celsius) was 5.3, 2.4 days more than the same period of usual years and the most in the same period since 1961.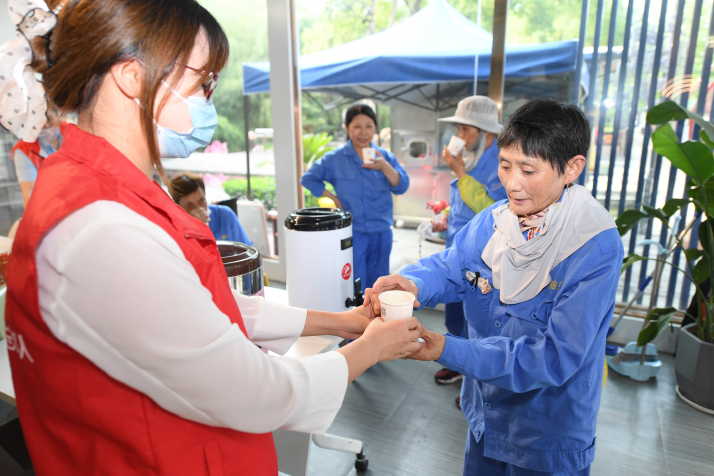 A sanitation worker receives tea from a volunteer at a rest station set up to help outdoor workers cope with the heat in Huzhou, Zhejiang Province, on July 19 (XINHUA)
Sweating it out
The globe just had the third warmest June on record, according to the European Union's Copernicus Climate Change Service, with widespread episodes of extreme heat. In China, new high temperature records were set at more than 70 of the 2,400 national meteorological observation stations, with temperatures rising to as high as 44 degrees Celsius.
According to the NCC analysis, since the beginning of the 21st century, large-scale sustained high-temperature events in China occurred in 2003, 2013 and 2017. Overall, this year's high-temperature events started earlier than in those three years, but the duration is currently shorter. Although the highest temperature at a single station was not as severe and high as those in 2017, it exceeded those in 2003 and 2013.
Large-scale high-pressure anomalies are the most direct cause of the recent extreme high temperatures, and the degree of abnormality will be determined after more evaluation of historical average conditions, according to Wang Jun, an associate professor with the Institute of Atmospheric Physics under the Chinese Academy of Sciences.
"At present, the extreme weather in many parts of the world occurs in the context of global warming. However, several extremely hot weather occurrences do not necessarily mean that global warming is intensifying," Wang told China Newsweek. "But one thing is almost certain: With further global warming, the probability and intensity of extreme weather will increase, and extreme heat may become a norm."
The NCC said the heat wave has affected more than 900 million people on more than half of the nation's land. The term thermoplegia is drawing increasing public attention. In Zhejiang and Sichuan provinces where the highest temperatures surpassed 40 degrees Celsius, at least six people have been diagnosed with this severest form of heatstroke, which can cause rapid heartbeat, dizziness, headache, shortness of breath, or even death.
This illness usually occurs among infants, the elderly, sports enthusiasts and those who work outdoors, said Yu Li, head of the Department of Critical Care Medicine at the Central Hospital of Wuhan in Hubei Province.
Cooling down
Liu Ning is a food delivery rider working for Meituan Waimai, a leading food delivery service platform, in Beijing. "Summer is a busy time for us," Liu told Beijing Review. According to a report released by the company in July, after 8 p.m. is the peak period for orders of ice cream, cold beverages and cold beer. Nationwide ice cube sales on the platform increased by 182 percent during some of the hottest days compared with the same period last year, and the number of merchants selling ice cubes increased by nearly 90 percent.
Liu wears UV protection arm sleeves, a motorbike helmet and a T-shirt every workday, sometimes all day. "The hotter it gets, the more orders we get. So more income also means more sweat," he said, adding that he always packs wet tissues with mint or alcohol, which give him seconds of coolness when wiping away sweat. Although tipping is not a common practice in Chinese culture, sometimes Liu receives tips from customers who tell him to buy a bottle of water or an ice cream. In Jiangsu Province, the government has built stations with charging units, refrigerators and microwave ovens for outdoor workers to rest, and have a sip of water or a snack.
A national regulation jointly released by several government departments in 2012 stipulates that employers should limit outdoor work to six hours on days with a daily maximum temperature above 37 degrees Celsius and that such work should not occur on days when the daily maximum temperature exceeds 40 degrees Celsius.
The regulation also forbids employers from deducting or reducing the wages of laborers if they stop working or shorten working hours due to high temperatures.
Authorities in many provincial-level regions have mandated employers provide several hundred yuan (usually under $50) per month as an allowance to employees for working during the summer months. The specific amounts differ with different temperatures and between indoor and outdoor employees.
Although some regions have raised the allowance in the past couple of years, many wish to see increases match rising consumer prices. "Now even a watermelon can cost more than 20 yuan ($2.96). I think my subsidy—160 yuan ($23.66) a month, should be raised," a sanitation worker in Beijing surnamed Zhang told the Workers' Daily.
"The allowance should be adjusted promptly according to factors such as economic and social development and wage growth. A dynamic growth mechanism for the allowance should be established," said Li Haiming, an associate professor with the Law School of the Central University of Finance and Economics in Beijing who specializes in labor and social security laws.
Li emphasized that employers should continue to invest in ventilation, cooling equipment and high-temperature labor protection supplies.
Moreover, workers who suffer from heatstroke due to working in the heat and are diagnosed with occupational illnesses are entitled to work-related injury insurance benefits, based on the regulation.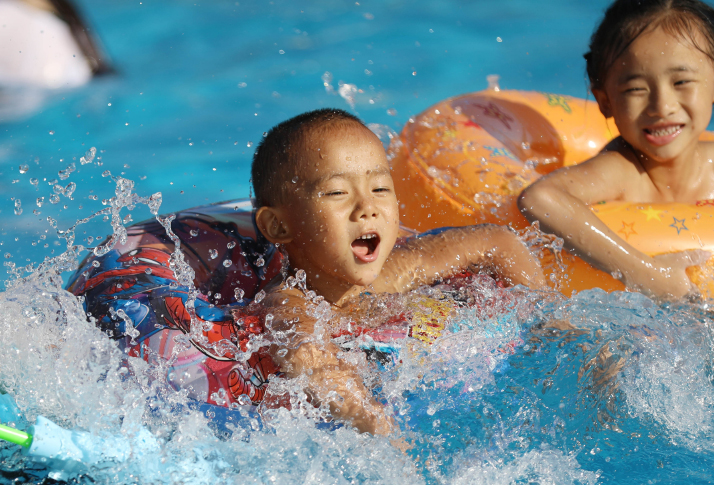 Children swim at a water park in Yongzhou, Hunan Province, on July 23 (XINHUA)
Hot businesses
Rising temperatures also stimulate consumption of the general public and the creativity of business people. Water parks have recently become popular in Chongqing, which is nicknamed a "Furnace City" for its notoriously high summer temperatures. To attract more visitors, the parks arrange aquashows and music festivals. Some parks even place mahjong tables in shallow pools, allowing players siting in basins filled with ice and water to wallow in the coolness while enjoying a game with friends.
Around the country, night bazaars, which are usually held in front of shopping malls, in long alleys or around scenic spots and historical sites, are also crowded on hot summer nights. Usually running from 7 p.m. until midnight, the bazaars feature neon lights, street artists, local snacks, handmade items and novelties, and sometimes games such as ring toss.
Several pet stores in Changsha, Hunan Province, and Nanjing, Jiangsu, two of China's hottest cities, have introduced foster care services. Pets can enjoy bathing, air-conditioned rooms, and refreshing snacks for hours.
Pet cooling mats, beds and scarfs, and pet pools are popular in online and offline stores. "In July, the sales of such products tripled that of last year," Liang Shuyi, a pet store owner in Fuzhou, Fujian Province, told Beijing Review.
Sales of air conditioners have been on the rise in some cities. Suning, a large online and offline electric appliance retailer with over 10,000 physical stores nationwide, said in a report that from mid-June to early July, air conditioner sales in its outlets surged 122 percent year on year, and refrigerator and freezer sales grew with a year-on-year increase of 98 percent. Electric fans were also popular with many customers.
Suning's data also showed that many households in China's cooler northern and western provinces, like Hebei and Shanxi, purchased their first air conditioner in June.
The hot days have not stopped young people from enjoying outdoor sports. On e-commerce platform Vip.com, searches for products related to cycling, frisbee and squash surged in July, and so did those for sunscreens, masks, hydration creams and after-sun skin repair lotions.
(Print Edition: Turning Down the Heat)
Copyedited by G.P. Wilson
Comments to luyan@cicgamericas.com