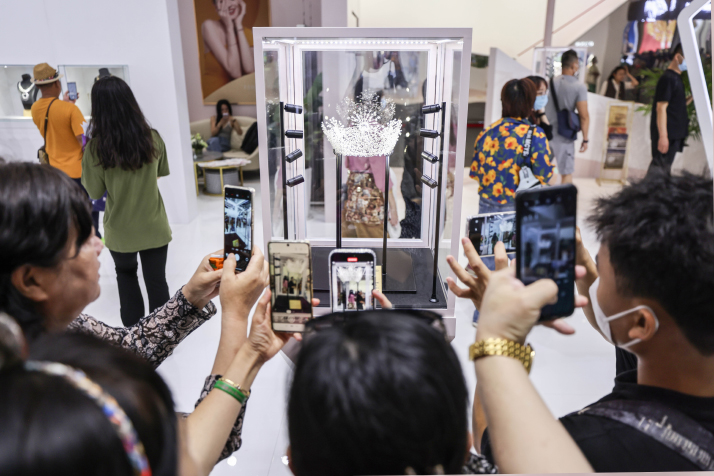 Visitors snap pictures of a diamond tiara at the Third China International Consumer Products in Haikou, Hainan Province, on April 14 (XINHUA)
"Diamonds are forever" is arguably one of the most successful advertising slogans ever. However, these glittering gems, symbols of love, wealth and prestige, seem to be losing their luster among China's younger generations.
Active in the business of diamond rings, Darry Ring Group, a jewelry company based in Shenzhen, Guangdong Province, released its performance assessment for the first half of this year in July. According to the report, as of June 30, the company had an operating income, or the amount of profit realized from a business' operations after deducting operating expenses, of some 1.22 billion to 1.24 billion yuan ($171-173 million), noting a year-on-year decrease of approximately 40.37 to 41.22 percent.
The company contributed its revenue decline to several factors, including China's slower-than-expected economic recovery, weak growth in discretionary consumer spending, or nonessential spending, and an insufficient demand for diamond products in the short term.
This underperformance is a challenge facing China's overall diamond industry. Figures from the Gems and Jewelry Trade Association of China show that in 2022, the market size of diamond products in China stood at 82 billion yuan ($11 billion), a decrease of 18 billion ($2.5 billion) from 2021.
"The consumer demand for diamonds is weakening," Dong Haiyang, a member of the Gemological Association of Great Britain, told Guangdong newspaper Nanfang Daily. "Even though some will still consider getting diamond wedding rings, people are generally tightening their belts."
All that glitters…
In early January, a woman from Anhui Province with the online pseudonym paopaomama uploaded a short video on Chinese social media displaying two diamond rings that she had purchased 16 and 10 years ago. The rings had cost her 18,000 yuan ($2,500) altogether. But when she took them to a jeweler's to sell, she was offered 180 yuan ($25) for the two, just 1 percent of the original price.
"I was shocked," she stated, adding, "The price is just ridiculous." The video went viral and the significant depreciation of the rings sparked heated online debate regarding the supposed enduring value of a diamond. "It's not a question of whether purchasing diamonds is a safe investment or not, it's a matter of how bad it can get when you don't want them anymore," one netizen commented.
"I recommend couples planning their nuptials go for gold instead of diamond rings and this is exactly what many of them actually do," Wang Xiao, CEO of MD Jewelry in Beijing, said in a video she uploaded on Douyin, China's TikTok. "Diamonds are more expensive than gold, but have lower enduring value. Diamonds of large carat size will usually retain their value, but are too expensive for most young couples."
A diamond as a symbol of eternal love is just a widely used marketing tactic, Wang revealed, adding that the diamond business has long relied on skillful marketing to maintain the perception of scarcity.
The increasing awareness of the industry's crafty marketing campaigns has led a growing number of young people to keep a cool head when choosing jewelry. Millennials, often shouldering the financial burdens of housing payments and child rearing, are more inclined to allocate their resources towards more practical investments.
Gold, as a precious metal confirmed to retain its value over time, has thus seen a surging demand. According to figures released by the China Gold Association on July 25, in the first half of this year, the national gold consumption came to 554.88 tons, an increase of 16.37 percent from 2022. Included in that number, the consumption of gold jewelry reached 368.26 tons, a year-on-year increase of 14.82 percent.
"As a globally recognized and traded commodity, the lasting worth of gold has also been demonstrated by a long history of its prices rising during times of economic uncertainty and acting as a hedge against inflation," gold analyst Li Yang told Beijing Daily.
Many young Chinese now consider spending their hard-earned cash on gold as another way to save money. "When they want to use the money, they can exchange the metal for money," Li elaborated, "Gold jewelry used to be preferred by seniors, but today's new techniques and technologies have created more modern gold jewelry designs, which attract a growing number of young consumers."
Grown and green
Also of young concern are the ethical implications associated with diamond mining. Reports of environmental degradation and conflicts surrounding diamond extraction have profoundly impacted their purchasing decisions. As a result, they are seeking alternatives that are ethically sourced, sustainable and socially responsible.
"After watching the movie Blood Diamond years ago, I got really concerned," Xu Zhou, a 30-year-old Beijing-based professional, told Beijing Review. The title of the 2006 movie starring Leonardo DiCaprio refers to blood diamonds, which are diamonds mined in war zones and sold to finance conflicts, and thereby profit warlords and diamond companies around the world.
"The movie showed the brutal human cost behind the diamond business. I won't spend money on that no matter how pretty they may look," Xu continued.
Even those who still prefer diamonds just because of their beauty now have access to cheaper options—lab-grown diamonds, which have the same chemical composition and physical properties as natural diamonds but sell at much lower prices.
"Lab-grown diamonds have all the essential qualities natural diamonds possess," Zhang Cunsheng, an expert on lab-grown diamonds in Henan Province, told China Central Television. "It takes hundreds of millions of years to form natural diamonds but only one week, or a few weeks, to create their lab-grown peers."
The production of the lab-grown gems also involves fewer carbon emissions than the mining of natural diamonds and their average retail price is about one third that of natural diamonds.
Greener and cheaper are two advantages for consumers weighing their options. And the unique and personalized nature of these alternatives adds even more luster for young consumers.
Figures from global management consulting firm Bain & Company show that the annual worldwide output of jewelry-grade rough diamonds from labs was about 6 million to 7 million carats in 2020. Of that, China's annual production capacity came in at some 3 million carats, about half of the total. In China, about 80 percent of lab-grown diamonds are produced in Henan. And the increasing market popularity and acceptance of these equally glittering gems are slowly reshaping the diamond industry's dynamics.
Zhecheng, a small county in Henan, with over four decades of experience in processing super-hard materials, has evolved into an emerging capital of lab-grown diamonds in China. A report by national newspaper Guangming Daily read that of the 9 million carats of lab-grown diamonds worldwide in 2021, this county produced no less than 4 million of them.
"Today, Zhecheng has developed a strong ecosystem to support its burgeoning diamond business," Zhang said. "It has completed a whole artificial production chain and so far over 80,000 people in the county are working in this industry. The growing production capacity of the artificial diamonds is expected to further lower diamond prices."
(Print Edition Title: I Do—Not)
Copyedited by Elsbeth van Paridon
Comments to yuanyuan@cicgamericas.com