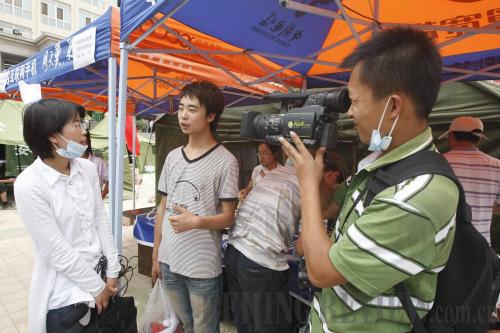 I AM THE SOURCE: Wang Kai (center), a college student from Zhouqu, Gansu Province, posted on his micro-blog the first reports and pictures of the mudslides hitting the county on August 7, 2010. His posts were used by many media outlets (IC)
Cai Qi found himself unprecedentedly popular in his Internet career just one day after he announced the opening of his micro-blog on January 11. In less than 12 hours, he already had more than 1,100 followers.
Cai is director of the Organization Department of the Zhejiang Provincial Committee of the Communist Party of China (CPC). The department handles issues concerning selection and promotion of local officials.
He said he launched the micro-blog in a bid to subject himself to public supervision through improved communication with Internet surfers.
Micro-blogging has not only become the trendiest social networking model for Web-users in China during the past year, but also a new platform for authorities to communicate with the public. It is also an efficient channel to collect public opinion, said Yu Guoming, a professor at the School of Journalism and Communication of Renmin University of China.
Sharing information
Micro-blogs have emerged as a new platform for communication and spreading information, according to the 2010 China Micro-blog Annual Report released by Shanghai Jiao Tong University on December 28 last year.
The report identifies 2010 as the inaugural year of micro-blogging in China. The number of micro-bloggers in China reached 125.217 million at the end of October 2010, with 65 million of them regularly using micro-blogs.
Xie Yungeng, Deputy Dean of the School of Art and Humanities of Shanghai Jiao Tong University, said micro-blogs are beginning to serve as an efficient platform to appeal to the public for social support after disasters or other emergencies.
One of last year's most noted news stories, the self-immolation of three residents in Yihuang County in central China's Jiangxi Province who were protesting the forced demolition of their home, was first exposed by micro-bloggers, before making national headlines. Several local officials were later held accountable.
Another scandal involving possibly carcinogenic tea seed oil also broke due to whistleblowing micro-blogs, pushing Hunan Jinhao Tea Seed Oil Co. to the center of the accusations. The company's chairman Liu Haoxiang opened a micro-blog account to apologize to consumers, and promised compensation.
The first report about the catastrophic mudslide in Zhouqu in northwest China's Gansu Province in August last year was released through t.sina.com.cn, China's largest micro-blogging service provider, by 19-year-old Wang Kai, who was later described as a "one-man news agency."
With messages and pictures from the scene, Wang kept updating his micro-blog. His last post was a picture of a disinfectant bottle to tell his readers that water in the mudslide-hit region must be disinfected.
A large number of Internet users followed Wang's live broadcast from Zhouqu on his micro-blog, and his number of viewers rocketed to thousands overnight.
"I am fond of micro-blogging. When the mudslides came, I was hoping people outside would know what had happened and help us," he said.
Going official
In addition to serving as a popular platform for Web-users sharing information, micro-blogging has also been increasingly used by Chinese authorities as a means of communication with the public.
A report by Xinhua News Agency said, at least 500 micro-blogs were opened by police authorities across China in the past year.
Police in south China's Guangdong Province took the lead in sharing timely information with the public via micro-blogs. In February 2010, public security bureaus in Foshan and Zhaoqing opened the first police micro-blogs in the country.
The number of police micro-blogs in Guangdong has reached 49, Xinhua reported.
Police authorities in Beijing launched the official micro-blog, "Safe Beijing," on August 1 last year. The micro-blog attracted more than 330,000 followers after operating for more than four months.
"We use micro-blogs to deal with emergencies, to hear public complaints, and to alert the public on common crimes," said Zhao Feng, who manages the "Safe Beijing" micro-blog.
Officials said the new method of communication was effective for mending bruised relations between the police and the public.
"We should master the use of micro-blogs to better interact with the people, to hear their complaints and criticism and to provide better services," Meng Jianzhu, Minister of Public Security, told a national police workshop last December.
Wang Dawei, a professor at the Chinese People's Public Security University, said with the new services the police had made a positive shift from passive action to taking the initiative.
In addition, the general public can offer clues in criminal cases, as they are the main force in curbing crime, Wang said.
In November last year, micro-bloggers helped police officers in Xiamen, east China's Fujian Province, catch a couple who confessed to murdering their 3-year-old daughter and dumping her body in the sea.
Xiamen police released information on its micro-blog including the victim's pictures and asked for netizens' help. The post was forwarded 10,000 times in six days before the case was solved, and the police received more than 3,000 tip-offs from the public.
It is the first publicly reported instance of a murder being solved with the help of micro-bloggers.
At a recent seminar held in Beijing, police officers from Beijing and Guangdong, Hebei and Jiangsu provinces pledged to strengthen cross-regional cooperation via micro-blogs.
Besides police authorities, courts are also using micro-blogs to solve conflicts caused by miscarriages of justice.
In October 2010, a micro-blog covering all 28 courts in Shanghai was launched on ximin.cn, a local news portal, allowing Internet surfers to post comments once court rulings are posted.
The move, possibly the first of its kind nationwide, aims to facilitate communication between the courts and the public, said Shen Gang, an official with the Higher People's Court of Shanghai. Shen is responsible for operating and monitoring local courts' micro-blogs.
"We intend to present and promote the image of Chinese courts to the public by using modern information technology," Shen said. "We could also have a better understanding of what the public really want to know through posting messages and receiving feedback."
More than 1,300 pieces of information have so far been released through the courts' micro-blogs, including announcements, pictures and video footage as well as responses to inquiries and questions posed by Internet users, Shen said.
Meanwhile, other government agencies have also turned to micro-blogs as a way to publish policies and other information, as well as hear complaints from the public.
According to Sina.com's statistics, nearly 60 government departments had opened micro-blog accounts on t.sina.com.cn by August 2010, including the Yunnan Provincial Government, whose account has racked up more than 48,800 followers since opening in June last year.
Wu Hao, former Deputy Director of the Publicity Department of the CPC Yunnan Provincial Committee, started the trend of government officials using micro-blogs to communicate with the public on government affairs.
Wu, a former journalist, is known for his attempts to reform the publicity means of the Party and the government. His micro-blog has touched many controversial issues.
Wu said on his micro-blog he believes a micro-blogging community is like a social university where people could learn, share and think together.
Scholars applaud such interactions as signs ordinary people are being granted more say in public affairs, a trend that can increase government transparency and promote democracy.
"More government agencies should join the police in inviting the public to voice complaints online or keep an eye on government work to head off corruption," said Wang Zhongwu, a professor in sociology at Shandong University.
"Comments posted on the Internet might upset some officials, but they have to listen to complaints and criticisms to improve governance," he said.