NEW PROJECT: Zambian President Rupiah Banda (right) and Chinese Vice Premier Hui Liangyu attend the groundbreaking ceremony for a stadium to be built with Chinese assistance, in Lusaka on January 10 (DING HAITAO)
The year 2011 marks the 55th anniversary of the start of contemporary friendly relations between the People's Republic of China and African countries. Chinese Vice Premier Hui Liangyu's recent African trip again boosted burgeoning China-Africa ties, said Chinese Vice Foreign Minister Zhai Jun.
Hui visited five African countries—Mauritius, Zambia, the Democratic Republic of the Congo, Cameroon and Senegal—from January 6 to 19. Agriculture and trade were among the most promising areas of cooperation between China and these countries, said Zhai in a recent interview with Beijing Review. Excerpts follow:
Beijing Review: What was the significance of Vice Premier Hui's visit? What message did he deliver to the African people? What were the highlights of his visit?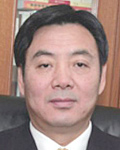 Zhai Jun: Vice Premier Hui's trip to the five African countries at the beginning of 2011 was a major diplomatic event for China and Africa. It was of great significance to further solidifying and strengthening China's friendly cooperation with the countries, facilitating the implementation of the outcomes of the Fourth Ministerial Conference of the Forum on China-Africa Cooperation (FOCAC) [held in November 2009 in Egypt] and promoting the development of the new type of China-Africa strategic partnership.
During his trip, Vice Premier Hui exchanged views on bilateral relations as well as international and regional issues of mutual interest with African leaders. They held in-depth discussions on strengthening practical cooperation in various areas, especially agriculture, trade, water projects and culture, with a number of agreements signed. The vice premier also visited some projects jointly developed by China and African countries.
As China-Africa relations continue to develop, China is building a new type of partnership with Africa. How do you characterize this partnership? How is this partnership different from the assistance of Western countries?
I'd like to point out rapid progress has been made in China-Africa cooperation in recent years, attracting extensive international attention. But unlike what Western media reported, China did not suddenly start its presence in Africa and cooperation with African countries only a few years ago. In fact, China provided assistance to Africa to the best of its ability as early as in the 1950s and the 1960s, when China contributed greatly to African countries' national independence and economic and social development.
China-Africa cooperation has gained momentum in recent years. I think the "newness" of the relationship is manifest in part in the way China-Africa cooperation has adjusted to the new needs of the times, expanded to new areas, embraced new content, explored new means and adopted new modes. It is also embodied in the way China-Africa cooperation has always abided by the core principles of equality, pragmatism, good faith and openness.
While working together with African countries, China does not interfere in African countries' domestic affairs. We respect their right to choose their own path of development. Our aid might be limited, but it has all gone to life-improving projects. And we always deliver what we promise. Our cooperation with Africa is open and inclusive. It does not compromise other countries' interests in Africa. These features anchor the new type of China-Africa cooperation, set it apart from the traditional form of cooperation Western countries have had with Africa and win extensive support from African countries and people.
This year marks the 55th anniversary of the inception of China's diplomatic relations with African countries. Can you briefly review the latest progress in China-Africa relations over the past five years?
During the past five years, China-Africa relations sustained momentum in all-round, rapid development, with frequent political contacts, higher level of strategic trust, fruitful result-oriented cooperation in various fields including trade, economic and social development and closer coordination on international affairs and on major global issues. China-Africa relationship has become a highlight of China's diplomacy. It has also become one of the most dynamic external relationships of China.
One cannot conduct a comprehensive review of China-Africa relations without mentioning the following major activities:
First, the FOCAC Beijing Summit was successfully held in November 2006. At the summit, China and Africa jointly defined a new type of strategic partnership featuring equality and mutual trust, win-win cooperation and cultural exchange. On behalf of the Chinese Government, President Hu Jintao announced eight measures on promoting China-Africa cooperation and supporting Africa's development, thus opening a new chapter in the history of China-Africa relations.