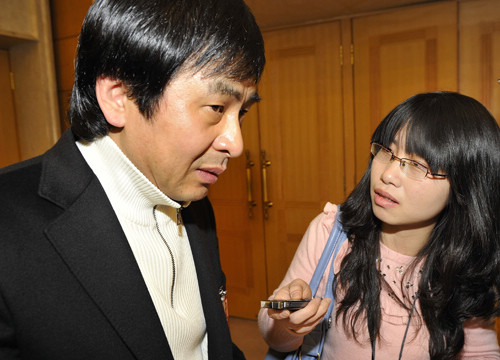 RESOLVING FINANCING WOES: Wang Yongzheng (left), a member of the 11th National Committee of the Chinese People's Political Consultative Conference (CPPCC), speaks with Beijing Review reporter Zen Wenhui, on March 5, 2012. Wang advocated openly regulated private lending operations (SHI GANG)
Chinese Premier Wen Jiabao said China will increase credit support for small businesses whose operations are in accordance with industrial policies and whose products have market demand. Wen delivered the government work report at the opening of the annual session of the National People's Congress (NPC) on March 5.
"China should set up more channels to raise money for small- and micro- businesses and gradually standardize private lending, and prompt private financing to operate openly," said Wang Yongzheng, President of the Tianjin-based Yongzheng Tailors' Group.
"Only when small- and medium-sized enterprises (SMEs) develop, can the country be able to develop; only when SMEs flourish can the country blossom. Stable employment which provides income for people can drive domestic demand," said Wang, who is also a member of the 11th National Committee of the Chinese People's Political Consultative Conference (CPPCC), China's top political advisory body.
Even though the SMEs provide 80 percent of employment opportunities in China, they face problems of financing difficulties, weak competitive power and less support in fiscal revenue and taxation, Wang said.
"To address financing problems faced by small- and micro-businesses, different banks should be given different policies," Wang said. "The central bank should support small banks in terms of taxation, loan scale and quotients, so as to decrease cost of loans and promote small banks to give loans to small- and micro-businesses."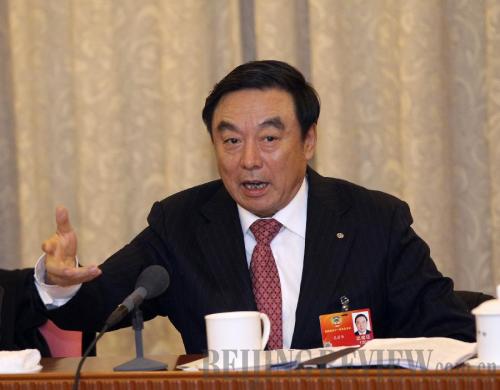 SUPPORTING SMALL BUSINESSES: Ma Weihua, a member of the 11th National Committee of the Chinese People's Political Consultative Conference (CPPCC), speaks during a panel discussion on supporting the development of small- and micro-businesses on the sidelines of the Fifth Session of the 11th CPPCC National Committee in Beijing, capital of China, March 5, 2012 (XINHUA)
"Financing difficulties for small- and micro-enterprises is an objective fact, also internationally," echoed Ma Weihua, President of China Merchants Bank.
"Despite successful small- and micro-businesses being helpful to employment and poverty relief, they are not like large businesses that are qualified with formal procedures of loans, such as report forms, agency estimation, and mortgage guarantees," said Ma, who is also a CPPCC member.
"Loans to these small businesses, as a result, feature high costs and high risks, because banks have to survey each of the small businesses. Even if interest rates were raised, the risk could not have been controlled," Ma said.
Ma recommended that a successful credit center in Suzhou, east China's Jiangsu Province, be set up by the Suzhou Banking Regulatory Commission three years ago. The center promulgated a standard for warding off risks, and adopted a system of grade rating.
With the grade rating system, small businesses applying for loans will be classified in accordance with business categories and be approved in a batch. In this way, risks are controlled, and costs are decreased. At present, this kind of practice is implemented at Wells Fargo, the fourth largest bank in the United States.
Banks in China have identically agreed on supporting small- and micro-businesses now. Finance from banks accounts for 80 percent of all financing sources in China, compared with only 30 percent in the U.S., where various channels of finance exist, according to Ma.
To strengthen support for small- and micro-businesses, Ma said China should set up more financing channels, including private lending, which need not a complicated procedure, and will create a way to rapidly address urgent financing needs.
China's banking deposits increased by 11.9 percent in 2011, a drop of 8.5 percentage points compared with the figure 10 years ago. The large drop contributed not only to the consumer price index being higher than interest rates on one-year term deposits, but also to a robust financial market outside the country's banking system, which covers financial products like money trust, private equity funds and private lending. These products feature higher monetary returns than interest rates of one-year fixed deposits.
Loan growth in banks decreased by 3.4 percentage points compared with that of 10 years ago, for banks have not enough money for loans due to somewhat higher deposit reserve ratios and limited savings and deposit ratios.
"Status of finance from banks is lowered, which indicates that society has made progress in economic development. If all sectors depend on loans from banks, the capital market would have never developed," Ma said
Wang Yongzheng said China should work out policies to let private lending operate openly, in an aim to meet the needs of small- and micro-businesses. Many residents at present lack of investment means, and they find it hard to earn money in investments in the stock market.
"It will be a general trend to operate private lending openly on a premise that sound regulations be set, which will serve as a good channel for private investors," said Wang.