Wu Liying, a bank employee in Hangzhou, worked overnight to avoid any collapse of the banking system.
"It was too hustle and bustle," Wu told Xinhua News Agency. "The scale exceeded the daily volume, which brought great challenges to our system."
Payment channels at some banks appeared to falter, just as they did last year on the same day.
Although Alipay.com—Alibaba's payment platform connecting the website to banks—has had a project team in place since August, it nonetheless experienced problems when trying to process payments from the China Construction Bank because of a high volume of customers.
The Bank of China and the ICBC experienced a similar fate.
Transactions through the China Construction Bank were so high during the overnight period that its system completely failed from 1:15 a.m. to 2:00 a.m. in branches in Beijing and southwest China's Sichuan Province.
"I wasn't able to buy anything on Singles Day this year," Wang Linzhe told Beijing Review. "All websites were way too busy."
The event has also triggered a busy day for the logistics industry.
"I only slept two hours at night. Some online shops needed to start deliveries at 3 a.m.," said Wang Yunda, a courier at Shentong Express in Hangzhou.
Last year, 20 million packages were delivered with some customers having to wait three months for their goods.
Delivery companies were naturally busier this year.
Shentong Express had 8 million packages, Yuantong Express had 7 million, and ZTO Express had 4.7 million orders to deliver. Parcels piled up at their delivery stations after Singles Day, and the workload for delivery staff was 30 percent higher than usual.
A lack of consumer rights poses another problem for the future development of online shopping. Shoppers' rights are often infringed upon due to counterfeit products, a lack of after-sales service and minimal laws and regulations in place to guide the field.
In late November 2012, China Youth Daily conducted a survey with sohu.com, which found that 96.5 percent of the 1,343 respondents had their consumer rights violated while shopping online.
"I once bought an OPPO bathroom heat lamp on Taobao.com and then called OPPO's after-sales department for installation. As soon as they learned I bought the lamp from an online store, they refused to offer me any help," said Wang Linzhe.
"Online shopping is not suitable for all. For people who don't know how to maintain online security, you could lose your money. My parents would never shop online because they are so afraid of the risks," said Wang Kang.
The government needs to expeditiously regulate the e-commerce, Professor Mei Shaozu, Deputy Director of the E-Commerce Panel under the Chinese Institute of Electronics, told the China Youth Daily. "Most countries in the world have laws on e-commerce, and so China should accelerate its pace in formulating stringent laws and regulations for this field."
Top Players on Singles Day
- Half-off online sales on Taobao and Tmall drew in 213 million netizens, bringing about a record of 19.1 billion yuan ($3.07 billion) in turnover.Among the total, 13.2 billion yuan ($2.12 billion) was pocketed by Tmall, the Business-to-Consumer (B2C) platform and 5.9 billion ($948.1 million) went to Taobao, the Consumerto- Consumer (C2C) sales website.
- 360buy.com saw 4.5 million transactions worth of over 2.5 billion yuan ($402.3 million).
- E-Commerce China Dangdang Inc., a U.S.-listed online retailer, had over 100 million yuan in sales ($16.09 million).
- Suning.com of Suning Appliance took in 1.7 million orders, 20 times more compared to last year.
- Tencent Holdings Ltd.'s 51buy.com said its sales exceeded 120 million yuan ($19.3 million), more than 10 times its sales last year.
- Coo8.com received 260,000 orders worth of a record high of 240 million yuan ($38.62 million), almost 11 times more than its daily turnover.
(Data compiled by Beijing Review)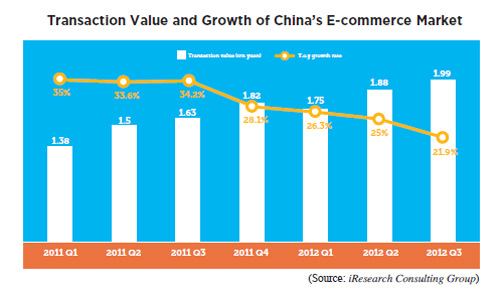 (With Corrie Dosh reporting from New York City)
Email us at: zhouxiaoyan@bjreview.com