Now the country still enjoys the "demographic bonus." Its working-age population increased after the family planning policy brought down the proportion of children in the population. Labor force is still relatively abundant because the aging population has not yet peaked.
"We believe the total number in the labor force will peak in 2013, and labor supplies are still sufficient for now. But, after 2013, China's labor resources will gradually decline, a process that will accelerate after 2020," said NBS Director Ma.
Some population experts have even predicted a 23-percent decline in the working-age population—people between 15 and 64 years—between 2015 and 2050.
If the current birth control policy stayed unchanged, China's labor forces would be reduced by 100 million per decade since 2030 when the population of people aged 65 years and older account for 28 percent of the total population, said Zeng Yi, Director of the Center of Population Aging and Family Research of Peking University.
In 2000, every 9.1 work-age laborer supported one person aged 65 years or older in China, but the number of supporters is expected to shrink to 3.7 by 2030.
To achieve a balanced population development in the long run, a growing number of population experts have suggested the government take measures to ensure the population maintains a moderate fertility rate.
There has been growing speculation whether the government will relax the one-child policy—introduced in 1980 as a temporary measure to curb surging population growth—and allow more couples to have a second child.
Zeng proposed the one-child policy be gradually replaced by a more flexible two-child policy accompanied with limits of late childbirth and birth intervals of three to four years.
"On the premise of setting up proper late childbirth limits and proper length of birth intervals, the two-child policy can be made open to families," said Zeng. He explained the two-child policy would greatly ease labor shortages, and late childbirth limits and prolonged birth intervals would prevent the total population from rebounding in the short term.
But there are no signs the government has decided on any adjustments.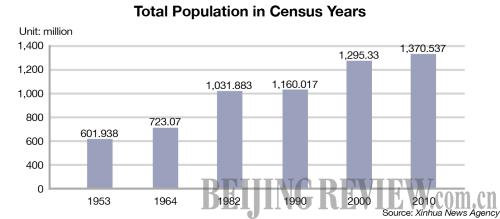 2010 Census Data
China's total population reached 1,370,536,875 persons. Of which the population of Hong Kong, Macao and Taiwan accounted for 7,097,600, 552,300, and 23,162,123 respectively.
The total population of 31 provinces, autonomous regions and municipalities and the servicemen on the mainland of China increased by 73,899,804 persons, or 5.84 percent, over the past 10 years. The average annual growth rate was 0.57 percent.
The number of households reached 401,517,330, and its average size was 3.10 persons, or 0.34 person less compared to the 3.44 persons in the 2000 population census.
The sex ratio (women=100) declined to 105.20 from 106.74 a decade ago.
Persons within the age group of 0-14 accounted for 16.60 percent of the total population, those of 15-59, 70.14 percent, and those of 60 and above, 13.26 percent.
Urban and rural residents made up 49.68 percent and 50.32 percent of the total population, respectively.
A total of 261 million migrants lived in places other than the towns (townships or streets) of their household registration where they had left for more than six months.
(Source: National Bureau of Statistics)