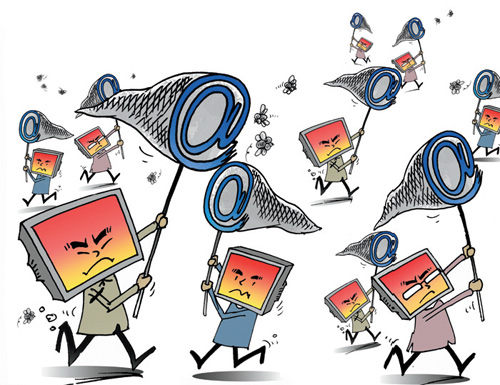 (CFP)
The fate of Yang Dacai, former head of the Work Safety Administration of northwest China's Shaanxi Province, took an unexpected turn after he grinned inappropriately at the scene of a fatal accident. When Yang inspected a car crash in which 36 people died on August 26, 2012, he was photographed wearing a broad smile while surveying the collision and listening to reports from investigators.
Angered by Yang's apparent insensitivity, netizens resorted to online vigilante tactics, known in China as the "human flesh search engine," and launched an all-out Internet assault on the previously unknown civil servant.
Flesh searchers trawled the Internet for more embarrassing poses but instead found photographs of Yang sporting a dazzling array of luxury wristwatches. Watching watches is a Chinese Internet pastime; one netizen, pseudonymously referred to as Huaguoshan Zongshuji, struck fear into the hearts of corrupt officials in past years with his uncanny ability to identify brands and models of timepieces based on government publicity photos.
Yang's claims that he bought each of his five luxury watches with his own "legal income" fell upon deaf ears. Arguing that a civil servant could not possibly afford such expensive watches, Internet users continued to probe Yang's luxury wardrobe, also identifying what they claimed was an equally costly collection of belts, suits and glasses.
The online campaign prompted an official inquiry into Yang's financial dealings. On September 21 last year, the Shaanxi Provincial Commission for Discipline Inspection of the Communist Party of China (CPC) and the Shaanxi Provincial Department of Supervision announced Yang's dismissal from his position for serious violations of discipline and said that further investigation was underway.
Yang's downfall is just another example of the rising role of Chinese netizens in the country's fight against corruption.
Online whistleblowing
Corrupt officials often fall from grace along the same trajectory. After their wrongdoings were publicized on the Internet, anti-corruption agencies stepped in and removed them from their posts pending criminal investigations.