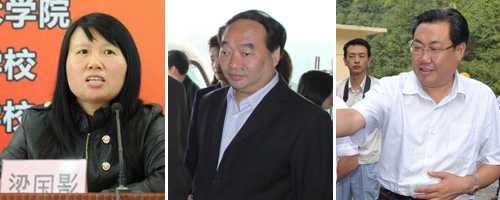 HALL OF SHAME: Liang Guoying (first left), formerly a senior human resources official in Zhongshan City, Guangdong Province, Lei Zhengfu (middle), former Party chief of Beibei District in Chongqing Municipality and Yang Dacai, former head of the Work Safety Administration of Shaanxi Province, are among officials sacked thanks to efforts by Internet whistleblowers in 2012 (FILES)
Official channels
Amid a microblogging boom in China, a growing number of people have spread first-hand materials exposing officials' misdeeds on their microblogs with great alacrity and precision.
In response, anti-corruption agencies around China have been opening official microblogs to receive tip-offs from the public about officials' misdeeds.
Last August, the official microblog of the CPC discipline watchdog of Zhongshan City in Guangdong received a message, saying that Liang Guoying, a senior official with the city's Bureau of Human Resources and Social Security, ordered a change to her son's score in the written test of the 2012 provincial civil service exam in order to make him qualify for the interview round.
The CPC Zhongshan Municipal Commission for Discipline Inspection set up an investigation team the day after they received the report. Within one week, the commission's official microblog updated information about the investigation with four messages, to the approval of netizens.
An anonymous official of the commission told China Economic Weekly that investigators received a plethora of detailed messages revealing Liang's misconduct during the investigation. "Maybe the same whistleblower registered different accounts to hide his or her identity and avoid revenge," said the official, who regarded the investigation into Liang's case the speediest and easiest during his career due to the wealth of details, clues and evidence provided by microbloggers. Liang was sacked for abuse of power on September 6, 2012.
A report released by China's leading microblogging site Weibo.com said that it had verified 11,450 microblog accounts run by police authorities, procuratorates and courts, as well as 6,100 accounts belonging to their individual staff, by the end of October 2012.
Geographically, the provinces with the largest numbers of these accounts are Henan, Jiangsu, Shandong, Fujian and Zhejiang, mostly located in the eastern part of the country.
According to the website of People's Daily, a leading Chinese newspaper, 45,030 Party and government organizations and 25,054 Party and government officials have opened accounts on another major microblogging site in China, T.qq.com.