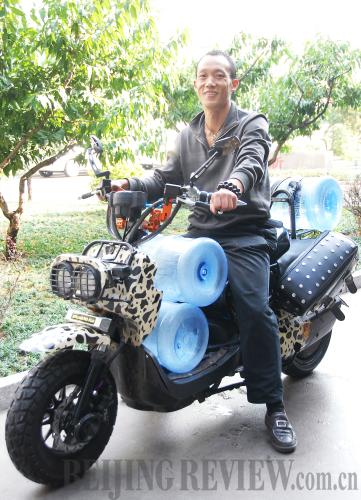 NO SMALL TASK: Shu Qianmi delivers bottled water to one of the businesses in his service area (WEI YAO)
During one week in mid-August, Shu Qianmi's customers were inquiring as to his whereabouts every day, "Has he come back? When will he come back?" His absence during a trip to his hometown showed just how much his delivery services were needed.
Shu is not what most would consider an influential person. He is one of Beijing's ubiquitous migrant workers, those who come to big cities from rural areas to make a living, usually through hard labor. But he is not just any ordinary worker—Shu has actually realized his dream of becoming an integral part of this big city.
Seeking better opportunities
Shu is slim and tan, his short hair always pointing toward the sky. When asked how old he is, Shu generally lets the questioner take a guess. Most of his customers believe he is about 30 years old. Then he bursts into a big laugh, saying, "My first daughter is a graduate student now. I am 42."
He attributes his younger appearance to his physically demanding line of business: delivering 20-kg barrels of mineral water. Shu runs this small business, of which he is both the owner and the only employee, in Beijing's central Xicheng District, covering a delivery area of a considerable size. It's about 8 km from north to south and 7 km from east to west.
People like Shu are an important mainstay of Beijing. According to the Municipal Bureau of Statistics, Beijing's permanent resident population stood at 21.15 million in 2013, including more than 8 million migrants who had been in the city for more than half a year.
Born in 1972 in a village near Chengdu, capital city of southwest China's Sichuan Province, Shu never had the opportunity to go to college. In 1997, he came to Beijing with friends from his hometown to look for work, ending up with a job in the interior decoration business. "There is only one reason we relocated here: We could make a lot more money in Beijing than in our hometown," Shu said.
After two years in the decoration business, he was hired to deliver a famous brand of barreled mineral water to residences and businesses around the area, and saved up as much money as he could. This allowed him to eventually open his own small business delivering water, working as his own boss.