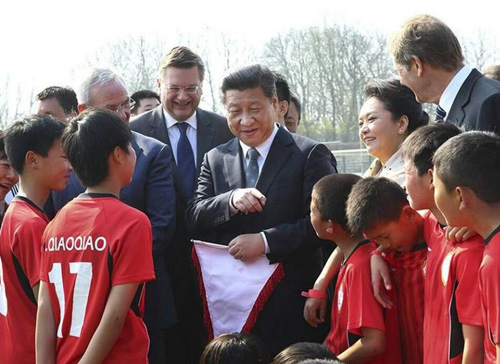 INCREDIBLE OPPORTUNITY: Chinese President Xi Jinping (center) and First Lady Peng Liyuan (second right) talk with Zhidan Junior Football Team's players in Berlin Stadium on March 29 (XINHUA)
But having seen that only few were selected by Shaanxi's provincial-level football team and that his team hadn't performed as expected, Ding felt defeated and returned to his life as a civil servant and a fan of literature.
"I'm a mediocre person. If I don't devote my life to football or literature I can only climb the social ladder. Football makes me fulfilled," Ding said.
When sorted out the county's literature archives, Ding found out that famous football commentator Zhang Lu, who served as Vice Chairman of Beijing Guo'an Football Club, played football for Shaanxi's provincial team in the 1970s.
Therefore, Ding went to Beijing to seek Zhang's help in 2007.
Zhang believes in the increasing the popularity of football in China while not training a small number of talented footballers could help China make a breakthrough in its football development. He then suggested Ding focus on campus football and promote a student football league throughout the county.
"Ding's enthusiasm touched me. They coach kids in remote areas and they don't ask for any money. We ought to support them," Zhang said.
Ding changed his club into a football association and started to coordinate with the local government, parents and students after he came back from Beijing.
"Your kids may become addicted to video games if they don't play football," is the phrase Ding has used most to encourage parents to bring their children along.
Gradually, children who didn't play football before also want to join in because their friends play.
In March 2010, Zhidan was chosen by the Chinese Football Association (CFA) as the first pilot county to develop football at a school-level across more than 1,500 counties in China.
Thanks to the financial support of the CFA worth 200,000 yuan ($32,000) a year and a further 100,000 ($16,100) from the county government, the Zhidan team finally gained the momentum it needed to make waves.
Zhidan's team has shocked the rest of the province since 2010 by winning two bronze medals and two fourth-place prizes in the Shaanxi provincial tournaments, and another two medals in the 2012 and 2013 national school football camp matches.
Meanwhile, Zhidan was invited to an international amateur football league for teenage players, known as "Junior World Cup", in Munich, Germany in 2010.
Four years later, they went to Germany again for a week-long training with German champion youth team VfL Wolfsburg, a professional German association football club.
This trip coincided with Chinese President Xi Jinping's visit to Germany, and ended up in Xi watching the Sino-German Junior Football Friendship match in Berlin Stadium on March 29.