"I am a migrant worker myself. I'm not here to save migrant workers, but instead to work with them to find solutions to the problems we encounter in our lives," said Wang Bo.
In addition to organizing cultural activities, the Beijing Migrant Workers' Home also helps migrant workers defend their rights by offering legal assistance or holding consultations.
Zhang and other members of his band from Shenzhen visited the cultural center of Picun Village. All of them liked it.
"Where else can one find a karaoke venue exclusively open to migrant workers?" said Zhang. He added that near the Foxconn factory in Shenzhen, there were many miniature karaoke boxes shaped like phone booths. One could go into a booth and put a one-yuan ($0.16) coin into a machine in order to sing a song. These karaoke boxes were highly popular among workers, reflecting their thirst for entertainment activities.
"However, I don't like such forms of entertainment because no communication and no interaction are involved," Zhang said.
What is going on in Picun, by contrast, is an attempt to enable migrant workers to find enjoyment by involving them in a variety of cultural activities. The gala, in particular, "allows workers to have a glimpse of hope amid their hard lives," said Wang Dezhi, director of the event in the previous three years.
"Migrant workers are the most vibrant, creative and promising group in China. I hope students of my school can go to Picun and take away a lesson from the experience," said Liu Chen, an associate professor with the School of the Central Committee of the Communist Party of China after watching this year's gala. The school offers on-the-job training to government officials across China.
Bu Wei, a research fellow with the Chinese Academy of Social Sciences who has conducted research into the Picun experiment, said, "Participating in cultural activities will help new-generation migrant workers and their children gradually begin to identify as urban residents."
The Chinese Government is increasingly recognizing the importance of cultural activities for migrant workers. Vice Minister of Culture Yang Zhijin vowed at a press conference on January 21 to bolster investment in the arts for migrant workers, to assimilate them into the cultural service systems existent in many cities and to make them feel at home in urban areas through cultural activities.
Bu suggested that in addition to directly hosting cultural events for migrant workers, the government should purchase cultural services provided by NGOs such as the Beijing Migrant Workers' Home.
WORKERS' EXHIBITION: A display in the migrant workers' museum of art and culture in Picun Village on January 7 (WEI YAO)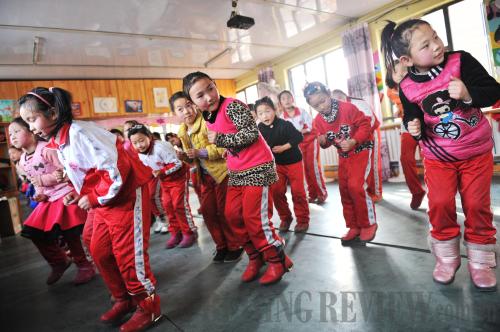 PRACTICE MAKES PERFECT: Children rehearse a dance routine in preparation for the gala at the Tongxin Experimental Primary School in Picun Village, Beijing, on January 7 (WEI YAO)

 

Email us at: weiyao@bjreview.com