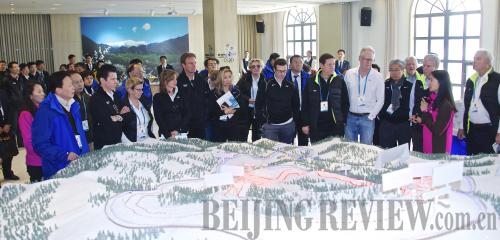 SHAPE OF THINGS TO COME: The IOC Evaluation Commission members look at a sports venue design model in Yanqing, Beijing, on March 25
International Olympic Committee (IOC) officials demonstrated confidence in Beijing's ability to host the 2022 Winter Olympics after an inspection tour in late March. China has proposed that the Games be held at venues in downtown Beijing, its suburban Yanqing County and Zhangjiakou, a city in Hebei Province 180 km northwest of the capital.
"It was clear that you embraced the spirit of Olympic Agenda 2020 and you have undoubtedly shown us that you would be very capable hosts of the 2022 Olympic Winter Games," said Alexander Zhukov, a Russian IOC member and Chairman of the 19-member IOC Evaluation Commission.
Following the withdrawal of a number of other candidates, Beijing and Almaty, Kazakhstan, are the only two remaining bidders for the 2022 Winter Olympics.
Wang Anshun, Mayor of Beijing and President of the Beijing 2022 Bid Committee, promised that Beijing possesses ample resources to host a memorable Olympic winter event, one that conforms to the goals of Olympic Agenda 2020—reform recommendations that promote sustainability in future Olympics.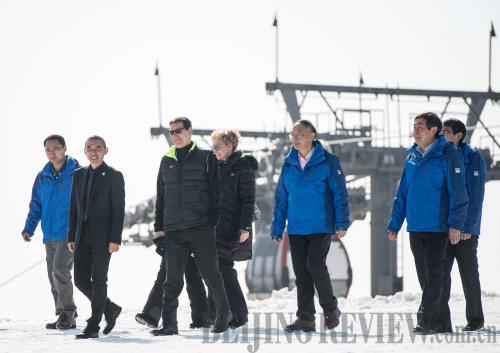 TOUR OF DUTY: Liu Peng (third right), Minister of the General Administration of Sport, shows IOC Evaluation Commission members around a sports venue in Zhangjiakou, Hebei Province, on March 26
The notorious smog in Beijing and surrounding areas has been a focus of contention throughout the bidding process. Addressing the issue, Wang said, "We will continue to implement strict measures and tough penalties with great determination to improve air quality, not only for the bid but also for residents' quality of life."
China is currently pushing forward the economic and social integration of Beijing, its neighboring Tianjin Municipality and Hebei Province. As part of this strategy, the areas stretching from Beijing to Zhangjiakou will be developed into a sports-centered tourist belt by augmenting infrastructure such as high-speed railways and enhancing environmental protection. These measures are expected to create favorable conditions for China to host the Winter Olympics, said Vice Premier Liu Yandong at the opening session of the IOC Evaluation Commission's inspection trip on March 24.
According to Beijing's bidding plan, the opening and closing ceremonies as well as all events taking place on ice will be held in its downtown areas, while Yanqing and Zhangjiakou will host snow-based competitions.
"The Chinese Government will give full support to Beijing's bid for the 2022 Winter Olympics with Zhangjiakou," Liu Yandong added.
Liu Peng, Minister of the General Administration of Sport and President of the Chinese Olympic Committee (COC), said that the COC is pushing for the construction of more winter sports facilities, promoting winter sports nationwide and trying to encourage 300 million people to participate in these sports.
FRONT ROW SEATS: The IOC Evaluation Commission members inspect the Capital Indoor Stadium in Beijing on March 24
During the five-day tour, the IOC Evaluation Commission listened to the statement of the Beijing 2022 Bid Committee, encompassing topics such as vision, legacy and engagement, transportation, accommodation, finance and sustainability. Commission members also visited competition and non-competition venues in Beijing and Zhangjiakou.
"You have maximized the use of existing world-class sports venues; you have taken advantage of your experience of hosting major international events; and you have identified clear legacy goals," said Zhukov at the wrap-up news conference on March 28.
The IOC will vote to decide the host city on July 31 in Kuala Lumpur, Malaysia, partly based on the Evaluation Commission's assessment reports.
(Photos by Wei Yao and the Beijing 2022 Bid Committee)
Copyedited by Eric Daly
Comments to weiyao@bjreview.com