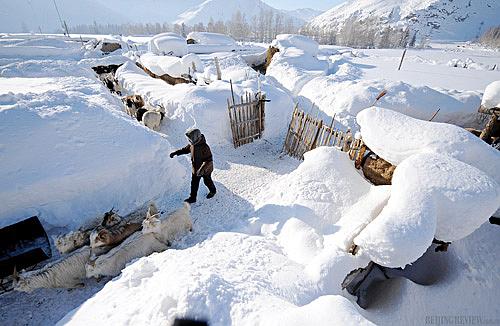 LIFE AS USUAL: The temperature in Fuyun County, Xinjiang Uygur Autonomous Region, drops to a rare low of minus 45 degrees Celsius on January 20 (CHEN QIAO)
As Arctic winds blow over North America, Europe and East Asia, many parts of north China have also been struggling through snowstorm after snowstorm during the coldest winter in decades.
The Beijing Municipal Government announced the closure of primary and middle schools on January 4, 2010, to ease the burden on transportation after the city recorded its heaviest daily snowfall in nearly six decades on January 2. Neighboring Tianjin Municipality was also forced to extend the three-day national New Year holiday to four days for students due to heavy snow. Beijing Capital International Airport reported a total of 690 delayed and 96 canceled flights on January 3 and 4.
Meanwhile, snowstorms also caused havoc on the railways. On January 2, more than 1,400 passengers traveling from Heilongjiang Province's Harbin to Baotou in Inner Mongolia Autonomous Region in north China were stranded in the extreme cold for 20 hours when their 15-carriage train was partially buried by snow. Passengers were forced to spend the night and most of the next day in their carriages before they were rescued at about 3 p.m. on January 3.
Another 12 trains were also stranded by the snow in Inner Mongolia, with thousands of passengers trapped and later rescued from temperatures as low as minus 34 degrees Celsius.
In northwest China, blizzards killed at least 20 people in Xinjiang Uygur Autonomous Region as of January 27 after freezing temperatures and record snowfalls battered northern parts of the region. Military helicopters were mobilized to transport people trapped by the snow that measured up to two meters thick in some areas.
In east China, the Bohai Sea, a semi-enclosed inland sea the size of South Carolina, experienced its worst freeze in four decades. About half of the waters were covered by ice as of January 23. Ice floes stranded ships, disrupted oil production and caused economic losses to marine farms where frozen surfaces blocked oxygen to fish.
El Niño abnormal
The sudden drop in temperature came as a surprise to people in north China as meteorologists had predicted in December 2009 that the region would see a warmer-than-average winter.
Ren Fumin, a senior research fellow from the National Climate Center under the China Meteorological Administration, told the China News Service on December 9 that the 2009-10 winter return of El Niño had been confirmed as above-average sea surface temperatures in the central and eastern Pacific had lasted for six months. Ren said El Niño typically brings in a warm winter for most parts of China and rich rainfall in the south, along with increasing droughts, floods and other extreme events in the country.
However, Ding Yihui, a National Climate Center researcher, said on January 18 that the ongoing El Niño was atypical, which made accurate weather forecasting particularly difficult. Ding said the center of oceanic warming should be near the coast of South America in a regular El Niño year, but this year's above-average sea surface temperatures in the region mean the center has stayed in the central Pacific. Ding said this unusual warming pattern has made this El Niño more like La Niña, which usually means a cold winter in China and heavy rainfall and snowfall in northern parts.
Ding said another main reason for the chilly weather in the Northern Hemisphere this winter is the Arctic Oscillation (AO), an atmospheric circulation pattern in which atmospheric pressure over the polar region varies in opposition to that over the Earth's mid-latitudes. What is notable this year is that the pattern of high pressure over the Arctic is the most pronounced it has been in decades. In most years over the past few decades, the opposite has been true—there has been lower-than-average pressure over the Arctic and high-than-average pressure over the mid-latitudes. The center of mid-latitudes in the Northern Hemisphere cuts through China's northeastern Heilongjiang and Jilin provinces, Inner Mongolia and Xinjiang.