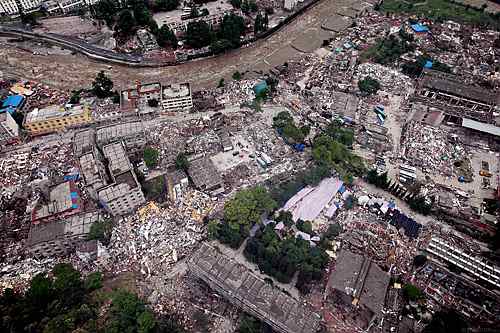 HORRIBLE PAST: An aerial photograph shows Yingxiu Town of Wenchuan County, the epicenter of the May 12, 2008, 8.0-magnitude earthquake (YAO DAWEI)
HOMES RENEWED: More than 200 families of Zhangjiaping Village, Yingxiu Town, will move into new houses that have been built by Guangdong Province's Dongguan City, an assistance program partner(WANG YONGJI)
Forty-two-year-old Ma Furun was uncomfortable after moving into a rebuilt apartment after his old home was destroyed during 2008's major earthquake in Wenchuan County, Sichuan Province.
"I have to get used to changing slippers when I enter my home now. We never had to do that in the old house. Look at the shiny, polished floor here. We never dreamed of living in a fancy house like this," said Ma, a farmer in Yingxiu Town's Laojie Village, which is 7 miles north of the earthquake's epicenter.
Ma's 40-year-old Tibetan wife, Xu Xingzhi, has a vivid memory of the earthquake—as if it happened just yesterday. She was home alone when the earth began to shake and she held on to a large tree that saved her life.
"I watched my house collapse and started to cry," Xu said.
Their village was almost wiped off the map by the disastrous quake. In the village 55 people were killed and 78 were injured. A majority of the town's buildings were either destroyed or severely damaged. At least half of its farmland was covered with boulders, causing direct losses amounted to 50 million yuan ($7.35 million).
The family was at peace as they spent an idle morning in their big and bright guest room that is outfitted with brand-new couches, tables and curtains. By a hot stove used to generate heat, Ma's wife and nephew were busy with cross-stitch work that will be presented to volunteers from Dongguan, a developed industrial city in south China's Guangdong Province that is about 2,200 km away from Wenchuan.
After drifting through different resettlement camps, the family began rebuilding their home with help from Dongguan in January 2009. The old village, which was half way up a hill, had to be abandoned and the local government picked a new site at the foot of the mountains.
The family received 20,000 yuan ($2,941) as a government subsidy and 3,000 yuan ($441) in donations from Party members across China. In addition, the family took out a loan of 20,000 yuan and put in 90,000 yuan ($13,235) from their savings to build their new 106-square-meter apartment. They finally moved in last October.
Their new home is in a three-story apartment block. The new village has features usually found in cities—parking lots, a community center, a basketball court and a library that were all built by assisting city of Dongguan.
Like many other villagers that are enjoying their new homes, the family feels they owe much to the Dongguan volunteers. Though a language barrier keeps them from communicating much with each other, Xu has her own way of expressing gratitude.