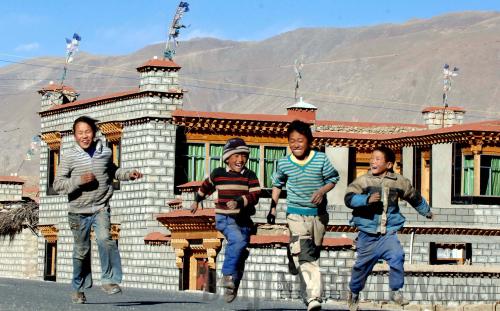 HAPPILY SETTLED: Children run on a newly paved asphalt road in a village in Tibet Autonomous Region. The village benefited from a government-subsidized settlement program for nomadic families that was started in 2006 and has since assisted 500,000 people (XINHUA)
While the global economic crisis still threatens to trap tens of millions of people in extreme poverty, alleviation initiatives in China are gaining new momentum and increasing recognition from the international community. From lifting innumerable people out of poverty by satisfying basic needs of food, clothes and shelter during the past three decades, the Chinese Government's anti-poverty drive is now to focus more on helping rural poor to start small businesses and guaranteeing access to public services and social welfare.
China, with its huge resources and success in reducing poverty, should lead developing Asian countries in attaining Asia-Pacific Millennium Development Goals (MDGs), a senior official of the United Nations Development Program (UNDP) said on February 17.
"China is the champion of the MDGs," UNDP Regional Director for Asia and the Pacific Ajay Chhibber said following the launch of the report Achieving the Millennium Development Goals in an Era of Global Uncertainty, which was prepared by the UNDP, the Asian Development Bank and the UN Economic and Social Commission for Asia and the Pacific. The joint report, released on February 17, warned the global economic crisis could trap an additional 21 million people in the Asia-Pacific region in extreme poverty, living on less than $1.25 a day.
EMBROIDERED FORTUNE: Fifty-one-year-old Cai Xinglin exhibits Qiang embroidery, a traditional handicraft in China's southwestern provinces, whose artisans are sponsored by a poverty-reduction program to conserve this dying art (YANG GUANG)
The report says China has been on track in attaining most of its MDG targets—including slashing the poverty rate from 60 percent to 16 percent from 1990 to 2005, reducing malnutrition, halting the spread of HIV and AIDS, and providing universal primary education. Now nearly a quarter of China's fiscal stimulus package is pro-MDG, including low income housing, improving rural living standards and health care.
More than that China, because of its substantial resources, can also help developing countries attain MDG targets. "China can play an important role (so that Asia) can achieve its MDG (by 2015). China has large (foreign exchange) reserves (and a) large (budget) for international cooperation programs," he told the Xinhua News Agency.
In China's rural areas, 40.07 million people or 4.2 percent of the total rural population, have an annual per-capita income lower than 1,196 yuan ($175) and are eligible for government anti-poverty subsidies and incentives, says the State Council Leading Group Office of Poverty Alleviation and Development. The Central Government allocated 19.73 billion yuan ($2.9 billion) for poverty reduction programs in 2009, up by 3 billion yuan ($441.4 million) compared to 2008, and local governments also injected a total of 9 billion yuan ($1.32 billion) into poverty reduction initiatives.
Decade of efforts
The year of 2010 will be a landmark year in China's poverty alleviation as the Central Government is drafting a new guideline for the next decade, China's second decennial plan.