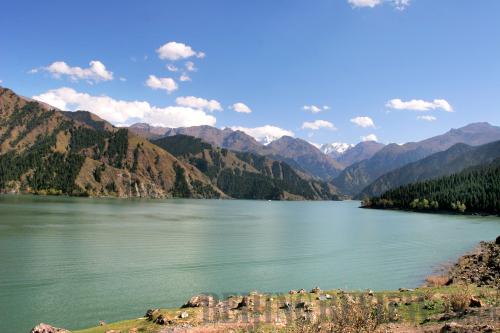 HEAVENLY SCENE: Tianchi Lake sits serenely in the Tianshan Mountains running through Xinjiang from west to east in the middle. The new policy for Xinjiang will improve the region's ecological environment (CCNPIC)
The eco-environment and people's living environment should both be improved. The circular economy should be developed, and Xinjiang will be encouraged to cooperate with other regions to open up to the outside world. This will be facilitated through a partner assistance program between relatively developed regions and Xinjiang.
People's living standards should be raised. Assistance funding from the Central Government and partnering regions, and revenue increased from the resource tax reform will mostly be used to improve people's living and production conditions. And resource exploitation should more directly benefit local people. More jobs should be created, more efforts should be taken to alleviate poverty and absolute poverty should be eliminated by 2020. Public services will be improved and local people's cultural life will be enriched.
Hu stressed the importance of the Xinjiang Production and Construction Corps (XPCC), a unique economic and semi-military government organization of about 2.57 million people, in promoting Xinjiang's development. He said support policies will also apply to the XPCC and pledged more government funding to boost its development and improve the social security of its employees.
Policies
To meet these objectives, Wen said the Central Government decided to launch a series of support policies for Xinjiang to accelerate the region's economic and social development. The policies include:
- A pilot reform on resource tax will start in Xinjiang, with crude oil and natural gas being taxed by price rather than volume.
- Qualified enterprises in impoverished areas will be exempted from paying income taxes for two years and be allowed a 50-percent reduction for another three years.
- Xinjiang and the XPCC will enjoy preference in receiving Central Government investment. Fixed assets investment in the region over the next five years (2011-15) will double that of the previous five years.
- Commercial banks will be encouraged to open outlets in remote areas. Joint equity commercial banks and foreign banks will be invited to set up branches in Xinjiang.
- Additional undeveloped land will be approved for construction.
- Access requirements to industries related to resources or with high market demand will be relaxed.
- The scale of natural gas consumption in Xinjiang will also be expanded.
Wen also made specific arrangements for improving Xinjiang's social and economic work.
Social development with an emphasis on improving people's well-being should be promoted. Poverty-stricken areas should be specially supported. Infrastructure construction should be strengthened and the eco-environment should also be improved. Industries with local advantages and local characteristics should be vigorously developed. Xinjiang should be further opened up, both to other parts of the country and to foreign countries.
Actions
In line with the central work conference, Xinjiang's local authorities, related Central Government departments, and the regions participating in the partner assistance program have all committed to implement concrete measures and appropriate funds for assistance.
The Xinjiang local authorities will first launch a series of projects to improve people's livelihood. As part of that plan, Xinjiang will try to transform the shantytowns in cities and state-owned mine areas in five years into ordinary houses.
Housing projects for rural residents and herdsmen will be finished by 2015 and 2020, respectively.