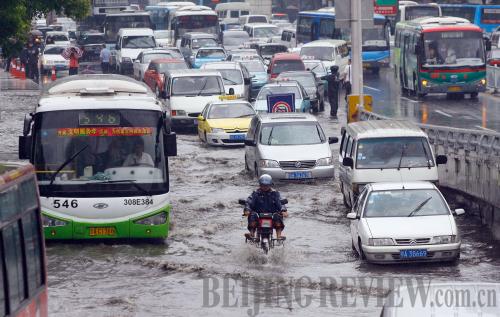 DRIVING THROUGH: A day of pounding rain on June 8 left Wuhan City of Hubei Province flooded, which caused inconveniences for daily transportation (CFP)
After being plagued with severe drought earlier this year, the southern part of China has been ravaged by heavy rainfall since May.
According to the China Meteorological Administration (CMA), from June 23-25 a new round of storms swept the southern part of the country including all nine provinces in the south. It was the 11th round of storms since May 5, said CMA.
Torrents roared into homes, drowned people, submerged roads and railways, and devoured crops. Villages in mountainous areas suffered from blackouts as the waters raged.
Train travel was suspended or delayed due to the heavy rains. Food prices, especially vegetables, have been rising as much as 30 percent in some southern cities.
SOS everywhere
From June 14-16, Heyuan City of Guangdong Province encountered massive rainfall, which triggered flashfloods and landslides, smashing many mountainside homes.
On June 16, while saving a senior citizen trapped by a flood in Heyuan, Ge Xiaowei, a police officer died after giving his life jacket to the 69-year-old woman.
On the morning of June 20, due to severe flooding, all highways, railways and roads in Yingtan City of Jiangxi Province were closed. Many water conservancy projects in the province had stored too much water and were ready to burst. Flood control administrators in Jiangxi immediately dispatched 130 police officers to protect the river dams.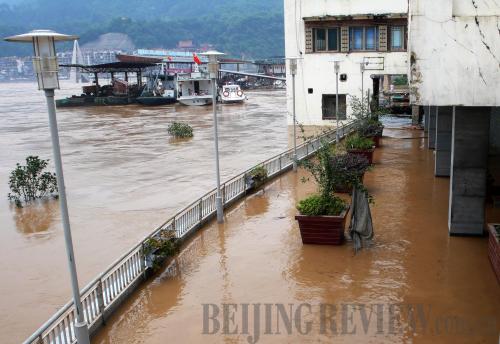 FLOOD EVERYWHERE: On June 20, a harbor of Nanping City of Fujian Province is submerged under water. From June 18-20, 24 people died in Nanping and 28 are missing (WANG SHANGLIN)
On June 20 the flood control department of Jiangxi reported four counties of Yingtan City were completely overrun with neck-high waters. Residents in Zixi County of Yingtan had difficulties getting drinking water and food, and phone signals were gone.
Jiangxi is one of the worst hit provinces by flooding. A preliminary estimate of the province's flood control department said by June 21 more than 2 million people in 750 towns and counties in the province were affected by the floods. Five people, three of them children, had been killed. More than 139,000 hectares of cropland were damaged and tens of thousands of houses collapsed during the flooding.