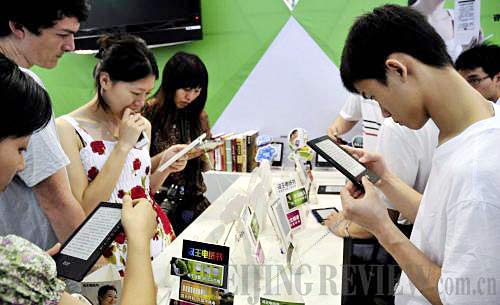 FOND OF NOVELTY: Visitors are attracted by the e-readers on display at the Sixth China (Shenzhen) International Cultural Industries Fair held in May 2010 (YUAN SHUILING)
The fire Amazon.com Inc.'s Kindle has kindled in the United States has spread to China. But it's not a buying spree of Kindle products, which aren't being sold here, but a manufacturing frenzy of Kindle-like products—electronic-book readers (e-readers).
These e-readers, adopting paper-like display technology called e-ink, are nothing new to Chinese IT com companies. As early as 2006, Tianjin Jinke Electronics Co. Ltd. released its Hanlin e-reader. But most Chinese IT companies adopted a cautious attitude due to the high cost associated with e-reader technology. It was not until late 2008 after Kindle had found a niche in the U.S. market that the current Chinese market leader, Beijing-based Hanvon Technologies Co. Ltd., rolled out its first e-reader.
Since then, more and more Chinese companies have piled into the market. Currently, about half of the world's e-reader makers are in China. Zhang Yijun, an official with China's General Administration of Press and Publication, said at a forum held in Beijing in May, 41 Chinese mainland companies, of 80 throughout the world, are engaged in developing their own e-readers.
"But China's e-reader industry is far from successful," said Wang Bangjiang, Vice President of Hanvon. Wang is cool-headed, despite the fact that he's in the middle of a manufacturing "fire"—Hanvon's monthly output has exceeded Sony to become the world's second largest.
Although endowed with potentially the largest market, Chinese e-reader makers are still plagued with shortfalls, mainly in prices and content. Some problems are inherent to their business models; some are indigenous in the country's culture and society. Others include challenges facing the whole dedicated e-reader sector.
Burgeoning market
The year 2009 is widely considered the first year of the e-reader era in China. In the absence of Amazon.com and Sony in China, local IT giants, such as Peking University-invested Founder Technology Group Corp., joined in to cut a slice of the market. It's estimated that Chinese e-reader shipments exceeded 300,000 units in 2009. Hanvon, with an overwhelming volume of 267,000, predominated the Chinese market.
Substantial market opportunities have also been alluring to publishers and telecom operators. In March 2010, Shanghai Century Publishing Group became the first publisher to launch a branded e-reader. The country's largest telecom operator, China Mobile, released its e-readers with access to its 3G network in May 2010.
This enthusiasm has already pushed China to become the world's second-largest single-country market in terms of e-reader shipments. Data from the Taiwan-based Digitimes Research shows that China accounted for 21.4 percent of the world's e-reader shipments in the first half of this year, ranking only after the United States, which was 58.1 percent. Last year, the entire Asian market only totaled 8.8 percent.
The latest market presence is the August release of the Bambook e-reader by Shanghai-based Shanda Literature, operator of China's largest online literature website. In addition, the other two telecom carriers, China Unicom and China Telecom, may put out their own devices before year's end. An optimistic mood is prevailing in the Chinese market, with estimates for the 2010 yearly shipment ranging from 1.5 million to 3 million.
Price matters
Featuring e-ink technology, e-readers boast a paper-like reading experience with ultra-low power consumption. They're also portable, large in storage space, and some can provide easy access to the Internet. Hanvon even added its advantageous technology—handwriting recognition—into its products. Despite these selling points, e-readers in China are still not attractive to ordinary consumers.
Research by Analysys International shows that 61 percent of the e-readers in the Chinese market are priced over 2,000 yuan ($294), 27 percent from 1,500 yuan ($220) to 2,000 yuan ($294), and 12 percent between 1,000 yuan ($147) and 1,500 yuan ($220).
In sharp contrast, Kindle with Wi-Fi access now features a doable price tag of $139, while a version with free 3G and Wi-Fi is $189, a price that was slashed from $259 in response to the launch of iPad. But a similar-size Hanvon e-reader with Wi-Fi access is priced at over 3,000 yuan ($440).
E-readers in the Chinese market are much more expensive than Kindle products in terms of absolute value. Moreover, taking consumers' income into consideration, an e-reader may cost more than the average monthly income—less than 2,000 yuan ($294)—for an urban Chinese resident.