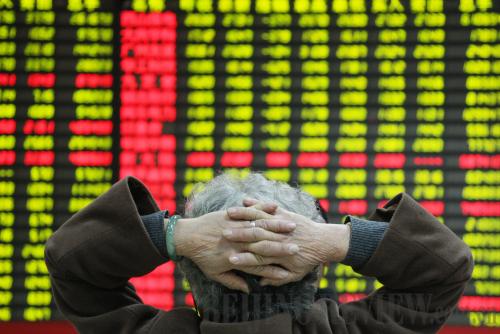 BEAR MARKET: An investor watches the main board at the Shanghai Stock Exchange. On November 12, 2010, the Shanghai Composite Index tumbled 5.16 percent to 2985.44 points, the biggest drop in 14 months (CFP)
Besides this, a number of private enterprises have floated their shares and the securities market played an indispensable role in stimulating their development. The Chinese economy has also become more diversified with state, private and foreign enterprises prospering, he said.
Cao said China's securities market has accomplished four major achievements.
First, it changed the past planned system of financing and pushed for a market economy, he said. Before this, enterprises could only rely on government budget and banks as a source of capital.
Second, the securities market helped beef up shareholding reform of the SOEs, many of which have become globally competitive giants. Without the securities market, many SOEs would have struggled to survive.
Third, it helped foster a handful of market-savvy entrepreneurs and intermediary institutions, including investment banks, asset evaluation and consulting organizations, accounting firms and law firms.
Fourth, it provided a new investment channel for the Chinese. Nearly 2 million Chinese people have invested in the stock market, linking their lives closely with the market movements, he said.
Road ahead
As the United States gets ready for the second round of its quantitative easing policy, Chinese policymakers fret the possibility of speculative hot money pouring in, sending shockwaves through the real economy.
In response, Zhou Xiaochuan, Governor of the People's Bank of China, the central bank, proposed guiding the hot money into a "pool" to prevent it from entering the real economy.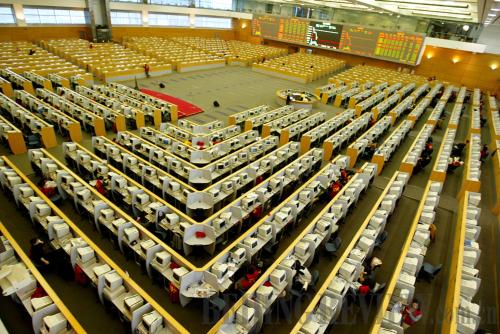 MOVING ON: On February 20, 2004, the Shanghai Stock Exchange completed building the first-phase of a tuberculosis database, the largest in the country (CFP)
Many economists believe the so-called "pool" refers to the stock market, which is capable of absorbing the hot money given their considerable size.
Currently, for foreign capital looking for ways into China's yuan-denominated A-share market, the Qualified Foreign Institutional Investor (QFII) program is the only channel. But the QFII is subject to a limited quota, and individual overseas investors are currently denied access to the Chinese markets. So if the "pool" really turns out to be the stock market, it is probably a hint that the market will need to be further opened.
Building an international board is also likely to be under consideration of the policymakers. Jiang Jianrong, a researcher at the Shanghai-based Shenyin & Wanguo Securities Research Co. Ltd., said China is now capable of establishing an international board given its bourses' capacity to handle trading, securities registration and transaction settlement. In addition, foreign companies have growing needs to list in China, said Jiang.
Reports also hold that China has decided to put the international board at the SSE, and a string of foreign companies including the HSBC Holdings, Hang Seng Bank and Siemens are already making preparations to list in China.