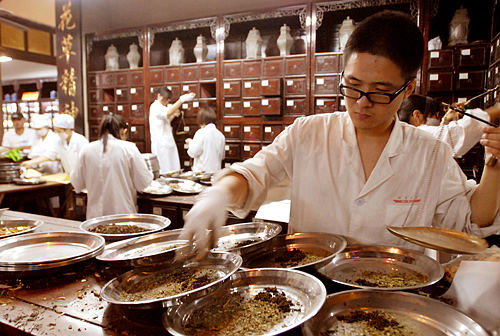 REMEDY MAKERS: Pharmacists are busy preparing medicines for clients in a drug store of Huqingyutang, a famous TCM store, based in Hangzhou, capital of Zhejiang Province (CFP)
According to Zhangshu City of Jiangxi Province, a major herbal medicine center in the southern part of China, its main business income from herbal medicine reached 5 billion yuan ($769 million) last year, but its herbal medicine exports were only valued at $200,000.
Challenges remain
Despite the fact that the EU Directive may not take that great a toll on China's TCM exporters, their small trade volume points to the herbal medicine industry's inability to gain a foothold in the world market.
Even though China is able to sell some of its best herbal medicines, if only on a small scale, to foreign countries, most of them are raw materials and have low added value, said Yang Dianxing, Director of Administration of Traditional Chinese Medicine of Sichuan Province.
"Although China boasts a firm understanding of herbal medicines, the overall lack of industrial guidance and support for innovation and research has caused the industry to squander its resources," said Zhao Juning, Deputy Director of the Sichuan Academy of Chinese Medicine Sciences.
"Just knowing how to make a great product doesn't ensure that the TCM industry will grow and be successful," said Zhao.
China's fragmented TCM industry is the root cause for inadequate innovation and weak competitiveness, said Zhu Yonghong, Vice President of Tasly Research Institute affiliated to the Tianjin-based Tasly Group, one of China's largest TCM and pharmaceutical companies.
Since research and development of new drugs requires a hefty investment, small medicine producers, accounting for 80 percent of TCM producers, are unable to undertake such risky business ventures. Many of the larger companies, with larger financial reserves, lack the innovation necessary to develop new drugs, said Zhu.
Another roadblock is TCM's classification in foreign markets as food, rather than herbal medicine.
According to Yu Yuqi, President of Wenshan Miaoxiang Notoginseng Industry Co. Ltd. of Yunnan Province, his company exports notoginseng to Japan as an "organic food." The final products will be sold after further processing in Japan.
When TCM entered the EU market in the mid-1990s, it was sold as food supplements instead of drugs.
In addition, cultural differences can't be neglected. TCM, which focuses on remedying causes rather than treating symptoms, is supported by a strong culture of consumer trust rather than lab experiments and ingredient analysis as is the case in Western drugs.
"There is an inherent prejudice against TCM in the West. Most patients still don't believe they are real drugs and have concerns about the use of animal parts in them," said Luo Yang, a TCM analyst from the China Chamber of Commerce for Import and Export of Medicines and Health Products.
Germany, for example, does not allow the use of animal parts in medicine, but for many famous Chinese medicines, animal parts, such as snake gall, are important ingredients, said Luo.
TCM prescriptions also focus more on the patient than the actual medical condition for which it is being prescribed. Chinese doctors give different TCM prescriptions to different patients with the same disease, said Luo.
Push to go global
Despite past difficulties and the industry's general inexperience, experts are calling on TCM companies to pool their resources and collectively seek to explore the global market.
To assist these efforts, the Ministry of Health launched an industry-university alliance last August to promote TCM in the global market. The alliance aims to introduce international standards to domestic TCM manufacturers to pave the way for easier registration in overseas markets.
"Registration and consumer acceptance are going to be crucial if Chinese medicines are going to enter Western markets," said Luo.
China has signed 91 government contracts with 70 countries to cooperate in the general medical sector, plus 48 contracts exclusively concerned with TCM, according to Peng Yuhang, an official with the Sichuan Provincial Science and Technology Department.
Industry insiders think the government needs to play a role in promoting TCM in the global market and China should learn from South Korea's publicity strategies, which has sent government delegates to promote its ginseng in China.
They also suggested Chinese TCM enterprises cooperate with local medicine producers in foreign countries.
"Chinese TCM exporters could get to know overseas markets by cooperating with local foreign companies," said Li Jizong, Director of the Industry Promotion Department of Shanghai Technological and Industrial Promotion Center for TCM.
Lin Bin, director of a TCM clinic in the Netherlands, suggested that China's domestic TCM companies develop long-term goals and cooperate with local competitors in foreign markets.
They should also establish partnerships with prestigious European medical institutions specializing in research and development, said Lin.