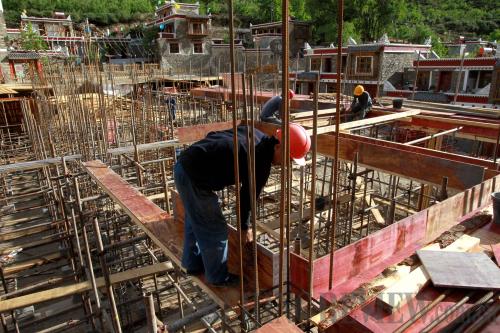 NEW HOMES: Workers construct Qiang-ethnic style buildings on May 10, 2011, in Wori Village in Aba Tibetan and Qiang Autonomous Prefecture in Sichuan Province (LI MINGFANG)
Hiding at the end of a brand-new mountain road, Hongbai Town, deep in the mountainous regions of Sichuan Province, welcomes visitors with its majestic two-story gray-and-white buildings and the smiling faces of its residents. The distinct local dialect fills the air as townspeople sit on bamboo chairs outside a convenience store and go about their daily routines. It is just another tranquil midday in this summer.
A museum serves as a reminder of a less serene afternoon just three years ago when the Earth shook violently, claiming more than 1,000 lives in the town. Only 20 km away from the epicenter of the devastating Wenchuan earthquake of May 12, 2008, Hongbai was hit the hardest in Shifang City. Photos of the disaster and debris from the ruins fill the museum telling of the town's darkest hours.
These days, villagers in Hongbai are more eager to tell a different story—the story of recovery and reconstruction.
Help from afar
The 8.0-magnitude Wenchuan earthquake that hit Sichuan and neighboring Gansu and Shaanxi provinces claimed 69,277 lives, leaving another 374,176 in need of serious medical attention. To date, more than 18,000 people are missing. In the immediate wake of the disaster, 4.8 million people were left homeless.
On June 11, 2008, the State Council, China's Cabinet, unveiled a partnership assistance program, requiring 18 provinces and municipalities each to assist the reconstruction of a quake-affected city or county in these areas.
Beijing was one of the first regions to respond to the Central Government's call. Eight construction companies from Beijing, which had built venues of the 2008 Olympic Games, were some of the first to arrive in Shifang.
"Beijing helped us immensely. Shifang almost became the Beijingers' second home, the way the workers cared about reconstruction efforts and aiding the locals," Liu Anrong, owner of a grocery, told Beijing Review.
In total, Beijing donated 7 billion yuan ($1.08 billion) for reconstruction efforts in Shifang, among which 180 million yuan ($27.78 million) was for Hongbai, which was flattened by the quake.
Over the past three years, the 18 provinces and municipalities dispatched 2,740 officials, more than 310,000 workers and 29,400 professionals to work in the quake zone, said figures from the Sichuan Provincial Government.
Sweet home
The new towns springing up across Sichuan, while true to their original design and architectural style, are modern, featuring the latest in earthquake-resistant building materials.
As of April 2010, kindergartens, schools, daycare centers, community clinics, water systems, sewage disposal plants and garbage treatment facilities had been built in Hongbai in line with level 8 quake resistance specifications. The new town has a current area of 2 square km. Before the quake, it was just 0.75 square km. With new roads and telecommunications networks, Hongbai, once not even marked on most maps, is now known by and connected with the outside world.