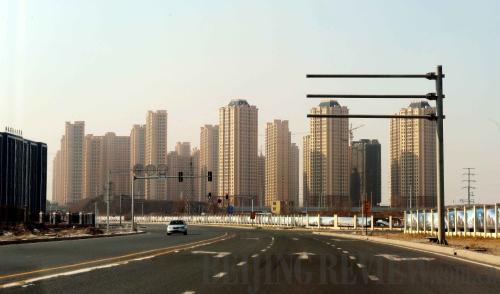 HOME IS THE BEST: Harbin of Heilongjiang Province will have completed construction of 39,000 subsidized housing units like this community by the end of this year (WANG SONG)
While Mu was inspecting Zhejiang, the province's third-tier city Yiwu was reported by China Securities Journal to have cancelled the home purchase limit from the beginning of this year.
"I did read relevant media reports and will discuss it with my team," Mu told CCTV.
Many local governments have tried to boost the housing market by not strictly implementing property control policies, such as providing incentives to home buyers and lifting the public housing fund and loan caps.
According to Yu Fenghui, a senior financial commentator, since tightening curbs on the property sector in 2010, 33 Chinese cities have issued easing policies going against the Central Government's property restriction policies.
On February 9, 2012, Wuhu in east China's Anhui Province released a housing policy, offering subsidies to first-home buyers. In October 2011, Foshan in southern Guangdong Province said it would allow residents to buy a second home.
In May housing regulators in Yangzhou in east China's Jiangsu Province announced the beginning of an incentive policy for new home buyers.
"For years, China's housing sector has been a game between local and central governments," said Yang, Mayor of Fuzhou.
The housing boom in the past decade has caused local governments to rely heavily on land sales. The sale of land now accounts for more than 60 percent of local governments' total revenue, according to the 2011 Blue Book of Real Estate released by the Chinese Academy of Social Sciences.
"The local governments have become the biggest beneficiary and driving force of housing price increase," said Ma Guangyuan, a senior financial commentator.
With home prices soaring beyond the reach of average wage earners, the Central Government implemented tightening measures in 2010 to bring home prices down, including restricted home purchases while requiring higher down payments and introducing property taxes.
Last year more Chinese cities witnessed much higher unsuccessful land auctions than the previous year.
"Failed land auction has surely added pressure to local governments' fiscal conditions," said Song Huiyong, an analyst with Centaline.
When Mu asked why Fuzhou has not released its latest property market data, Yang said the information would cause more harm than good.
"The outlook of China's realty sector has become even more complicated than before in that the game playing between local governments and the Central Government is getting more and more intense," Yang said.
The Central Government pledged to keep the curb policies firmly in place, while local governments expected property market easing in hopes of improving their fiscal situation and boosting weaker local economies, according to Yang.
"Sending the inspection team demonstrated the Central Government's determination to urge the local governments to implement tightening policies," Yang added.