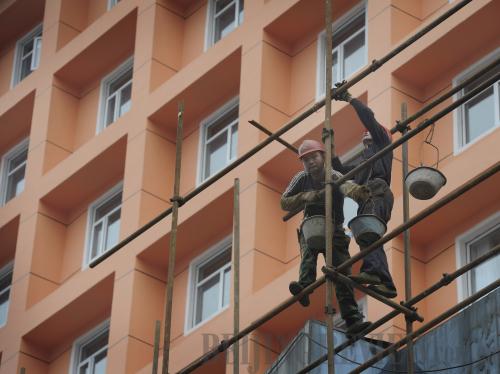 HIGH ABOVE GROUND: Construction workers work on scaffolding at a housing project in Nanjing, Jiangsu Province, on June 30 (CFP)
The central authorities have reiterated their firm stance on property market regulation many times this year. Premier Wen Jiabao said earlier in July the government must make unswerving efforts to ensure house prices return to reasonable levels and block a price rebound that would undermine the effects of previous efforts.
In the notice jointly released by the Ministry of Land Resources and the Ministry of Housing and Urban-Rural Development in July, the Central Government showed its determination to maintain a firm grip of the real estate market and consolidate previous achievements in bringing down home prices to prevent a rebound.
"Local authorities must strictly implement property control policies," according to the notice. "Those that have loosened up controls must set straight the policies."
Chen Guoqiang, Vice Chairman of the China Real Estate Society, said it is necessary for the Central Government to urge local governments to be fully responsible for price control efforts and ensure the implementation of previous policies.
New restrictions on China's real estate market may be on the way as soon as this month, reported China Securities Journal.
"If the housing market isn't cooled, new tightening measures may be released soon," said Yang.
According to Yang, the new policies could include raising the transaction tax on existing homes, expanding a property tax trial, raising the transaction tax on second-hand homes and launching accountability measures against local governments.
The new measures may be implemented in August to avert further increases in property prices as the market enters the traditionally high price season of September and October, said Zhang Dawei, Director of the Market Research Department with Beijing Centaline Property Co. Ltd.
Details and timing of the new policies will largely depend on the report produced by a government inspection team, which just concluded a nationwide check on the implementation of local property rules, said China Securities Journal.
Many economists also called for further improvement in the taxation mechanism to regulate the market, which will not only cover transactions but also possession of real estate.
Chinese policy makers have clearly stated that property tax trials will be expanded, according to Jia Kang, Director of the Research Institute for Fiscal Science under the Ministry of Finance.
China introduced property tax trials in the cities of Shanghai and Chongqing at the beginning of last year as part of efforts to curb runaway home prices.
Email us at: liuxinlian@bjreview.com