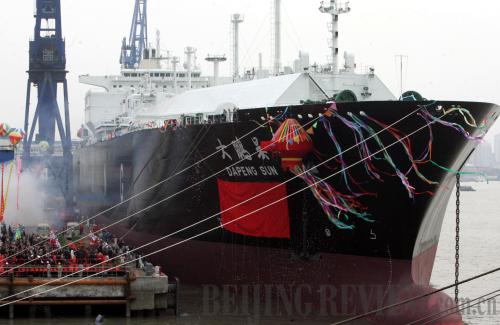 A BREAKTHROUGH: An LNG ship made by the Shanghai-based Hudong-Zhonghua Shipbuilding (Group) Co. Ltd. was delivered to the ship buyer on April 3, 2008. This was the first of its kind for China's shipbuilding industry (CFP)
In 2010, China overtook South Korea to become the world's largest ship builder after it outdid its rival on new orders and shipbuilding capacity. Just when China's shipbuilding sector embarked on a fast track of development, the global financial crisis erupted, resulting in falling new ship orders.
"The dilemma of China's shipbuilding sector is a result of sluggish foreign trade, but also a result of earlier rampant expansion," said Li Zuojun, a research fellow at the Development Research Center of the State Council.
Li attributed the heavy losses in the shipbuilding industry to "crazy expansion" over the past several years, when bank loans and private capital flocked to the sector. "Many shipyards produced vessels even before receiving orders, resulting in severe excess capacity. Later, the downturn in the global economy made things worse."
"Chinese ship builders lack strong innovation, while overcapacity persists and ocean engineering equipment development lags far behind," said Li.
To boost the sector, the Ministry of Industry and Information Technology issued a support plan in June 2009 to ensure shipyards have easier access to credit. Thus, local banks gave the green light to private yards, intensifying the overcapacity problem. The production capacity of shipyards soared to 50 million deadweight tons in 2011.
But only 50 percent of the capacity was eventually utilized in 2012. "A reasonable rate of capacity utilization should be over 85 percent," said Li. Chinese-made ships are mainly bulk freighters, tank ships and container ships, while high-end technology is lacking. "Excess capacity persists in lower value-added products," he said.
Time to upgrade
The newly released three-year support plan is targeted at an industrial upgrade to make China a shipbuilding and maritime power, said Li Yanqing, President of China Shipbuilding Information Center. "An outdated development model will only cause further harm to shipyards. Only by accelerating structural adjustment and industrial upgrade can they effectively face new competition and find a way forward," he said.
Wang Jinlian, Secretary General of the Chinese Association of the National Shipbuilding Industry, said the new plan not only regulates the control of capacity, but also specifies how the industry can upgrade and become stronger.
"After several years of development, China's shipbuilding industry has accumulated competitiveness in raw materials and labor. Global shipbuilding is gradually being transferred to China, which has the ability to push its shipbuilding sector to a new level," said Wang.
The global shipping market has been mired in a continuous slowdown after the global financial crisis and falling new orders have dragged down the price of new vessels. This has intensified the overcapacity issue, posing significant challenges to the sector's development. "But we should also bear in mind that China has already built an array of high-level shipbuilding infrastructure, with complete upstream and downstream industries, abundant labor resources and a potential domestic market," said Wang.
Wang said Chinese-made vessels are still mainly low value-added ones, while Japan and South Korea have a lead in new technology. According to global shipbuilding standards, new-generation shipbuilding technology is mainly focused on saving energy, reducing emissions, information technology and smart designs.
"Chinese vessel makers should have the faith to seize global trends, which entails severely adjusting their industrial structure," said Wang.