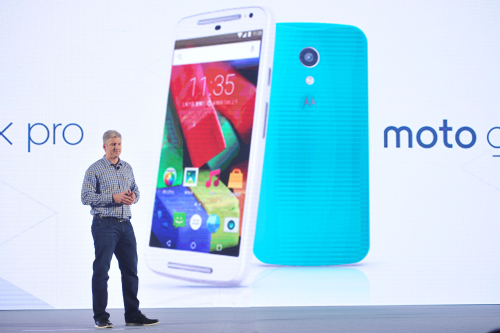 COMEBACK: Rick Osterloh, Motorola's President and COO, shows to the audience the latest model of Motorola cellphone on January 26. Motorola phones made a comeback to China after leaving the world's largest mobile phone market for more than two years. The company was bought by China's Lenovo Group from Google last October (CFP)
"The main reasons for the surging ODI are China's economic upgrade, continuous trade surplus, abundant foreign exchange reserves as well as the country's advantages in several industries," Zhang said.
Deng Yujun, an economics professor with the South China Normal University based in Guangdong Province, said capital outflow from China will greatly facilitate the internationalization of the Chinese currency, the yuan.
"Among the total outbound investment from China, the majority is yuan-denominated, making the currency one of the most popular clearance and reserve currencies in the world," Deng said.
With $4 trillion in foreign exchange reserves and continuous supportive policies such as the Silk Road Economic Belt and 21st Century Maritime Silk Road initiatives, the potential for a much larger flow of outbound investment from China is enormous.
To better integrate the regional economy, China proposed the Belt and Road initiatives in 2013. Last November, Chinese President Xi Jinping announced that China would contribute $40 billion to set up a Silk Road infrastructure fund to break the bottleneck in Asian connectivity by building a financing platform. The China-led Asian Infrastructure Investment Bank, which was established last October, will be dedicated to funding infrastructure projects in Asia.
CAITEC's Vice President Xing said the two initiatives will further increase outbound investment from China. China has accumulated a lot of experience and expertise in infrastructure construction, which will greatly contribute to countries involved in the two initiatives, she said.
"China is a big country but not yet a strong one. China doesn't want to be strong alone. It wants to share its prosperity with other countries to achieve mutual benefits. Therefore, this is not the government-pushed 'Marshall Plan' as some have speculated," Xing said. Officially known as the European Recovery Program, the Marshall Plan invested $17 billion in the rebuilding and bolstering of European economies after World War II.
Xing said the Marshall Plan aimed at boosting U.S. influence in Europe, while the two initiatives are both about planning, building and sharing fruits of development of countries and regions along the proposed routes. "China will definitely respect the will of countries along the proposed routes and give full consideration to their needs so as to achieve win-win and multi-win results."
Roadblocks
Despite remarkable progress in overseas investment, China still has a long way to go before becoming a more sophisticated capital exporter like the United States and Japan.
According to data from the MOFCOM, accumulated ODI from China stood at $646.3 billion as of the end of 2014.
Jiang Zengwei, Chairman of China Council for the Promotion of International Trade, said the accumulated ODI from China is a small number compared to those top global investors.
"It's about one tenth of the accumulated ODI from the United States, half of the ODI from Japan and one third from Germany," Zeng said.
"But I think as China becomes a more international company, China's ODI still has huge development room," Jiang said.
With that being said, Jiang said Chinese companies' overseas foray is not without obstacles.
China's telecom operators Huawei or ZTE were blocked from the United States over security concerns in 2012. Last year, the Mexican Government cancelled a $3.7-billion high-speed train contract won by a group headed by China Railway Construction. In addition, China's top smartphone maker Xiaomi was mired in lawsuits on the ground of intellectual property infringement in India.