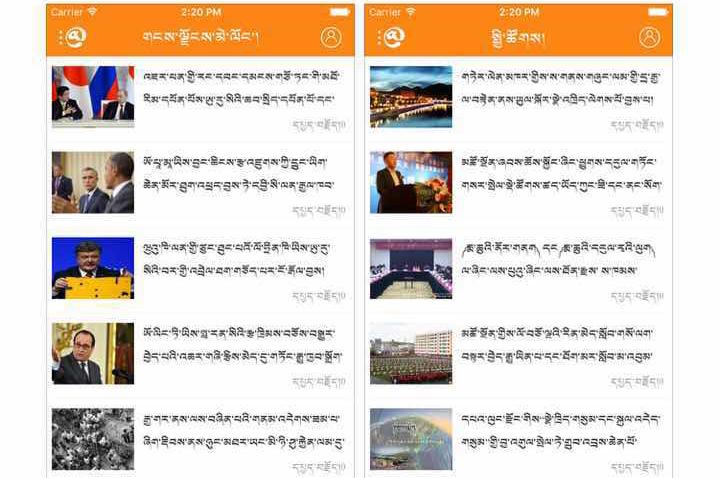 Screenshot of the Jingesang app (CHEN RAN)
The Tibetan-inhabited area in northwest China's Qinghai Province activated the Jingesang news mobile app in Tibetan language on May 6.
The Qinghai Tibetan area is the largest Tibetan-inhabited area outside of the Tibet Autonomous Region. Out of the 10 Tibetan autonomous prefectures in China, there are 6 prefectures distributed in Qinghai which is home to about 1.4 million Tibetans.
Apart from providing to the users news on politics and hot issues regarding the society in Tibetan language, the news mobile client in Tibetan language also allows users to be able to listen and watch different programs in Tibetan language, such as broadcasts, television as well as online livestream programs, movies, entertainments, weather forecast, traffic information and more.
"It is a new platform extended from the Tibetan language website of the Qinghai Online TV and Radio Station, following the rules of news media and setting rules of newly-developed media," said Naba, deputy director of the Qinghai TV and Radio Station.
"It will realize complementation between traditional TV and radio media and the newly-developed media, therein providing to the people living in Tibetan areas various kinds of news and products in Tibetan language," he added.
In recent years, the mobile Internet service in Tibetan areas has developed rapidly. The method of obtaining news and information is transiting from watching and listening to TV and radio to accessing the Internet and using mobile clients.
(Source: China Tibet Online)