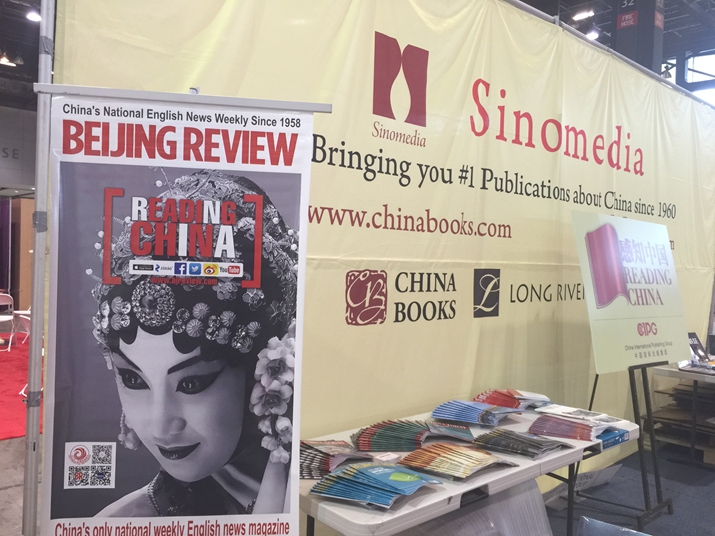 China International Publishing Group and Sinomedia International Group jointly attend BEA 2016 (DING YING)
North America's largest annual gathering of publishers and booksellers convened on May 11 in Chicago, drawing an estimated 18,000 attendees including large delegations from Chinese publishing houses. BookExpo America (BEA), typically held in New York City, hoped to draw new faces with its change of location. All 50 U.S. states were represented at the show along with more than 230 new international registrants.
"This is the industry's largest event and our move to Chicago has meant a different set of attendees, with a strong showing from the Midwest naturally. This means a completely different business opportunity for booksellers and publishers and the chance to change the landscape of publishing efforts throughout this region of the country," said Brien McDonald, Event Director for BEA, in a press release.
The show has set the tone for what booklovers can expect from the U.S. publishing industry in 2016. It also broadened the reach and exposure for independent booksellers, publishers and authors as well as the introduction of foreign publishers to American readers.
China International Publishing Group (CIPG) and Sinomedia continued their strong presence at BEA, offering titles such as Chinese President Xi Jinping's The Governance of China. CIPG's 13 publishing houses comprise seven in China and six overseas. Every year, the group publishes over 5,000 titles in nearly 20 languages.
"I'd be interested in reading more books from Chinese authors," said Betty Knowles, a first-time attendee at BEA, as she stopped by the CIPG booth. "I cannot say that I'm familiar with any of these authors, but I love reading new and interesting things."
Last year, China was the guest of honor at BEA, with 25,000 square feet of dedicated space and a host of exhibitions and cultural events.
"I remember the large Chinese presence at BEA 2015," said Paul DeMarco, an independent bookseller from New York City. "Clearly, there is a huge interest from Chinese publishers to break into the American market—and, I think there is interest on our side as well. Many readers are interested in Chinese titles."
DeMarco said that he had attended BEA for the past three years.
"It's a great show. Everybody is so passionate about books and publishing. I look forward to it every year," he said.
In addition to CIPG, other Chinese publishers attending the show included the Beijing Municipal Bureau of Press, Publication, Radio, Film and Television, Phoenix International Publications, and China Universal Press and Publication.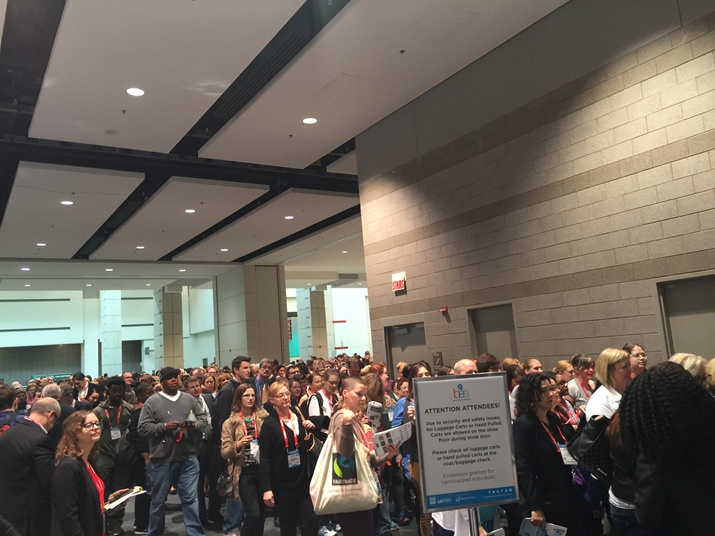 Visitors rush into the BEA exhibition in Chicago on May 11 (DING YING)
Tapping China's market
Publishers eager to expand their presence in China gained an overview of the rapidly evolving market. During a panel session titled "Understanding Book Sales in China—By the Numbers," attendees learned of a "readership hungry for both domestic and foreign language books." China OpenBook, which has tracked the major Chinese retail channels using points-of-sale data for 18 years and has recently partnered with Nielsen BookScan, reports that one in five books sold in China is written by an overseas author.
"For many, China is a black box," said Ruediger Wischenbart, Director of International Affairs for BEA, as part of his introduction to the panel session.
Jiang Yangping, General Manager of OpenBook, noted that China's book market was valued at 62.4 billion yuan ($9.6 billion) in 2015, up 12.8 percent from 2014, when sales were 55.3 billion yuan ($8.5 billion). There are 1.68 million titles currently available in the market. Health and self-help books account for 39 percent of the offerings, while business and management weigh in with 37 percent and fiction makes up 10 percent.
While a bleak picture is sometimes painted for the traditional publishing industry, the Chinese market, with its highly literate population, continues to expand rapidly. Western publishers are "interested in getting access to the Chinese market, and the Chinese Government is interested in getting more authors known in the West," Jeffrey N. Wasserstrom, history professor at the University of California and author of China in the 21st Century, told The New York Times.
Publishers say that the Chinese appetite for Western books is "impressive" and China's $8-billion publishing industry is second only to that of the United States. Chinese publishers released 444,000 titles in 2013, up from around 328,000 in 2010.
"I've been amazed and pleasantly surprised by how smooth and uncomplicated the process has been," said Niko Pfund, President of Oxford University Press, in the Times.
In 2013, Chinese publishers acquired the rights to nearly 16,000 foreign books, including 5,500 from the United States. HarperCollins and Penguin Random House both cite China as one of their fastest-growing markets.
"Chinese people are very curious about culture in other countries," Wu Xiaoping, President of China's Phoenix International Publishing Group, said at BEA 2015. "There will be more and better relationships between Chinese and U.S. publishers."
Translated titles and imports accounted for 21 percent of the Chinese market last year, with U.S. and British authors making up 57 percent of import sales. Children's books, meanwhile, topped translations and imports. A Disney book tie-in to the film Big Hero 6 was the best-selling children's title, followed by books from Mattel's Barbie series. In the business category, Dale Carnegie's How to Win Friends & Influence People and Kelly McGonigal's The Willpower Instinct were popular. And, with some 300 million English language readers and learners in China today, English language learning books feature among the bestsellers, according to Publishers Weekly, a news magazine focused on the international book publishing business.
Price is often a key point with Chinese readers, Jim Bryant, CEO of Massachusetts-based Trajectory, a global digital distribution and book discovery network, said during a BEA panel discussion. Publishers are encouraged to price books at the traditional rates of their home markets and then to offer discounts. Promotions drive some 70 percent of sales, Bryant said, as Chinese readers love a good deal. Most titles on the Chinese market sell for the equivalent of $5-$8.
E-books are unsurprisingly a competitive sector in China, as some 300 million of the nation's mobile phone users use their devices for reading, according to a recent survey. Cheng Xiangjun, CEO of iReader Beijing, revealed during this year's BEA that his company has 78 million active readers who purchase some 60 million e-books every month. Over 100 million customers purchased e-books from iReader's range in December 2015 alone, according to Cheng.
The road ahead
In conjunction with BEA, IDPF DigiCon, a conference organized by the International Digital Publishing Forum, took place in Chicago on May 10-11.
At the event, World Wide Web inventor Tim Berners-Lee outlined the future of electronic publishing in a keynote speech titled "Realizing the Vision of Publishing Technology Being Web Technology."
Berners-Lee, also founder and Director of the World Wide Web Consortium, described a future in which technology could turn the walls of a classroom or conference hall into screens displaying content stored on a smart watch.
"Print books will be here forever," he said in an interview with Publishers Weekly, but with Web technology, "people will be able to take them everywhere." "This is challenging and exciting," he added.
"Nobody could have expected today's world [of technology]. The Web allows you to do any crazy idea, and you're only limited by your own creativity," Berners-Lee said in the interview, adding that publishing and collaboration were part of his thinking when he invented the Web in 1989. "There is a universality on the Web. It can be used for any genre. You can browse. It's flexible. It unleashes the shackles put on publishing by paper."
In preparation for the future, China has already established itself as a leading developer of new technology. Guangzhou OET Technologies has released the world's first graphene electronic paper, the lightest and strongest material currently available that could revolutionize screen displays on gadgets like e-readers and smart watches. Graphene e-paper is said to be cheaper, sturdier, brighter and more flexible than the e-ink technology utilized by the Amazon Kindle and other such devices.
The New York-based author is a contributing writer to Beijing Review
Copyedited by Chris Surtees
Comments to yanwei@bjreview.com