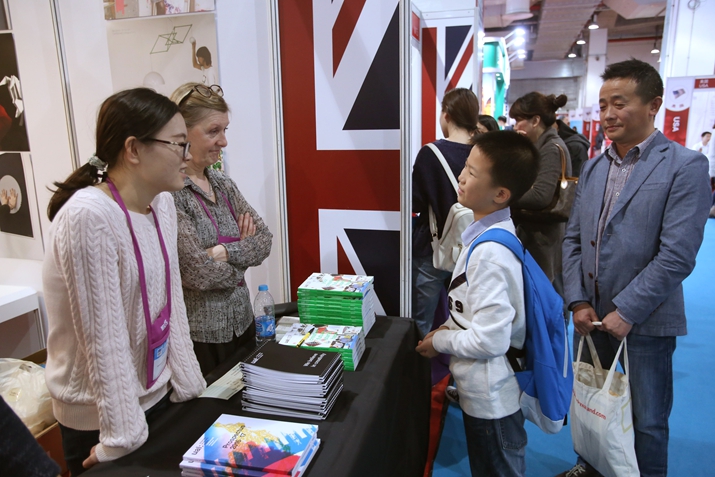 A student visits the booth of a British school at an international education exhibition held in Shanghai World Expo Exhibition and Convention Center on November 1, 2015
Three couples from different social strata, whose children vary in terms of academic performance, are wrangling over the same question: Whether to send their children to senior high schools overseas. This scenario forms the basis of the plot in a TV series called A Love for Separation, which is on air in China.
The three children, two girls named Duoduo and Qinqin and a boy named Xiaoyu, attend the same class in Grade 9, the final year of junior middle school.
As the students study hard to get into a good high school, Duoduo's grades drop, which worries her mother, Tong Wenjie, a career-oriented, mid-level manager in a cosmetics company. Under heavy pressure from her mother, Duoduo begins to feel unhappy. To change the situation, her father Fang Yuan, an even-tempered eye doctor, proposes sending her to attend high school abroad. But the girl's mother adamantly opposes the idea, as the experience of losing her parents in an earthquake has made her feel strongly about keeping her family together.
Qinqin is a top student in the class. Her mother, Wu Jiani, would like her to go to an Ivy League school in the United States. Wu was an enterprising, small-town girl who married a taxi driver in Beijing and became a doctor in a community hospital. To finance her daughter's overseas education, Wu wants to sell the family's only apartment. The father, Jin Zhiming, however, feels content with the status quo.
Xiaoyu's father, meanwhile, is a rich businessman who married a young woman after Xiaoyu's mother passed away. Rebellious Xiaoyu often makes trouble for his step mother, Dina. And his father, Zhang Liangzhong, decides to send Xiaoyu to study overseas.
The TV series was adapted from a novel of the same name written by Lu Qiang, a former media professional in Hangzhou, Zhejiang Province, who is better known by his pen-name, Lu Yingong.
Lu wrote the novel after learning that many students in his daughter's class were going to study abroad. His own daughter is now studying overseas.
The TV series has been well-received by audiences, as these days, the dilemma it portrays, namely whether to send children to study abroad, especially before they come of age, is on the mind of many parents in China who are sufficiently well-off.
The outbound trend
Over 60 percent of households in China with primary and middle school students would like their children to receive a foreign education, a household survey released by the All-China Women's Federation in December 2015 revealed.
"Nowadays, families are sending their children abroad at a younger age. More than 80 percent of all students studying abroad went to pursue undergraduate degrees after graduating from high school. While a decade ago, most students went abroad to pursue graduate degrees," said Che Weimin, Deputy Director of the Chinese Service Center for Scholarly Exchanges.
Wealthy families, in particular, are more inclined to send their children abroad at an even earlier age, according to a report on the trend of studying abroad released by China's Ministry of Education this April.
The ministry, which surveyed 458 high-net-worth households with personal assets above 10 million yuan ($1.5 million), found that the proportions of respondents who wanted their children to attend overseas high schools, junior-middle schools, and primary schools stood respectively at 30.57 percent, 13.76 percent and 8.3 percent. By comparison, 23.14 percent and 6.11 percent of those who participated wanted their children to enroll in foreign undergraduate and graduate courses.
The number of students who study abroad before reaching the age of 16 is increasing, but they still account for just a small percentage of all students studying overseas, Che said.
Statistics from the Ministry of Education show that a total of 520,370 students from China were studying abroad in 2015.
The ministry has not released any official statistics on underage students studying abroad. According to the U.S.-based Institute of International Education (IIE), however, nearly 49,000 foreign secondary school students were pursuing U.S. high school diplomas in October 2013, of whom, students from China accounted for 46 percent.
Students from China accounted for almost half of Australia's international secondary student population in 2013, according to the IIE. In that year, Chinese students accounted for 31 percent of all international secondary students in Canada, with students from South Korea trailing behind at 18 percent.
A large proportion of the overseas students enrolled in U.S. high schools want to earn a diploma in the United States so they can compete well for places in U.S. higher education institutions.
"Given their prior exposure to U.S. classrooms and successful adjustment to U.S. life, these students may have academic, language, and cultural skills that can not only contribute to their success on campus, but can also serve as a potential resource to help ease the adjustment of their peer international students who might be entering the United States for the first time for their post-secondary studies," the IIE report read.
As to why students from China seek to study abroad, education consulting firm New Oriental Vision Overseas Consulting Co. Ltd. released their findings from a survey of students and parents in May 2016. The survey reveals that the primary reasons for studying overseas are to gain international perspective, study advanced knowledge, create brighter career prospects, and learn a foreign language.
In addition, 17-18 percent of student respondents and 22-24 percent of parents who participated said they chose studying abroad in order to avoid China's exam-oriented education system or to prepare for employment overseas or emigration.
The foreign experience
Tens of thousands of middle school students from China are studying abroad. Do they like the experience? This is the question author Lu seeks to answer in the sequel to his novel.
To do research for the follow-up story, Lu visited the west coast of North America this February and March, where he interviewed over 100 overseas Chinese students. Some of their tales made Lu's heart ache.
For instance, a girl who was staying with a local family had lost weight because she could not get enough to eat. She reported opening the fridge after returning home one day to find nothing but two pieces of vegetable.
Another girl wanted to return to China to visit her critically-ill grandmother, but could not because her family worried about her safety while traveling alone, and the air ticket was expensive, Lu said.
"If the students are in China, they may only need to worry about matters related to study, yet if in foreign countries, they have to deal with differences in campus and family cultures, and this adds to the difficulty in their life," Lu said.
One boy, who excelled as a student in China, reportedly became depressed after transferring to a foreign high school and could not interact well with teachers and students in class because of his inability to communicate in English.
Even a student reasonably proficient in a foreign language can have trouble studying abroad. After a boy transferred from an international school in Shanghai to a middle school in Toronto, Canada, he could not make friends in the neighborhood, a woman surnamed Yao, who works in Toronto, told Beijing Review. Yao's son, who grew up in Canada, told her that other local boys did not like to play with the Shanghai boy because they enjoy different things and act differently.
Some students, though, have overcome difficulties and adapted to their new lives. Wang He, who enrolled in a U.S. high school in North Carolina, shared his experience online.
In the beginning, he felt nervous and lonely, but he actively took part in various activities and was well received into the local community.
"In a U.S. high school, you can meet all kinds of people. As long as you keep a positive mind, are willing to communicate with other people, and seek help when having difficulty, the teachers and students are generally warm and will give you help. As long as you are friendly and trusting, they will give back to you the same love and help," Wang said.
Wang enjoys public speaking, so when he learned about a public speaking contest staged locally, he decided to take part. While preparing for his speech, he solicited opinions from teachers and classmates and invited them and his homestay family to listen to his speech. When he won second place in his district, his homestay family felt proud of his effort and success.
Wang also joined his school's track and field and tennis teams, where he enjoyed training sessions and made friends. Every Saturday, Wang also volunteered as a guide in a local museum.
When Wang played a traditional musical instrument, the erhu, at a party, students and even the school headmaster were impressed. Later, he was invited to perform in a church and during the school's international week.
As to whether parents should send their children to study abroad before they reach age 18, Wang Wei, Chairman of the Board of Beijing Wiseway Consulting Co. Ltd., offered his opinion.
He said parents should first consider three factors—money, foreign language proficiency and psychological preparation. If the family has enough money and the student is proficient in English and fairly independent, then he or she is ready to go. Next, parents should think about where their children will work and live as an adult. If a student wants to stay overseas, then it is better that they study abroad from an early age. If a student is undecided about returning to China, they can elect to study abroad as an undergraduate. And, if a student will certainly come back to China, then earning a graduate degree overseas will do.
"The Ministry of Education does not encourage children to study abroad at a young age. These children are too young to take care of themselves properly," said Xu Mei, spokeswoman of the ministry, at a press briefing in March. She also expressed the hope that parents and children will make careful and rational choices.
Copyedited by Chris Surtees
Comments to wanghairong@bjreview.com