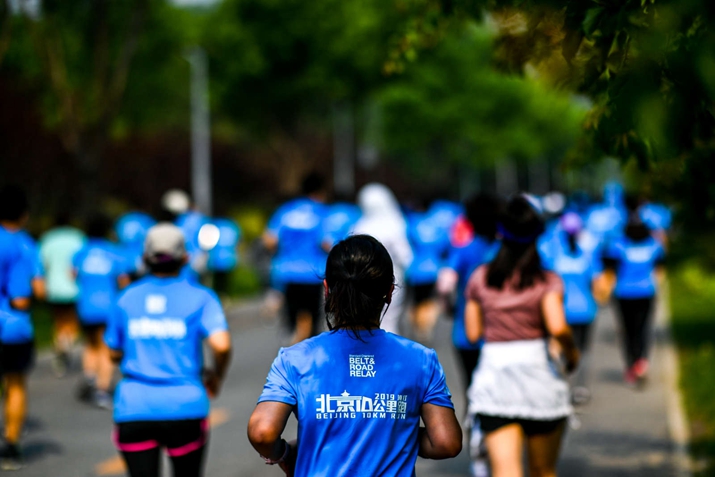 Runners in the 10-km Beijing leg of the relay that spanned over 40 destinations on the Belt and Road routes on May 11 (COURTESY PHOTO)
When Herman Kambugu received the good news he was anticipating, he did something unusual. He ran for 32km in celebration.
Or maybe that is not so unusual after all since Kambugu is a runner in his spare time.
While his day-time job is working in technical support for the Standard Chartered Bank (StanChart) in Uganda, Kambugu was among the over 86,000 employees around the world who had sought to take part in a relay across Belt and Road countries as a way to see how the Belt and Road Initiative is developing. Kambugu and seven more of his co-workers in StanChart's offices around the world took part in the event that started from Hong Kong in February and ended in Beijing on May 11. They visited 44 destinations along the Belt and Road routes, which helped them understand the initiative better.
Kambugu has already witnessed how the initiative is changing life for the better in East Africa. "The Mombasa-Nairobi Railway has not only shortened transportation time, but also created over 20,000 jobs for local residents in Kenya and is estimated to help improve Kenya's GDP by 1.5 percent," he said at a press conference in Beijing on May 10. "And this is just one of the projects we have seen in these markets."
Jack Missin, who works in StanChart's London office, said in Brunei, he came across a village of 40,000-45,000 people, surrounded by water. However, a bridge had been completed recently, improving the water-locked village's transportation.
"In the news I can see how the Belt and Road Initiative brings business and climate changes, but in person, I felt how communities are changing under it," he said.
Serena Leung from the Hong Kong office quoted an old Chinese saying: It is better to travel a thousand miles than to read a thousand books. She said what she had seen during her journey impressed her. In some places, people greeted them in Mandarin. They spoke it more fluently than some people from Hong Kong, she said jokingly.
"We eight athletes epitomized the world with our different culture backgrounds," Leung added. "During the trip, we exchanged ideas with local residents and will bring the essence of these ideas to our own countries." The Belt and Road became a bridge between different countries.
For Li Xiaoqi, a customer manager in the Hangzhou office in east China's Zhejiang Province, the impact and benefits of the initiative were represented not only by infrastructure construction, but also by people-to-people links.
"On the way, we not only saw Chinese enterprises investing in these countries and regions, but also met medical and archaeological teams from China cooperating with those participating countries," he said.
With more people now familiar with the initiative, people are also learning Mandarin through Confucius Institutes and Chinese embassies in their countries, Li said. In Saudi Arabia, they saw Mandarin has been made a compulsory subject in primary schools since January. "As a Chinese, I feel really proud to see the impact," he said.
Li said ambassadors and councilors from Mauritius, Zambia, Uganda, Kenya, Tanzania and Ghana also participated in the relay to show support for the initiative.
"It's a special opportunity to see different cultures coming together, both Chinese and local cultures that we visited along the way," Lynsey McGarry, a program manager in the New York office, said.
"By running together, we run further," Therese Neo, a customer manager from the Singapore office, cited the theme of the 10-km Beijing leg of the run. As she saw it, the countries participating in the Belt and Road Initiative were like the runners. When they join forces, they have a better shared future.
Copyedited by Sudeshna Sarkar
Comments to zhangshsh@bjreview.com