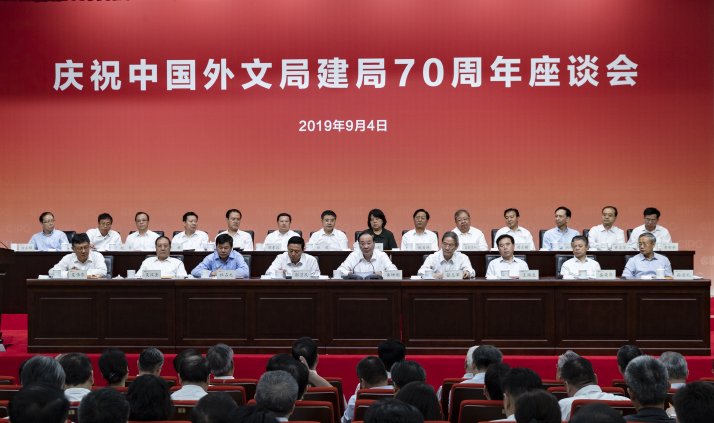 A symposium is held in Beijing to mark the 70th anniversary of the China International Publishing Group on September 4 (COURTESY PHOTO)
For the past 70 years, a Beijing-based institution has endeavored to bring the real China to the world.
On September 4, to celebrate the 70th anniversary of the China International Publishing Group (CIPG), President Xi Jinping recognized its role in delivering China's voices and promoting exchanges between China and foreign countries in a congratulatory letter.
Xi said since China is increasingly connected to the world, CIPG should carry forward its fine traditions, constantly improve its capability and develop itself into a world-class, comprehensive international communication institution.
CIPG, also known as the China Foreign Languages Publishing Administration, was founded on the same day as the People's Republic of China (PRC) on October 1, 1949.
Glorious achievement
The international news division of the national press administration of the Central Government, the predecessor of CIPG, was established on that day. Qiao Guanhua, who later became minister of foreign affairs, became the leader of the new division. A group of great Chinese talent, masters in various foreign languages, as well as some foreign experts, were pooled together to create a window for foreigners to get to know China.
To this day, their work has covered various areas including translating Chinese classics and government documents, reporting on current events in China, taking photos, publishing books and making videos, among others. The foreign language versions of many Chinese classics were born at CIPG.
In its 70 years, CIPG has developed into a comprehensive international communication outlet with the longest history and the largest scale in China, and print publications which are now distributed in over 180 countries and regions.
At a symposium held in Beijing on September 4 to mark the anniversary, Huang Kunming, member of the Political Bureau of the Communist Party of China (CPC) Central Committee and head of the Publicity Department of the CPC Central Committee, called for further improvement in CIPG's work in telling China's stories and enhancing the exchanges between China and the rest of the world.
"We will strive to make more contributions in introducing China to the world," said Du Zhanyuan, President of CIPG. "To do so, we will continue developing talent, strengthening research and promoting integrated development."
Huang Youyi, former Vice President of CIPG, delivered a speech at the symposium, recalling his work experience since 1975. "I have witnessed the glory of CIPG's development," Huang said. "Today international communication is facing many challenges and we must work harder to deliver a real picture of China to the world."
Huang is one of the experts that finalized the English version of the book Xi Jinping: The Governance of China, which was published by CIPG's Foreign Languages Press.
"Now, we enjoy a larger stage to spread China's stories and we are integrating more advanced technologies into our production," Huang said. "Yet a group of professional translators that know the cultures of both China and other countries is still crucial to improving our work."
Yang Xianyi, a Chinese literary translator, worked at CIPG for decades. With the help of his wife, Gladys Yang from the United Kingdom, he completed the English translation of many Chinese classics, including Dream of the Red Chamber.
Along with translation, CIPG took steps to deliver a real-time image of China to the world. In the 1950s, a series of pictorials in various languages were set up at CIPG. People's Pictorial, a monthly magazine, was launched in 1950, whose Chinese title was handwritten by Chairman Mao Zedong. China Reconstructs, which was later renamed China Today, was launched in English in 1952, and was quickly followed by People's China, a Japanese magazine in 1953. Beijing Review was founded in 1958 as China's first national news weekly in English.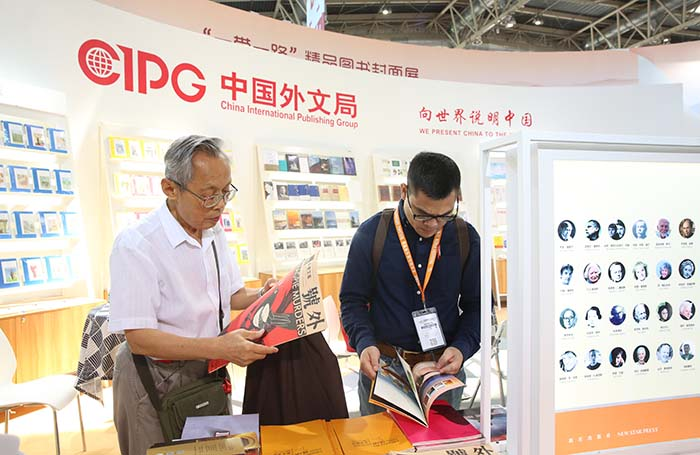 Visitors at the CIPG pavilion at the Beijing International Book Fair on August 21 (SHI GANG)
Fresh and real
Journalists from these magazines have dug deep into various areas in China to explore fresh stories.
Israel Epstein from Poland, one of the founders of China Today, went to southwest China's Tibet Autonomous Region four times. On his second trip in 1965, he noticed there were a growing number of Tibetan officials in local governments, as well as educational and medical departments. These officials used to be serfs. He interviewed some of them and based on these interviews, he wrote a report comparing Tibet before and after Tibet's peaceful liberation.
In 1972, Ru Suichu, a photographer with People's Pictorial, in his quest to take photos of the source of the Yellow River, went to northwest China's Qinghai Province. For 28 days, he ventured deep into Qinghai's marshland area and finally took the photo. Four years later, he trekked through Qinghai again to shoot the Yangtze River's source. He endured the harsh cold at a height of 6,000 meters above sea level for three days and finally took the world's first photo of the Yangtze's headstream.
In June 1981, Shen Xingda and Liu Shizhao, both with People's China, rode bicycles from Tiananmen Square in Beijing all the way south along the Grand Canal, the world's longest of its kind. The whole journey of over 5,000 km took them 408 days, and they were able to interview over 1,000 people from 77 towns along the way.
Their report, totaling over 200,000 words, serialized in the magazine and titled Bicycle Journey Along the Canal, showed a vivid picture of the 2,500-year-old canal and the people's lives along its route. The report was well received in Japan, with hundreds of Japanese tourists coming to China to bicycle along the canal over the next few years.
These kind of stories, based on down-to-earth reports from CIPG journalists have presented a comprehensive picture of what China was in the past and what it is today.  
Full fledging
In seven decades, CIPG has produced about 80,000 different types of publications with a total volume of nearly 1.9 billion issues. It now has 34 periodicals in 13 foreign languages and publishes over 4,000 kinds of books in 40 languages every year.
In 2000, China.org.cn, a website devoted to China's news, was launched in 10 languages as a new boost for CIPG's expansion. It initiated a series of influential video programs including China Mosaic.
Moreover, CIPG has established great links with individuals and organizations in other countries and has hosted a variety of activities to spread China's culture and stories. People's China has held the Panda Cup Japan Youth Essay Contest in Japan for five consecutive years, attracting many Japanese youth to participate.
Daichi Nakashima, the winner of this year's contest, wrote a letter to Xi expressing his interest in the Chinese language and culture. In June, right before the G20 Osaka Summit 2019, he got a reply from Xi, where he encouraged young people in both China and Japan to make contributions to bilateral relations.
Now, CIPG has 26 overseas branches in 14 countries and regions. "We will enhance cultural exchanges and make friends with people from all over the world with our activities and publications," CIPG's Du said in his speech at the symposium.
Copyedited by Rebeca Toledo
Comments to yuanyuan@bjreview.com