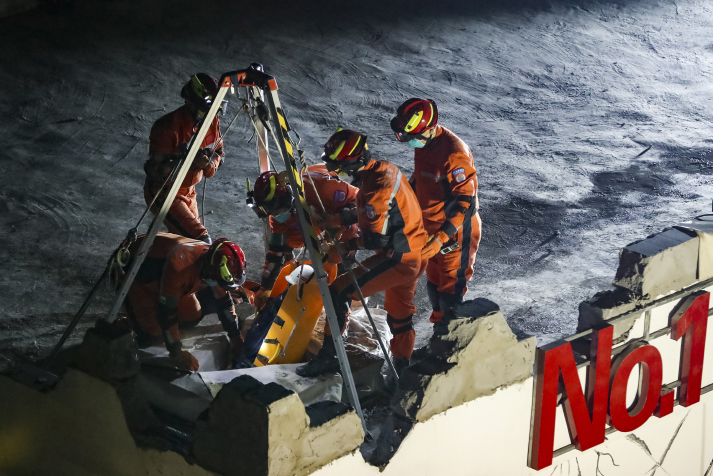 Members of China Search and Rescue Team (CSAR) during a training in Daxing District of Beijing on October 21 (XINHUA)
It was the middle of March and most places in Mozambique were in chaos and ruins after Cyclone Idai devastated the country, affecting over 70,000 people. Buzi, a relatively populous district in Sofala Province, was dangerously isolated until China Search and Rescue Team (CSAR) managed to land there.
Dispatched at the request of the Mozambican Government, CSAR deployed 65 members, including medical specialists, search and rescue personnel, logistics personnel and liaison officers. Unlike other rescue teams in Mozambique, which focused mainly on medical services and evaluation, it also had water rescuers and rubber boats. In total, CSAR members carried about 20 tons of materials and equipment with them to Mozambique.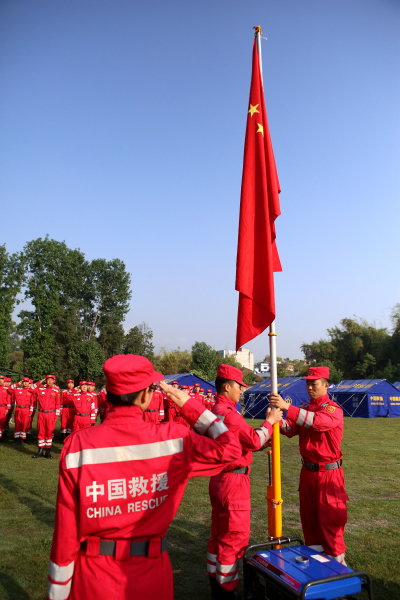 Members of China International Search and Rescue Team attend a flag-raising ceremony while carrying out post-earthquake relief work in Katmandu, Nepal, on May 1, 2015 (XINHUA)
Fulfilling tasks
"We were one of the first teams to arrive at the devastated areas," said Fu Jie, CSAR's liaison officer. "In Beira (a city in Mozambique), 80 percent of the buildings were destroyed. People had no food or clean water."
"Our efforts were well-received by Mozambicans," Fu said. "The local people were very friendly to us. They recognized our flag and uniform, and could even speak some Chinese with us."
Cholera and malaria started to encroach upon the country and one of the team's major tasks was to provide medical treatment for victims.
"In China's 18 years of participation in international disaster relief missions, there had never been this type of epidemic situation," the deputy team leader of CSAR Wang Manda said during an interview with China Global Television Network. "It was a very dangerous situation for our members."
Mozambican President Filipe Nyusi also met with CSAR members, who were selected to represent international search and rescue teams participating in the relief operations for their outstanding performance.
The African mission was CSAR's first overseas assignment since its formation. The team was constituted after the Ministry of Emergency Management (MEM) was established as part of China's reform of state institutions in March 2018. The new ministry took over 13 mostly disaster relief-related responsibilities from other organizations. CSAR's duties include firefighting, disaster relief, geological disaster prevention, drought and flood control and prairie fire control.
Besides CSAR, China has another professional search and rescue team at the national level, China International Search and Rescue Team (CISAR). Established in 2001, it has conducted various tasks in countries including Algeria, Iran, Indonesia, Nepal, Pakistan, Japan, Haiti and New Zealand, and has saved tens of thousands of lives.
In December 2004, an 8.7-magnitude earthquake off the coast of Sumatra set off a tsunami in Indonesia and caused death and destruction across the Indian Ocean coastline. CISAR sent two batches of 70 members to Banda Aceh for search and rescue operations.
In April 2015, a 62-member team with six sniffer dogs was sent to Kathmandu, Nepal, after a 7.9-magnitude earthquake struck the country. It rescued people buried under rubble, administered emergency treatment to almost 2,700 victims and evacuated 430 buildings.
In 2009, CISAR got the highest-level UN heavy classification, becoming the second team to do so in Asia following a Singaporean counterpart.
Currently, CISAR has about 480 members, including administrators and technical experts from the China Earthquake Administration, which is now under the MEM; the 38th division of the military search and rescue corps; and medical teams from the China Armed Police General Hospital.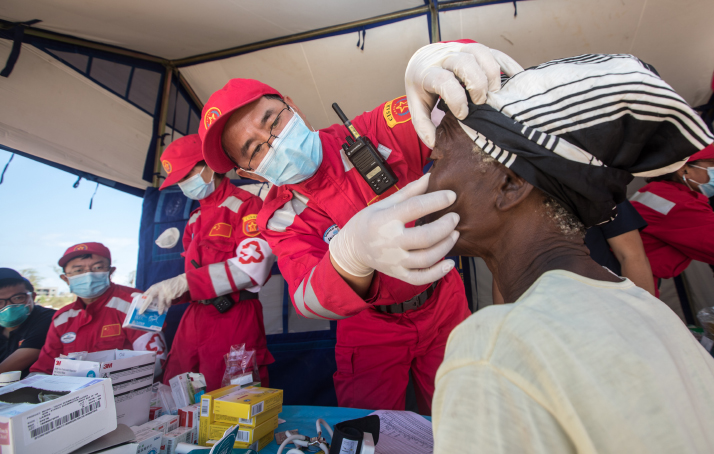 A CSAR member examines the eyes of a victim of Cyclone Idai in Mozambique on April 1 (XINHUA)
Strong teams
On October 23, CSAR passed its first UN assessment, while CISAR passed its third review, earning the UN's highest external classification for rescue forces and making China the first Asian country to boast two heavy urban search and rescue teams.
"They've done exceptionally well," said Ramesh Rajasingham, Director of the Coordination Division of the UN Office for the Coordination of Humanitarian Affairs. "We are all very impressed with their discipline, motivation, determination and organization." He added that the two teams will be great additions to the international system of search and rescue during disasters.
"The high appraisal of Rajasingham affirms the efforts that CSAR has made as a new team and the capabilities of both our teams to carry out international humanitarian relief work," said Shang Yong, Vice Minister of Emergency Management, at a press conference on October 23. "This is a new start for our teams. China will beef up its efforts to improve emergency management capabilities by learning from advanced international experiences."
Shang said CSAR is set to be the model for the construction of search and rescue strength in China and will help lift the capability of rescue teams in the country.
"We know that China has created many other rescue teams and that it is working on developing its national assessment criteria, which we believe, will be based on international standards," Rajasingham said. "Chinese rescue teams are very welcomed in other countries due to their high professional performance and advanced equipment."
Shang stressed that China has close connections with relevant international agencies such as the UN Office for the Coordination of Humanitarian Affairs and has developed very good bilateral relations with many countries. "China will offer more necessary support to these countries, making full use of its advantages in remote sensing technology and its capabilities in disaster forecast and monitoring, and international rescue," he said.
In addition, China will further enhance international cooperation on emergency management and disaster relief by establishing a cooperation mechanism with countries participating in the Belt and Road Initiative, according to Shang.
"Next year, China will host a conference in Beijing to promote cooperation in disaster relief among Belt and Road Initiative participants," he said.
Copyedited by Rebeca Toledo
Comments to yuanyuan@bjreview.com