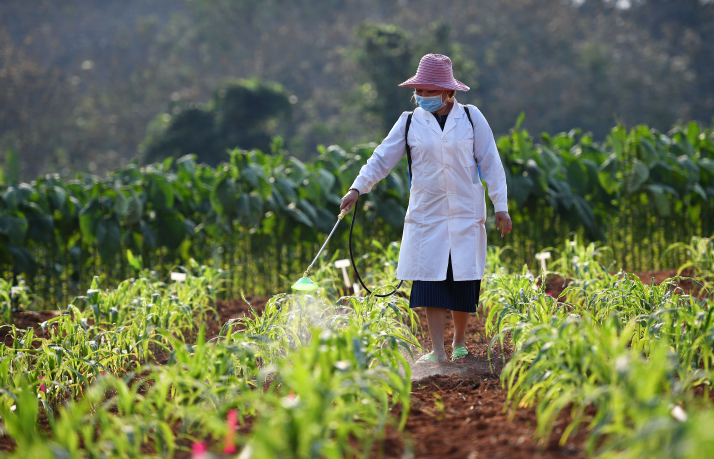 A staff member from the Environment and Plant Protection Research Institute of the Chinese Academy of Tropical Agricultural Sciences sprays pesticide in a corn field in Danzhou, Hainan Province in south China, on March 7 (XINHUA)
Pan Xubin, a scientist at the Chinese Academy of Inspection and Quarantine in Beijing, uses the fall armyworm as an example to demonstrate why that plant quarantine is so important. The insect originated in the Americas and has spread to Africa and Asia, devouring rice, corn and vegetables. The peril has aroused people's awareness of biosafety, Pan told Beijing Review.
Plant quarantine is necessary to prevent plant diseases, dangerous insects and weeds from spreading from one country to another. It is conducted by inspecting all imported plant products, packages and their means of transport.
Plant quarantine is part of a draft biosafety law, the first of its kind, being reviewed by Chinese legislators. The law is to protect biological resources, promote the healthy development of biotechnology and prevent biological threats, with an ultimate goal of protecting people's life and health.
In the aftermath of the novel coronavirus pandemic, the government stresses that bio-security should be integrated into the national security system and is accelerating the formulation of a law.
Highlights of the draft
On February 14, President Xi Jinping said biosafety should be integrated into the national security system. A systematic plan should be made to construct a national biological safety risk prevention and control system, and the national biosafety governance capacity should be enhanced.
The government made these decisions "from the perspective of protecting people's health, safeguarding national security and maintaining long-term stability," said Wu Qian, a spokesperson for the Information Office of the Ministry of National Defense, at a press conference in Beijing on March 2.
The draft of the biosecurity law was submitted to the Standing Committee of the National People's Congress, China's top legislative body, for review last October. For better balance between security and development, it has spelled out regulations in eight categories. These include prevention and control of major emerging infectious diseases for human as well as animal and plant epidemics, research and development and application of biotechnology, and prevention of bioterrorism attacks.
The draft also defines the rights and obligations of public administration departments, social organizations and individuals. Besides, it proposes establishing a management mechanism to protect national biological resources and human genetic resources. Building national biosafety capacity is also addressed. Industry insiders say this will subsequently promote industrial, scientific and technological policies to encourage independent innovation. This is especially significant for progress in core biotechnology, filling the gap between China and developed countries. It will also enhance the capability to prevent biosecurity risks and threats.
The work on drafting a comprehensive law actually began 20 years ago, according to Yu Wenxuan, Director of the Institute of Environmental and Resources Law at the China University of Political Science and Law in Beijing. But it did not move fast. Besides the complexity of the problems the law sought to resolve, people generally lacked an understanding of biosecurity at that time. Also, there was a lot of coordination to do, such as clarifying the responsibilities of different parties, Yu told The Beijing News.
In recent years, several laws and regulations related to biosecurity have come up, such as the Food Safety Law, the Seed Law and the Environmental Protection Law. However, while they provide reference for addressing biosecurity problems, they lack the mechanism that a more comprehensive law in the field should have to ensure effective implementation, Chang Jiwen, a researcher at the Development Research Center of the State Council, told Beijing-based Legal Weekly.
Today, the obstacles have been removed. In plant quarantine, for example, the General Administration of Customs of China, the Ministry of Agriculture and Rural Affairs and the National Forestry and Grassland Administration have their clearly defined functions. "Coordination in the inspection and quarantine mechanism will be improved with the new law," Pan said.
Addressing ethical concerns
The bottom line of the biosecurity law is to set up ethical norms and precautionary principles, according to Du Qun, a professor of Beihang University. Du told The Beijing News that biotechnology should be a focus and its development, application, and products should be regulated.
"Scientists' instinct is to explore the unknown world. But they should also follow the ethical principles of scientific research, remembering their responsibility to protect society," Du said. "Many biotechnology issues lack legislative restriction, such as the development and utilization of biological gene statistics, the protection of genetic resources and genome manipulation, as well as laboratory management and norms for scientists."
Without such regulations, operators at laboratories are left vulnerable to infections and toxic viruses that can leak out during experiments. "So it is necessary to build scientific ethics in laboratories," she said, adding that the biosecurity law would provide a strict standard for using advanced biological technologies.
To ensure overall safety, each link in the work of laboratories should be safe, from site selection to experiments, to tracing ways of contact between laboratories and the public, she said.
Also, the law is expected to clarify the scope of synthetic biology, the science that creates new biological systems, and regulate the application of gene-editing technology.
"The healthy growth of modern biotechnology is conducive to social progress," Yu said.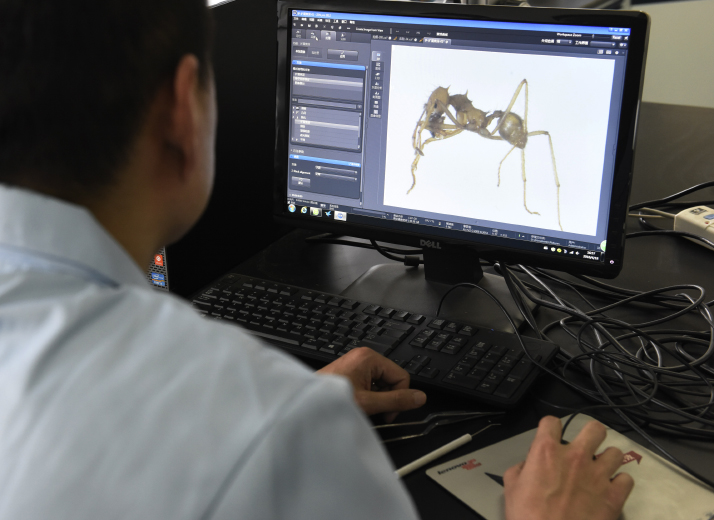 A technician at the Sichuan Entry-Exit Inspection and Quarantine Bureau observes an enlarged image of a leaf-cutter ant on April 18, 2016. Such live ants being smuggled in by express mail were intercepted at an airport in southeast China (XINHUA)
A global issue
The global biosecurity situation is very serious today with biological threats showing new characteristics, He Fuchu, an academician of the Chinese Academy of Sciences, wrote in Qiushi, a bimonthly periodical published by the Central Committee of the Communist Party of China. Pathogens such as the novel coronavirus are spreading across species and regions, causing new infectious diseases and public health emergencies.
In the past two plus months, the novel coronavirus has spread to many countries and regions, forcing several cities to lock down and people to stop many social activities.
"More than 200,000 cases of the novel coronavirus disease have been reported to the World Health Organization (WHO), and more than 8,000 people have lost their lives," Tedros Adhanom Ghebreyesus, WHO Director General, said on March 18.
There are also natural disasters caused by living things, posing common problems for the world.
On January 31, the Pakistani Government declared a national emergency triggered by locusts that invaded the eastern part of the country. The pest has infested several countries in Africa and South Asia, causing crop failure.
Invasive species have also caused problems in China. Invasive plants could bring great harm to the local ecological environment and the national economy, Li Xiangqin, a researcher with a key laboratory working on plant conservation and ecological restoration under the Guangxi Institute of Biology in Guangxi Zhuang Autonomous Region, said.
A survey conducted by Li's laboratory found 121 species of invasive plants in the region bordering Viet Nam. Of these species, 23 are seriously harmful, 32 moderately harmful and 66 slightly harmful. The finding was published in the Journal of Biosafety, a publication of Fujian Agriculture and Forest University.
The Ministry of Ecology and Environment has released lists of invasive species. The ministry recently said preventive and control measures have been taken in several nature reserves, including one on Shanghai's Chongming Island and another on Qi'ao Island in Guangdong Province.
Many biological hazards need to be tackled through international cooperation. China has ratified several international agreements on biotechnology safety, for instance, the UN Biological Weapons Convention, the UN Convention on Biological Diversity and the International Convention for the Protection of New Varieties of Plants.
China's biosecurity law is also aimed at promoting international communication and cooperation and contributing to building a community with a shared future for humanity.
Copyedited by Sudeshna Sarkar
Comments to liqing@bjreview.com