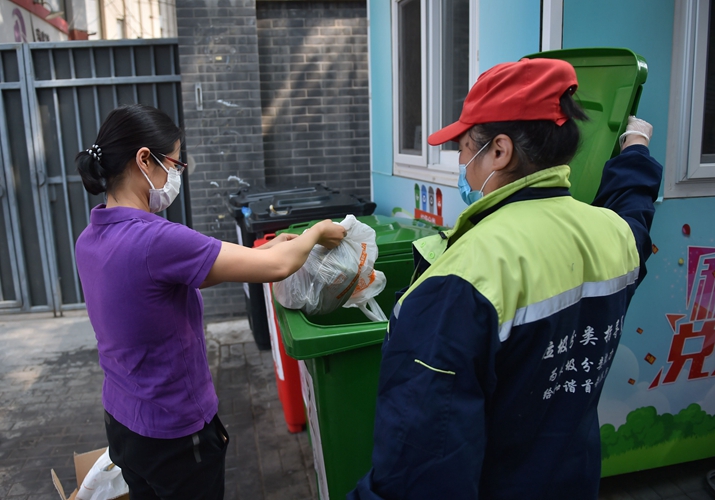 A volunteer helps a resident trash her garbage correctly in Beijing on May 2 (XINHUA)
Liu Lihong is busy checking garbage bags before residents put them into different bins in a residential community in Haidian District, Beijing, on June 22.
She is one of the community workers who are helping with garbage sorting since the capital city began to implement the mandatory practice on May 1.
The community she works at has adopted a fixed schedule for dumping garbage. Every day, people can dump their waste in the morning between 5 a.m. and 8 a.m. and in the afternoon. "Some people may see this as inconvenience, because if they miss the time schedule, they have to take their garbage back home and wait until the next day," Liu told Beijing Review.
But garbage sorting should be a normal part of people's daily life to improve the living environment of Beijing and contribute to green and sustainable development of the country, she added.
The Chinese Government has underlined efforts to cultivate the habit of garbage sorting. According to the Ministry of Housing and Urban-Rural Development, garbage sorting systems will be built up in 46 major cities in China by the end of 2020.
In 2019, Beijing produced more than 10.11 million tons of residential waste, while 194,900 tons came from household kitchens, according to the Beijing Municipal Commission of Urban Management (BMCUM). The appropriate classification of domestic kitchen garbage is one of the challenges to promote garbage sorting and improve the environment, Li Junyang, deputy head of the International Ecological Economy Promotion Association (IEEPA), a non-governmental organization in Beijing, said.
Residents have paid much more attention to garbage sorting, however, as Liu said, some of them still feel confused about which one is the right bin for the specific garbage. Many volunteers like Liu have been recruited to help residents, especially for sorting kitchen waste.
Statistics from the BMCUM show that, during the peak hours in the morning and evening, there are about 20,000 volunteers who help with garbage sorting in local communities around the capital city. In May, a daily average of 740 tons of kitchen waste in Beijing has been sorted, up 159 percent month on month and a year-on-year increase of 37 percent.
Although garbage sorting is accelerating in Beijing, it is still in its initial stage and is yet to be widely adopted by the whole society, Li said. In some communities, for example, some of the garbage collection points have been removed for better management, and the fixed schedule has resulted in the piling up of garbage. The pile of garbage may not be cleared in time, affecting the environment and residents' life. These problems need to be dealt with, he added.
"More specific measures are needed to raise people's awareness and spur them to take the initiative," Sun Xinjun, Director of the BMCUM, said.
According to Li, social organizations should be involved to better implement the policy and use their advantages and resources to cooperate with government departments to solve the problems existing in garbage sorting, as well as provide more guidance to residents.
He said communities can purchase biodegradable garbage bags and give them away at the collection points as a reward for proper household classification, so as to better encourage residents. He also called for using market approaches to mobilize resources and solve the problem of excessive investment in current garbage classification.
Copyedited by Madhusudan Chaubey
Comments to mamm@bjreview.com